Cast your mind back a couple of years. It was the start of the 2011/12 season and United found themselves 2-0 down at halftime in the Community Shield against City. Sir Alex made three substitutions for the start of the second half: off went Ferdinand, Vidic and Carrick; on came Jones, Evans and Cleverley who settled into the midfield alongside Anderson.
I invite you to watch that second-half performance from United's young midfield against the three-man Manchester City midfield of Toure, Milner and De Jong. The fluidity and high-tempo passing instigated by Cleverley and Anderson is a joy to behold and led the Guardian's Daniel Taylor to write that Cleverley had "staked a strong claim for Carrick's place in the team". The equalising goal scored by Nani was as good a team goal as you are ever likely to see and Tom Cleverley was at the centre of it.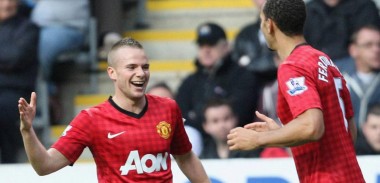 Sir Alex clearly saw something that he liked because Cleverley and Anderson were the starting midfield pairing for United when the Premier League kicked off against West Brom. And in those games – before Cleverley succumbed to injury – many of us saw what we thought was the future of United's midfield. The run included 3-0 at home to Tottenham, 5-0 away to Bolton and I'm sure you haven't forgotten the 8-2 hammering of Arsenal.
Michael Carrick, as talented as he is, does not lend himself to a high-tempo, short passing game as this requires power and mobility which are not among his leading attributes. I have no problem with players passing sideways as long as they immediately move forwards to create some space and look to collect the ball further up the pitch. Carrick passes sideways and more-often-than-not moves sideways or backwards in order to "always be available". This means that he is always on the ball and appears to be pivotal to United's play. In actual fact Carrick is a luxury player who demands a three-man midfield to accommodate his languid style of play. He may be capable of beautiful, raking passes to the flanks but his slowing of the midfield game really hampers United in the Premier League.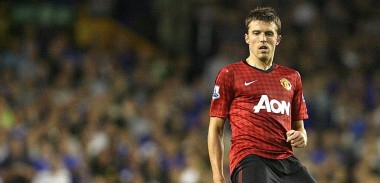 Tom Cleverley needs to play alongside another mobile player with good technical ability and had Tom not limped off the pitch after making an unwanted acquaintance with the boot of Bolton's Kevin Davies then who knows how that season would have ended. The breaking up of Cleverley and Anderson in midfield led Sir Alex to try a plethora of different midfield pairings that year in search of the magic that he had found in the second half of the Community Shield.
The Tom Cleverley that we are seeing this season does not represent the ability of that player but instead it is a player who does not know what he is supposed to do, where he is supposed to be on the pitch and has no confidence at all. This is not Fergie's Cleverley; it is Moyes' Cleverley. Don't underestimate the effect that a manager and their tactics can have on a player's performances on the pitch.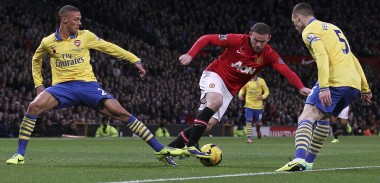 Different players are affected to differing degrees by confidence. Some players, like Wayne Rooney, are not too affected and only suffer a small drop in the quality of their performances. Recently, this has culminated in Rooney appearing to be "the only good player in a crap team" because whilst he is still playing below his normal standard, in contrast to how far the rest of the team have fallen he looks like a footballing God. At the other end of the spectrum is Tom Cleverley, a very gifted midfield player who is gasping for air in the toxic atmosphere of low confidence that permeates the dressing room.
You only have to watch him in possession of the ball this season. He looks up to find that Carrick has retreated to the edge of the United area and our wide players are standing happily behind their markers offering him nowhere to go. So he gives the ball to Carrick and moves forward at which point Carrick has no-one to pass to so Cleverley is forced to retreat to a position that offers the statue of Michael Carrick an option. So he takes the ball back from Carrick who stands still or moves sideways and the whole situation begins afresh like Groundhog Day.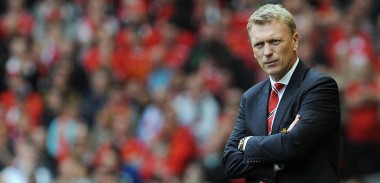 From what I have seen of Moyes' tactics, Michael Carrick fits much better with his "what we have we hold" mentality and Carrick's lack of mobility may be under direct instruction from the manager. Don't get me wrong, Carrick has never been a highly mobile player but this season he sometimes struggles to get moving again because the grass has started growing into his boots.
So before you write off Tom Cleverley, spare a memory for the 2011/12 season because I believe that we saw the future trajectory of that player in those five games and the player that we see today is the manifestation of him being shoe-horned into a system that doesn't suit his style of play coupled with a devastating lack of confidence.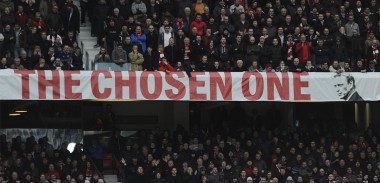 As supporters, we seem hellbent on supporting "The Chosen One" with no prima facie evidence to support our trust, based instead on the lone assertion of Sir Alex Ferguson. Personally, I need a little more evidence than the say-so of a man who was sometimes wrong, no matter how successful he was as United manager. Yet we have turned on a 24yr old player who has demonstrated (admittedly somewhat sporadically) that he has the talent to sit in an incredibly exciting United midfield.
For me, Tom Cleverley is simply 2014's Darren Fletcher. Lest we forget that Darren "stepchild of Fergie" Fletcher was the United scapegoat of yesteryear. When things go wrong we find someone to blame and this season Tom is the "other" Chosen One.
What are your views on Tom Cleverley? Comment in the section below.
Enjoy that? Give it a share!