A great deal has been speculated as to when the downfall of this great club began. Most people will tell you that the U-turn of United begun when David Moyes took over the team in June 2013. Sadly though, you couldn't be further from the truth. Cast your footballing minds back to 30th March 2010 where United are playing a champions league quarter final against Bayern Munich in the Allianz Arena. The Manchester club are on the verge of ending the first leg on top as the scores are 1-1. Also at this point United are comfortable at the top of the Premier League, life is going relatively splendid. But the next 15 seconds send Manchester United into an uncontrollable downward spiral that is what we are today. Firstly, Wayne Rooney lands painfully on his ankle and Ivica Olic hits an injury time winner. We never recover, and even though Rooney returns for the home leg he looks out of sorts and united crash out of Europe, this is followed by a loss at home to Chelsea and a draw against Blackburn. The title ends up going to Stamford Bridge and the next four years bring two trophies which quite frankly should be put down to the inability of other sides and managers to capitalise on United's evident shortcomings and the managerial brilliance of Sir Alex Ferguson (plus the odd decent striker) question this you may, but the difference of the united team pre and post March 30th 2010 is actually overwhelming if you look back on it. Now it's all being unveiled time after time, each occasion it happens the clubs credibility erodes further and further.
Tactically, it's all been a bit crazy. Every game played this season has merited a different United side. The attempt to fill the irreplaceable gap that Scholes left was a panic buy from Moyes in the form or Marouanne Fellaini. United needed a central midfielder who can run, pass, tackle (really hard) and shoot so Carrick can hang back and dictate the pace of the game. Unfortunately, there has been no fitting replacement in this area. The lack of stability and aggression in the middle of the park has resulted in teams being able to get a clear run on our crooked and  back four. This didn't happen with Scholes in the side, for even the world's best would be merely kicked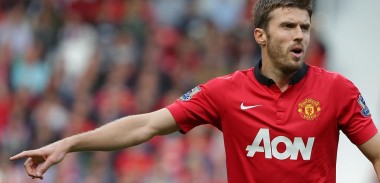 A lot has been rightly made of Moyes's tactical decisions, people automatically just assume Moyes puts 'CROSS' on the whiteboard in the dressing room and says 'Get on with it' now although there is a pattern of truth in this it by no means tells the entire story. Moyes likes to play a fairly high line with attacking wing backs and wingers, sitting midfielders and a number 10 in behind the striker. Now when this clicks it really does click. Look back at the 0-5 win in Leverkusenand the 1-0 win over Arsenal and I genuinely believe we are witnessing Moyes's tactics going to plan. Sadly though, this style of play hasn't materialised due to fullbacks being useless in the oppositions half, the defensive line being further back to compensate for the lack of speed in the back, wingers who wouldn't cross a bridge and the two best attacking players (Rooney and Van Persie) being persistently injured. Above all, the sheer nervousness and shell-shock within the team and the fans due to the departure of Sir Alex Ferguson has transpired in Manchester United being a passive and unthreatening. However, despite popular assumption, Manchester United have actually improved defensively under Moyes conceding 0.4 less goals a game and marginally fewer shots.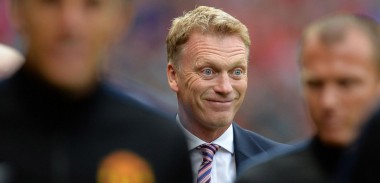 The impending question throughout the summer, and even before that has always been how will United function as a football club when someone who has built a metaphorical dynasty and empire for over a quarter of a century departs? How hard will it be?
Well, the answer is severely. On the 12th of March 2013, Sir Alex told a giddy Old Trafford including myself to, 'Stand by your new manager' The moment he said that I begun to realise that the next season would be very different. Even though SAF claims he left David Moyes with, 'the strongest squad possible' its impeccably clear that the squad Moyes inherited was nowhere near a title winning side, or even a top 4 side for that matter. Sir Alex knew better than anybody that this side will suffer without his guidance. Especially when Moyes removed all the staff that worked with his predecessor.
For a very long time now, I'd always seen Moyes as a natural successor to the club. A mentally strong, no nonsense cold faced Scot that specialises in longevity and discipline is the only way forward for this club. So appionting David Moyes on a 6 year contract shows that the club were choosing long term success over immediate short term. I believe that the likes of Mouriniho or Guardiola would have made a more positive immediate impact but for the long term they aren't fitting solutions, for Manchester United is a club that only knows longevity.
Let me put something into perspective. In my opinion, not only is this the hardest job in football, but also the hardest job there is altogether. A position in the working world has so seldom been occupied and ran at such a high level for such a long time anywhere on the planet, that the job David Moyes has can't actually be put into perspective. The creativity, knowledge and general presence his predecessor had will by no means continue in the same vane after the new man comes in. So to the people who harp on about how useless David Moyes is, just take into consideration that the shoes that must be filled at Manchester United are bigger than your little minds can comprehend.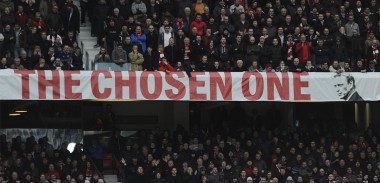 I must add, I don't know whether David Moyes is the right man for the job. Nobody does. But I do know that he deserves a chance to impose his tactics and philosophy, and the only way he can do that is through having time. Some of our supporters need to acknowledge that you earn success through respecting the manager and players through thick and thin, you shouldn't just expect it because its Manchester United.
What are your thoughts on Manchester United's season thus far? Comment in the section below.
Enjoy that? Give it a share!