Life must be mundane for Josep Guardiola. Winning, as addictive as it is, can resemble monotone if overdone. At Barcelona, it went to such an extent that he left the damned continent to enjoy the New York art scene for a year. I'm afraid he's heading in the same direction with Bayern too. He took over a team that was mechanically good and turned them into bullies. Pardon the language, but I doubt if there's a more apt description of Bayern Munich right now.
There was quite a furore on social media when Rummenigge declared that Guardiola would be Bayern's new manager after Heynckes. Majority of the sceptics were unsure of his ability to manage outside his comfort zone (read: Barcelona). Some of them berated him for taking over an already brilliant side and avoiding a real challenge. But what do they know? Guardiola came, he saw, he changed and is inching ever so close to conquering. Tacticians of his ilk are known to run after innovation and perfection. Conventional wisdom is of no consequence to them. 'Philip Lahm in the midfield? Sacrilege.' We all know how that turned out. Not enough to be the most talked about manager in the world, though.
The man who is, bears a stark difference to Guardiola in his mindspace itself. The lesser spoken about the results on the pitch, the better. When David Moyes took over Manchester United's title winning side, the heaviest burden on him came by the name of his predecessor. He had to carry forward a grand legacy. Usually neutral while writing articles, I'll be talking from a Manchester United fan perspective today. At the very onset, I don't have much of a problem with the position in the table the defending champions take today. Nor is the inability to put in a fight giving me sleepless nights. I fully understand the concept of transition and am willing to endure through it. What bothers me, though, is that David Moyes has come, taken the tactics-sheet that Sir Alex had been using since 1997, and continued with it. When you're used to a midfield of Giggs, Scholes, Keane and Beckham playing season after season for you, it's extremely easy to fall in love with the 4-4-2. Especially when the top-two include the likes of Cole, Yorke, Nistelrooy and Solskjaer. The trophy cupboard kept on getting heavier, and there was quite literally no reason to change. Beckham was replaced by Cristiano Ronaldo in 2003 and the system carried on understandably. Why it carried on till 2013, I have absolutely no clue. Not one of the 'Sir Alex knows best' army, I do believe he ought to have brought in a different formation once Keane left and Giggs/Scholes started ageing. Or when Nani and Valencia were our wingers.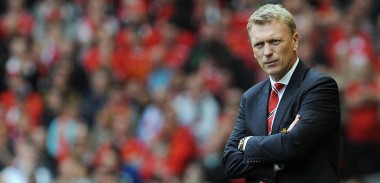 Enter Moyesey.
The first thought I had when the absence of the grand old man started sinking in, was somewhere on the lines of 'a different formation, please. For God's sake we cannot be playing 4-4-2 with Young, Carrick, Cleverley and Valencia.' Fast forward to Stoke City at the Britannia, and we're still playing 4-4-2. Shinji Kagawa doesn't make it to the squad while not being injured. Berbatov's departure was based on his work-rate. I'd like to see how the club explain the Japanese leaving in the summer. For now, we currently boast of two of the most talented playmakers in the world today and we plan to play them on the wings. You look past that, Michael Carrick and Tom 'sideways' Cleverley in central midfield. Are you really surprised Charlie Adam scored twice? Olympiakos was a scarily similar story, barring Juan Mata's absence. Long story short, my only beef with David Moyes is his reluctance to make fundamental changes while in the presence of some really gifted attacking players.
I sympathize with David till it is about the quality of some of the defenders and midfielders he's got. Patrice Evra, Rio Ferdinand, Ashley Young, Tom Cleverley and Antonio Valencia are absolute liabilities on a football pitch right now. There is literally nothing they bring to the table except mediocrity. And we're talking of regular first-team players here. Moyes needs this team to be rebuilt and he's got all the right to feel that way. When you're playing for Manchester United, you should ideally be self-motivated to give your very best on the pitch, an attribute glaringly absent in the aforementioned players.
It is highly unlikely that we'll be able to land anything close to five big players in one transfer window. Hence, change is imperative. Right about now would be a good time. Unless there's a stamp-paper agreement on sticking to the 4-4-2, Moyes could do a lot worse than giving another formation a proper chance.
There are endless possibilities and opportunities to explore. The good managers go out of their way and innovate. The cautious ones will stick to the conventional. Like Lahm in the midfield for Pep, there could be a tactical masterclass waiting to happen at Manchester United. The club is too big to be averse to one. All we need is a gaffer who isn't. Moyesey?
Enjoy that? Give it a share!