Juan Mata has a fantastic portal in which he gets his messages out to the fans, with his own online blog and website that is constantly updated from the man himself.
This week is no different as the new Manchester United signing looks forward to the clubs 'thrilling' month of March, with many tough and exciting fixtures ahead.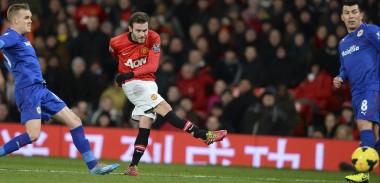 An extract from his latest blog is below:
I'm writing today's post from my home. And this time I'm talking about Asturias in Spain, where I grew up and where my family and friends live.
It is a real pleasure for me to come to my country, something I do every time I can. Perhaps the worst thing about living abroad is not being able to be with the ones I truly love as my grandparents, uncles, cousins… Every time I come I make the most of every single minute and try to spend as much time as I can with them.
After last weekend's win against Crystal Palace, we could not win in the Champions League, suffering a painful loss in Greece. Moreover, as I can't play in the Champions League I had to watch the match at home and suffered as I couldn't help! Nevertheless, although it'll be difficult, I think we can comeback at Old Trafford with an incredible atmosphere thanks to our fans.
A thrilling month is starting with five Premier League games against important rivals such as Liverpool and Manchester City. We do know it is a crucial month to climb up positions on the league table and we are going to give our best to try and win every single match.
Thanks a lot to everyone for all your loving and support! I'm very happy enjoying what I really like to do, playing football and trying to get better and getting over challenges every day, which I think is what life is all about!
A big hug, Juan.
You can read all of Juan Mata's blogs here.
Enjoy that? Give it a share!