Common Themes Consistent in Chelsea Defeat
Another bitterly disappointing defeat and another poor performance that further amplifies that fact that we are quickly falling into mid-table mediocrity. The only real positive to come out of the game, was the once again, more than commendable away fans, who not for the first time this season have been exemplary in their unwavering support. In almost partisan like fashion our fans never stopped signing, encouraging and chanting, and in what has been an ultimately disappointing season thus far, they offer hope when there is very little.
Ironically at a time when we are at our lowest ebb on the field, we seem at our strongest off it. Having being the victim of fierce criticism over the years, probably by way of becoming accustomed to success, the fans are possibly the only shining light in what is currently a very dark time at Old Trafford.
Nonetheless, we can't keep reverting to how good the fans were and ultimately fail to outline the bigger issue. The fact is that on current form and for the first time this season, for me personally anyway, I believe we are in serious doubt of clinching that oh so coveted fourth place. Now there's a sentence I didn't envisage saying so quickly.  Having said that, there is no doubting the quality we possess, a team of champions don't just become Europa League fodder overnight, do they? Deep down, we are more than capable of putting a run together and with a Van Persie, Rooney and Fellaini, yes Fellaini, to come back, the squad will look a hell of a lot stronger. Not to mention the fact that Rafael and Carrick two of our most consistent performers last year are only recently back from long term injuries, we are in essence equipped with a squad that will mirror that of the title winners who won the league by an eleven point margin last year.
However, if we are to go on this much needed run, a few major issues need to be addressed. Settle on a solid back four for one. A solid and consistent back four partnership must be established and maintained. No more chopping and changing, no more experimenting. Along with the need to ensure defensive consistency, a number of other issues became apparent from the Chelsea game and those of preceding weeks, they are as follows.
[hr]
Goal's Change Games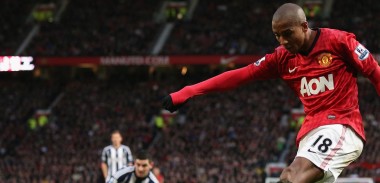 In recent weeks we have had the tendency to start like a house on fire for the first 10-15 minutes, only to be denied and then subsequently drop off and invite pressure. More wrongly this pressure more often than not usually results in the conceding of a goal that was ultimately defendable. This has happened on Sunday when Ashley Young had a great chance to break the deadlock after five minutes and for further evidence of our domination of the opening exchanges after just ten minutes we had 76% possession. However as was the case against Spurs we were done by a sucker punch. In fact this worrying trend was also evident against Norwich away however luckily enough they did not exhibit the same cut throat striking abilities of an Adebayor or Eto'o. This is becoming a common theme and an increasingly worrying one at that.
Whats perhaps even more worrying is the lack of belief/confidence when we do go behind despite being in top. Many people are of the opinion that it is a confidence issue, however contrary to popular belief I am of the opinion the problem is deeply rooted in a lack of confidence. Many of these players have never experienced such a poor run of form and are evidently surprised/shocked, and ultimately don't know how to deal with it. Too many senior seasoned campaigners are being found wanting.
[hr]
Set-Piece Shenanigans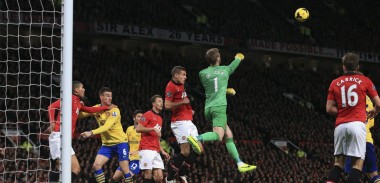 Moyes himself lamented the utterly poor defending from set pieces and it was from these two critical moments that the game was lost. The first goal against the run of play was "lucky", whilst Jones could've and should've done better, it took a wicked deflection off Carrick and looped over the helpless De Gea. It came at a crucial time, but as aforementioned we were on top and were still in the game at this stage. However, once again, not for the first time this season we conceded far too easily from a set-piece and most importantly at a crucial time, just before, and pretty much straight after half time. Worryingly this has also been a common theme throughout the season, having conceded from a set-piece to drop two points against both Southampton and Cardiff respectively. And keeping in line with the Chelsea game both came at a crucial time – injury time. In a cruel turning of events we have now been on the end of that late-late goal we so often bestowed on our rivals over the years. At this level, it's the small details that make a big difference and the defending of both set-piece goals on Sunday was nothing short of abysmal.
[hr]
Hernandez is a Super-Sub Simple as That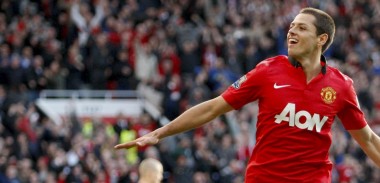 Hernandez's cameo only served to further strengthen my honest opinion on the little lethal Mexican. He is most effective as a substitute period and all of the evidence suggests that as a starter he is considerably less effective. Whilst he has the best goals to minutes ration in the Premiership he is at his most potent when coming off the bench and attacking tired defenders with his clever movement and devastating eye for goal. As a player he is limited and offers very little all-round ability in terms of hold-up/link up play. Unfortunately the writing is on the wall for Little Pea. Despite the absence of Rooney and Van Persie his playing time has been limited, having only started two games over the busy Christmas period. He still has a major role to play, but it will more than likely be from off the bench.
Overall it was a bitterly disappointing defeat and performance to boot. Having said that, there is reason to be positive. At a time when doom and gloom is most certainly upon us, we are still only six points off fourth place. With Liverpool and Spurs looking decent but far from invincible such a gap is far from insurmountable. With the imminent return of Rooney and Van Persie, we have reason to be optimistic.
While Cardiff travel to Old Trafford Liverpool have the tricky tie of hosting Everton, another team who are contesting for fourth (although I do believe their bubble will burst). Not to mention the fact that City travel to White Hart Lane. While we look at football through the prism of our own bias it must be believed that one, if not all of said teams will drop points. It also must be believed that we will beat Cardiff at home, an insinuation that is in no way the guarantee it should be.
The United mantra of "Believe" holds high significance, we as fans must believe but so too must the players.
What did you think to Manchester United's 3-1 loss to Chelsea? Comment in the section below.
Enjoy that? Give it a share!