There's something undeniably powerful to hearing United fans, home or away, singing We'll Never Die en masse in victory or defeat. It was certainly heartening to hear it aired in the North East last Tuesday as United laboured against Sunderland, acting as a reminder that support for the club is unwavering, even in difficult times, but its performance last night, in anticipation of a first win of 2014, made it fee far more celebratory than it had in some time. Here's what we made of the 2-0 victory over Swansea:
Welbeck is becoming a consistent threat
There's no doubt that United look an inferior side without Robin Van Persie and Wayne Rooney in the line-up, but one of the good aspects of this injury-hit period has been the form of one Danny Welbeck. He has six goals in his last six league games, and thanks to regularly acting as United's vocal point up front, is finding himself in the right positions far more frequently. After spending a large chunk of this season's early stages pushed out wide and missing presentable chances, it's fantastic to see the Longsight-born lad seize his opportunity and step up when his club needs him.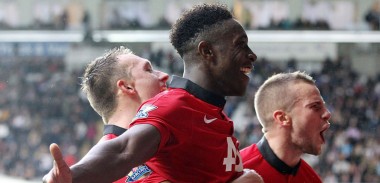 The lack of goals that Welbeck has provided in the last twelve months in a United shirt has often been used as a stick to beat him with, but not only are they now flowing, they're not simple tap-ins. He managed a delicate lob against Spurs, a confident rounding-of-the-keeper against Norwich and a clever flick to make sure that Patrice Evra's initial shot hit the net. That strike was made all the more pleasing after he passed up the best chance of the first half after firing wide in the penalty area.
Welbeck is the recipient of more goodwill from (British-based) fans than perhaps any United player, and with good reason, but after finally adding goals to his game, he's becoming an integral part of David Moyes' side to boot.
Darren Fletcher: football genius
Not to detract from Januzaj's Man of the Match performance, but given United's near-constant misfirings from central midfield this season, Fletcher's performance alongside Michael Carrick was particularly encouraging. As United stepped up the pace at the beginning of the second half, the Scot pushed higher up the field behind Shinji Kagawa and provided a highly useful performance in an area that fans are desperate to see reinforced.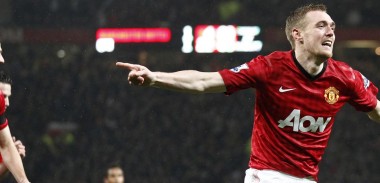 Fletcher's energy, despite only returning to the side last month after a debilitating illness, was sufficient to last the entire match, and his vision in passing was frequently positive, forward-thinking and slick. His spirit and desire to work hard when wearing a United shirt is constant, and having seen Tom Cleverley stutter so often in a similar position, the mere sight of a positive link between United's central midfield and attack is one for sore eyes.
Moyes changed things up and it worked
For most of the first half, despite United looking more dangerous with Danny Welbeck leading the line, this was a performance too similar to last weekend's FA Cup defeat for comfort. United had plenty of possession but found it hard to get into the sort of positions where they could punish Swansea. The use of Adnan Januzaj in a central position made for an intriguing but ultimately ineffective approach, and when he swapped his role behind the striker for Shinji Kagawa's out on the left, things seemed to click into place.
Januzaj was United's biggest threat, delivering a dangerous cross that lead to the opener and picking off Gerhard Tremmel's loose clearance to set the second goal in motion. Kagawa, to his credit, showed more desire to be a key part of United's attack than he has of late, as opposed to simply being involved. Had he not hesitated when played in by Rafael or had Chris Smalling not blazed over from the Japanese's superb cross, then the confidence or self-belief that he's lacked this season might have risen further. But having seen United labour when behind without changing their approach significantly in recent weeks, the most positive aspect of the second half was the sight of a team singing from the same hymn sheet.
United left nothing to chance
Proclamations of poor refereeing decisions from Moyes made the last three defeats seem all the more galling, acting as a big distraction from the simple truth that his side simply weren't good enough to win. This time, there were no great controversies, no false sense of injustice and a first victory of 2014 to enjoy, despite having only enjoyed 39% of the possession.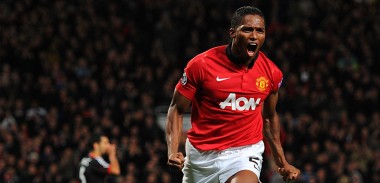 Swansea's slick passing style played a large part in that disparity, and they saw a lot more of the ball after United got their second goal, but for the first time this year, the home side looked confident. A lot of that can be attributed to Antonio Valencia's timely opener at the start of the second half, which settled the side instantly and relieved some of the building tension in Old Trafford, but it also gave United a lead to protect, something they haven't had since beating Norwich at the tail end of 2013. The challenge now, after a victory bereft of any controversy, is to kick on. Easier said than done with Stamford Bridge next up, but at least United will travel with a win under their belts as opposed to bearing the weight of four straight defeats.
Enjoy that? Give it a share!