Manchester United vs. Swansea City: United's Starting XI?
On the back of three straight losses Manchester United will look to get back to winning ways with the visit of Swansea City to Old Trafford. Moyes and the team will be hurting on the back of the recent poor form and will want to turn it around come Saturday afternoon. We don't really have the time now to be resting key players so I think we'll see a strong side fielded.
Goalkeeper
One shining light this season has been the form of David De Gea. In his first season at Manchester United he was targeted and looked out of sorts but he has come on leaps and bounds. He is showing the reason why United paid good money for him and is slowly becoming one of the best in the game. I don't think there'll be any surprises to see him starting against Michael Laudrup's team.
---
Defence
Many are saying Rio is now past his best. Granted, he has lost that yard of pace but he still has the ability to read the game. Laurent Blanc was one of the best at it and he was much slower than Rio.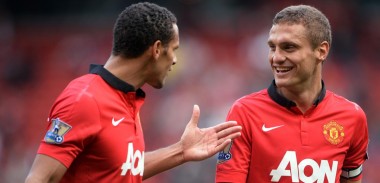 Anyway, with him being on the treatment table Vidic will need another centre back partner and I hope it is in the form of Jonny Evans. I know he came off against Sunderland but I'm hoping we'll see him back. The right has been a problem area this season with Rafael, Jones, Smalling and Valencia all having played the position at various stages. I think Rafael will start and Evra will line up on the left.
---
Midfield
Another troubled area, aren't they all at present? Cleverley is coming under increasing pressure. He's had the potential and it is time he started filling it. Off the top of my head he has only missed two league games this season so a rest may do him good.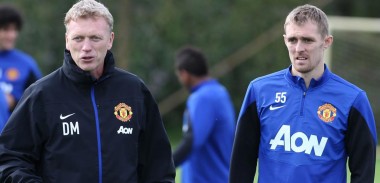 I'd like to see a Carrick-Fletcher partnership. Given game time I'm sure Fletcher can get back to the level he was before his illness. He was so underrated it was unreal and, like Welbeck, only United fans knew his quality. I hope Januzaj gets another go on the left with Valencia on the right. I'd like to see Moyes go for it at some point and let Zaha have a good run out, but he isn't one for taking risks.
---
Attack
It looks like we are ushering Rooney back for the Chelsea game by sending him for some warm weather training so I think Welbeck will continue to fill the void left by him and RVP.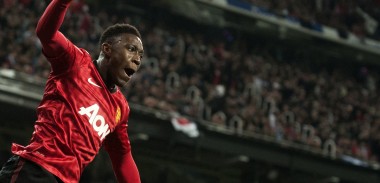 We know by now that Moyes won't play two up top so it probable that Hernandez will be on the bench, leaving the space in the hole behind Welbeck. I hope it is Kagawa who gets the nod in this position. He was a world beater for Borussia Dortmund and although he has yet to show that form for United he has played in a number of positions which hasn't allowed him to settle into the team.
Predicted XI
De Gea
Rafael Evans Vidic Evra
Valencia Carrick Fletcher Januzaj
Kagawa
Welbeck
Who would be in your starting XI against Swansea City? Comment in the section below.
Enjoy that? Give it a share!