Everything seems a little topsy-tury at United lately; we don't score late goals, we concede them. The only fear in Old Trafford seemingly stems from the home side, and fans are no longer expecting belated sieges when United need a response. Last night's 0-1 defeat at home to Everton, breaking a 21-year winning streak was another chastening evening's watching with United succumbing to a Bryan Oviedo strike in the 86th minute after missing a number of presentable opportunities. David Moyes was looking for the nearest black hole to jump into, United sit a full twelve points behind league leaders Arsenal, and Old Trafford didn't sound too happy. Here's what we made of it:
United actually played fairly well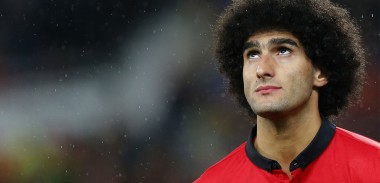 Obviously not quite well enough. Victories tend to require a key component known as a goal, and United have only themselves to blame for not scoring it, but they dictated large portions of the second half before Everton's winner. The pressure that came before Oviedo's goal should've told, and it was the sort of period that has been horribly scarce this season. United camped out in Everton's half for almost ten minutes, made a number of chances and kept the pressure up. That, in itself, was probably the most encouraging aspect of the evening simply because it's tough to remember a recent occasion where United looked so dangerous and displayed that level of consistent pressure when searching for a goal, at least at home.
United playing fairly well used to be able to guarantee at least a point from games such as these, but given that the invincible aura that surrounded Old Trafford has gone for a wander of unspecified length, playing fairly well isn't going to cut it. Had the game ended 0-0, then the complaints wouldn't be legion as both sides had passed up opportunities to win and had their periods of pressure. Plus a draw with an Everton side that has started the season with much more fluency and consistency wouldn't have been a bad result, either.
Everton's counter attack further exposed United's midfield issues
It's telling that Phil Jones' absence through suspension caused a significant problem last night even though the England international isn't even a midfielder by trade. From the off, the visitors were gifted with an incredible amount of space last night. The duo of Ryan Giggs and Marouane Fellaini are hardly the most mobile, but the sheer speed and frequency with which Ross Barkley and Romelu Lukaku were allowed to break was startling. A side gifted with greater attacking talent would've ruined the home side before half time, surely.
Ryan Giggs and Nemanja Vidic struggled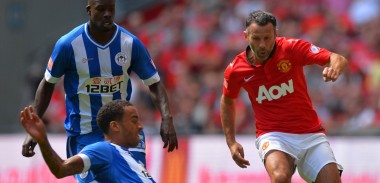 The latter perhaps more than the former, mind. At present, Giggs is probably our best available link between midfield and Shinji Kagawa, based on the evidence of last week's cruise in Germany, but it's no shock that Everton's direct and energetic approach exposed his faults, namely a lack mobility. This isn't suggesting that he shouldn't pull on the red shirt again, or that he shouldn't have been picked; far from it. It's simply telling that games like this pass the 40-year old by at times.
In regards to the club captain, it's tough to know if there is actually much substance to the notion that Vidic's best days are well and truly past him given how valuable he's been to United over the years. The Serbian has bad games against certain players (1-4, anyone?), and last night was certainly one of them. He was outmuscled and outpaced by Lukaku on more than one occasion with Everton regularly exploiting the lack of pace on the left of United's defence. He even bought a free kick thanks to a cheeky tumble with the Belgian almost in full flight, and Chris Smalling had to be alert on more than one occasion to clear dangerous balls deep in the penalty area when Vidic was unable to.
Accommodating both is a double-edged sword. No midfielder can match Giggs' intelligence on the ball  and no defender at the club has Vidic's leadership qualities, but their lack of mobility can become a crutch against teams willing to run at United (which at present is pretty much everybody). Of course, the biggest worry is that there aren't any younger and/or better options already at the club.
Rooney will be thoroughly missed on Saturday
A starting line-up shorn of Wayne Rooney through suspension and most likely Robin Van Persie through injury will take the field at the weekend against Newcastle United. So far this season, United are winless in four games without the Dutchman, and would lack a tremendous amount of bite, drive and (most notably) goals without Rooney. In a side desperately short of players capable of producing game-changing moments and without a win in three league games, this hardly bodes well.
It'll be a test for so many players who have underachieved this season, or at least failed to maintain a high standard of performance. The forward line of Javier Hernandez and Danny Welbeck have, to my mind, never started a Premier League game together, and given Shinji Kagawa's performances behind Rooney in the last two league games, positivity ahead of a much-needed win is scarce.
Ferguson has left Moyes with a whole heap of work to do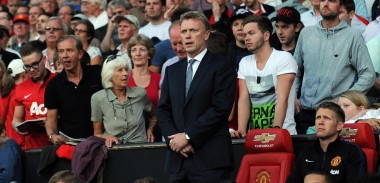 If taking over from the most successful manager in Manchester United's history wasn't difficult enough, Moyes is getting almost weekly reminders that the squad he inherited was being pushed to its absolute limit by his predecessor. Of course, injuries are presently playing their part, but last night's defeat should further confirm a few things; firstly, that Moyes can't draw that same fire and commitment from this group of players that Ferguson could (although that's hardly surprising) and secondly, he'll need reinforcements if he is to survive in this job.
Suggesting that United should be doing better under new management given that they were waltzing to the title in the early stages of 2013 is misleading. Since then, Chelsea have significantly upgrade their manager, City have significantly upgraded their squad and Arsenal seem to have figured out how to win regardless of splashing out on Mesut Ozil. So many teams have improved this term whilst United have seemingly regressed, and the penalty for that is evident in their league position. Of course, Moyes has had just the one transfer window to sort things out, and considering the misfiring form of more than one member of the squad, the blame can't be dumped squarely on his shoulders. The hope for those who were concerned that United lacked the strength to challenge for the league without SAF's qualities was that the club would at least remain in contention for it, something Moyes has failed to do. As such, maybe it's time to start seriously focussing on January along with making sure that United aren't so weak-willed in this season's cup competitions, because the likelihood of United retaining the league title is rather remote.
What did you think about Manchester United's performance against Everton? Comment in the section below.
Enjoy that? Give it a share!