United's defeat at home to Everton last night was their fourth of a Premier League season that sees them a startling twelve points from the summit of the table before Christmas has arrived. So, with key players missing, a manager under fire and a home crowd growing even more impatient with life after Sir Alex Ferguson, where do the club go from here?
Well, in the short term, Newcastle United at home on Saturday. In the wider context of this season, these steps might help.
---
1) Find the strongest, most effective line-up within the squad
Pragmatic football ho! It might not be particularly interesting, but United look thoroughly flimsy at present, offering little protection to their back four and passing up too many decent scoring opportunities. In the short term, there's a desperate need for the team to be firm and not allow teams to break through their ranks so easily. Ross Barkley waltzed through central midfield towards goal seemingly at will last night, and a better player would've punished those errors with more incisive passing and shooting. Phil Jones' absence was sorely missed in any case, and he'll be needed in the engine room if United are to sure things up.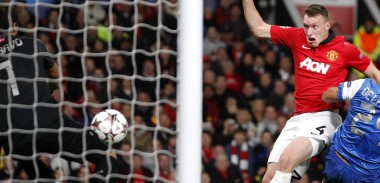 Essentially, David Moyes needs to find his steeliest XI as soon as possible. At this point, the idea of playing "the United way" is so contrived that fans seem to have forgotten that we haven't played exciting free-flowing football in a consistent fashion in about 4/5 years. For the time being, the gaps in midfield need to be plugged because our defence is far too often unprotected. Lining Phil Jones up alongside Marouane Fellaini or Tom Cleverley is the very antitheses of attacking-minded, and neither of those partners are particularly popular at Old Trafford of late, but there seems little point in taking gung-ho approach if United are willing to concede goals so easily.
---
2) Devise some incredible team building exercises
Have each member squad fall backwards into David De Gea's hands and say "I trust you."Rent out an oversized cabin in the woods, make rafts and roast marshmallows. Give each of them a Caffe Nero card with all of the stamps filled in for God's sake, but do something to improve morale, because at the moment, the team spirit that got United through to their 20th league title is nowhere.
Sure, Ferguson has now departed the dugout, and Moyes is finding it so difficult to drag those extra margins out of some of the squad's more limited players, but even so, the nature in which United fold, or much less fail to respond in the face of defeat this season shouldn't have been completely lost by a change of manager. It's certainly harder to replicate when one of the most inspirational figures in the game isn't willing you on anymore, but is that really an excuse?
Moyes has to improve his team's response when the chips are down, so situations like last night's crowd exodus once Everton had taken the lead are avoided. How embarrassing that a club that was scoring late winners for fun last season can't even be relied on to make a chance or two at the death. Moyes can't change his personnel just yet, so he must figure out a way to rally the troops at his disposal. United need to become difficult to break down again, and they could do with rediscovering that side of themselves quickly.
---
3) Prepare for the Transfer Windows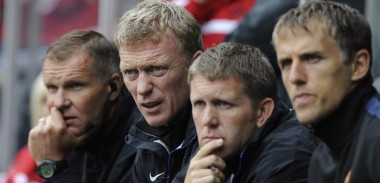 The signs are that United will go back in for Athletic Bilbao's Ander Herrera in January, and given United's woes in connecting midfield and attack, that's something at least (even if he does cost upwards of 30million Euros). If Herrera is what Moyes has deemed as a necessity in January, then Ed Woodward needs to be as fully prepared as he can be to negotiate as soon as the window opens. This will avoid wasting time on navigating an already complicated contract with the Basque club and get the player bedded in as soon as possible.
Moving further ahead, United clearly need more of a long-term revamp with a number of players in their 30s beginning to struggle. After five months with the squad, the management must know what to expect from the players they see daily, and which positions can be given necessary upgrades. Simple as it may be, the targets need to be identified as early as possible to avoid another shambolic summer spent uhming and ahhing over Thiago, being played like a fiddle by Cesc Fabregas and paying over the odds for a player that Everton appeared happy to sell anyway.
---
4) Qualify for the Champions League
Cringing at the thought of qualification for the Europa League? You should be. It's a nasty competition where dreams go to die and qualification for it could muck up any chances United have of progress next season. So, in short, a top four finish is something of a must.
Even though the Glazers and Ed Woodward will have you believe differently from a business perspective, it'd be a disaster on the football side of things. We are on the verge of one of the biggest recruitment drives in the club's recent history, and will require quality players to come into the team. You have to wonder how many will jump at the chance of joining United without the offer of Champions League football. Will bumper contracts do the trick? Because we have so much money lying around the place these days…
The only way qualification will come is if United start to string some wins together. The fabled unbeaten streak actually masked a number of disappointing draws, and as we're now winless in three league games, it's imperative that the club gets back into the habit of chalking up victories quickly. At this point, the Premier League title is gone. The sooner the team responds to that fact and starts to react positively, the better.
---
5) Support the club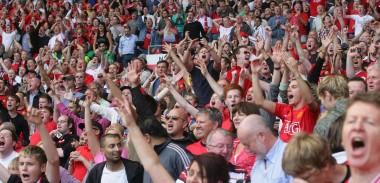 Simple one, that. It's not "United are the team for me but only until they stop winning". We've all been frustrated these last few months, and descending to the level of booing and calling for the manager's head is only going to serve to make the atmosphere more poisonous and affect players whose temperaments already look a little fragile. We all have a part to play here, and even if a bad result reduce us to angry barks at full time, the support still needs to be there when the next game kicks off.
What are you thoughts on Manchester United's season? Comment in the section below.
Enjoy that? Give it a share!