Singha All Star XI vs Manchester United

Tour 2013 – Saturday 13th July, 2013 – 14:00 KO BST – Rajamangala Stadium, Bangkok (65,000)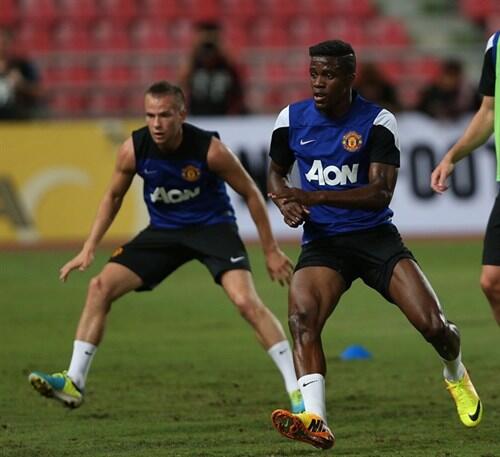 The Teams
United
Manchester United manager David Moyes: "… it will take a little bit of time to get used to each other but that's what the games are for. We'll try and give as many people as we can an opportunity to play. We'll see some young players as well."
United XI from: Anders Lindegaard, Ben Amos; Rafael, Phil Jones, Rio Ferdinand, Jonny Evans, Patrice Evra, Alex Büttner, Fabio, Michael Keane; Michael Carrick, Anderson, Tom Cleverley, Ryan Giggs, Wilfried Zaha, Jesse Lingard, Adnan Januzaj; Danny Welbeck
Anders Lindegaard is likely to start in goal, with a mixture of youth and experience filling the rest of the side. With Robin van Persie, Javier Hernandez and Wayne Rooney not in the squad (for varying reasons), Danny Welbeck should start on his own up front. Other than that, starting berths are likely to be determined by levels of fitness at this early stage of pre-season, with some players in better shape than others at this point.
---
Singha All Star XI
The side will be made up of a selection of players from the Thai Premier League (TPL). Clubs are currently just over halfway through their league season, with a slight hiatus for this match and another vs Chelsea in a few days time. They will be managed by Dr. Vichit Yamboonruang – the director of the TPL. The Dr. will be assisted by former Thailand international striker Piyapong Pue-on. (More on him later.)
All Star XI from: Narit, Kritsana, Thanongsak; Artit, Thitipan, Kim Yoo-Jin, Ri Kwang-Chon, Jose Mena, Pravinwat, Apiwat, Nattaporn; Datsakorn, Pichitphong, Dagno Siaka, Mario Gjurovski, Piyachart, Apipoo, Jetsada, Teerasak; Teerasil, Chatree, Teeratep, Sompong
---
The All Star XI play an annual exhibition match. Previous results include:
vs Manchester City (17-05-08) Won 3-1
vs Atletico Madrid (01-08-10) Lost 3-0
vs Chelsea (24-07-11) Lost 4-0
vs Park Ji Sung & Friend (23-05-12) Won 4-2
vs Thailand (15-08-12) Lost 5-1
---
Notes
While technically a friendly, the match is being billed as the 2013 Singha 80th Anniversary Cup.
Nemanja Vidic (sciatica), Nani (operation on nose) have been left in Manchester. Ashley Young, Chris Smalling and Antonio Valencia also miss out.
Robin van Persie, David de Gea and Shinji Kagawa will join up with the squad later on in the tour and therefore miss this game.
Javier Hernandez, after Confederations Cup duties, misses the trip altogether.
Wayne Rooney travelled home on Thursday with a hamstring injury. He misses the remainder of the tour.
Of the players who started the first game of last year's pre-season campaign, only 4 feature in this year's squad (Lindegaard, Ferdinand, Carrick, Lingard).
Ivory Coast midfielder, Siaka Dagno, has scored 8 goals in 16 appearances for Muang Thong United this season.
Neither of the TPL's top scorers, Buriram United duo Carmelo (15 in 16) and Javier Patino (11 in 14), look set to feature.
Singha All Star XI assistant manager,

Piyapong Pue-on, appeared in the 2004 film, Kerd ma lui (Born to Fight). He is also an active Thai Air Force officer. It sounds as though he is not to be messed with.
---
Score prediction (for what it's worth): Singha All Star XI 1-1 Manchester United
Enjoy that? Give it a share!