Manchester United won 3-2 away at Chelsea in a contentious game full of twists and turns.
Firstly, the game was notable for the attacking line up Sir Alex sent into battle, returning to a flat 4-4-2, hoping to attack Chelsea down the flanks rather than centrally as has been the recent pattern when using the diamond formation. Whilst a more cynical person than I might attribute this change to the fact that United have been awful in defense recently and therefore Ferguson was merely regarding attack as the best form of defense, I prefer to believe that, due to the memory of our abject performance when playing for a draw away at City last season, Ferguson has actually learned his lesson and will continue to attack all our title challengers in traditional United fashion.
De Gea started in goal again, a run of five consecutive games now that points towards the young Spaniard having once again established himself as United's number one keeper. Ferdinand and Evra were restored to the starting line up alongside Rafael and Evans in defense whilst Ashley Young came back into midfield with Carrick, Cleverley and Valencia. Rooney supported van Persie once again.
United experienced a dream start, gaining early joy down the right as they'd hoped and were 1-0 up after just 3 minutes thanks to a van Persie shot from close range hitting the post and rebounding into David Luiz before tricking into Chelsea's net. The reds repeated the same trick 11 minutes later to double their advantage as Tony Valencia drove in a low cross, again from the right, which found van Persie all alone to strike home from 8 yards out.
The second goal provided a cushion for United, but also promoted a fear at now having something to protect that paralysed their play for the rest of the first half. United were second to every ball, second in desire in challenges, lazy with movement off the ball and slow to close Chelsea down when they attacked. Chelsea began to swarm forward creating chance after chance. De Gea saved a free kick from Luiz slightly oddly with his feet and made a world class save to claw a header round the post that looked like a certain goal – the kind of reaction save United fans have come to expect from him, but have absolutely no right to do so!
De Gea was eventually beaten though just before halftime as Rooney recklessly gave away a free kick on the edge of the box, and Juan Mata curled a delightful shot into the far corner of the goal.
In truth, the goal was hardly a surprise and had been coming since van Persie's strike for United, but it's arrival just a couple of minutes from the break clearly demoralised a United team that had soaked up 30 mins of constant pressure without conceding to that point.
The second half started the same way the first had ended and it was therefore no surprise when Ramires rose above Tom Cleverley to head past De Gea and level the game.
Having equalized and having been in the ascendency for nearly three quarters of the game so far, Chelsea looked to push on and take the lead, however the game's momentum was once again turned, this time by two decision from referee Mark Clattenburg who sent Ivanovic off for a clear foul on Ashley Young who was through on goal, and then Torres off via a second yellow for diving. While I wouldn't expect even the most ardent Chelsea fan to attempt to argue over the veracity of Ivanovic's red, I'd term Clattenburg's booking of Torres as 'brave' given that Jonny Evans did make contact with him, but probably not enough to bring him down in the fashion in which he fell.
Given that his first yellow was for a chest-high karate kick on Cleverley that Cantona would have been proud of (left) and that could and should have been a red in itself, his appeals fall on deaf ears as far as I'm concerned.
United, now with a two man advantage, were suddenly able to find space to play once again. Sir Alex brought on Hernandez, fresh from his brace against Braga last week as United once again demonstrated a will to push for the win that may have been absent this time last year.
The substitution worked exactly as planned as Little Pea scored the winner in the 75th minute, although he was clearly offside when doing so. Once again though, I'm mysteriously struggling to summon any sympathy for our Chelsea friends given their penchant for scoring offside goals themselves. Especially when their crowd spent the whole game booing Rio Ferdinand because his brother was racially abused – read that back. They also ripped out and threw a seat, which hit their own steward – moronic.
Today's game showed the best and worst of United in one 90 min period. They were able to attack openly and fluidly down the wings, knowing they had two front men of international class to finish off chances, yet retreated into themselves like frightened children when Chelsea began to exert pressure. United must continue to exploit their attacking riches whilst steadying the nerves of midfield and defence when facing top-class opposition.
GIF – David De Gea wonder save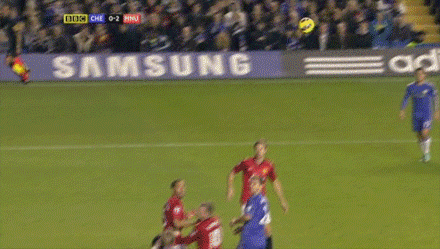 GIF – Fernando Torres first yellow card
Enjoy that? Give it a share!