In few days time Nemanja Vidic would have played his last game for Manchester United in a spell lasting 8 years at the club. Sunday's away trip to Southampton will be his last game in a United shirt which should be some occasion.
Back in January rumours had started to circulate that Vidic was leaving and off to Italy. Now this was nothing new as a United fan as the Serbian has been linked with a move away nearly every season. But the rumours started to gather some pace and it was apparent that he was off to Inter Milan in the summer. Not long after United came out with news that it was true and he would join up with his new team in the summer of 2014.
Now there is no doubt that for players like Phil Jones to flourish and finally nail down that centre back position the old guard such as Rio and Vidic will need to move on at some point.  Experience though is hard to come by and it's surprising that some United fans are not more frustrated by his imminent departure. Many may not be thinking it but it could be very difficult task in replacing Vidic and something United don't look ready for.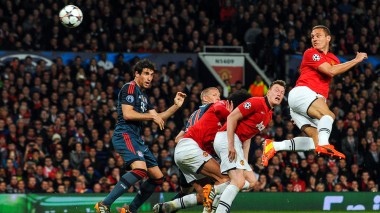 The tough tackling Serbian has always been a favourite with fans, just one of those players who gives everything every game and one of the last few proper remaining hard men in the Premier League. Not so long ago Vidic was regarded as arguably the best centre back in the world and proved it for years and formed a formidable partnership with Rio at the back. Replacing Vidic and with the probability of Rio leaving isn't going to be easy, are the likes of Evans, Jones etc ready to fill the gap?
Evans is probably the best candidate out of the three; a few years back he was one of United fans scapegoats always getting stick and to be fair he deserved some of it. But over the last few years the Northern Irishman has come on leaps and bounds and is the best that we have available to us at the moment.
Phil Jones is tough one, still yet to nail down a position playing all over the park in his time at United, mainly down to Vidic and Rio at the back. With the pair gone should he be given a run at centre back? At times this season when he has played at centre back he has been fantastic but recently he's gone off the boil a tad especially with his performance vs. Liverpool at Old Trafford. His versatility may always stop him from nailing down that centre back spot with him being very capable at right back and especially in the defensive midfield position where he has been superb at man marking big players from other teams, such as Ozil and Ronaldo in the important Champions League ties.
Chris Smailling has a strong case as well for filling the void but some still feel he isn't good enough and never will be. Very quick for a big lad, he's been played a lot at right back with Rafael being injured a lot this season. But it's safe to say that right back isn't his role and centre back is his future.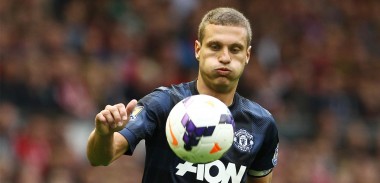 So the answer may be to splash the cash on a centre half in the summer, easier said than done though. United may have the cash to spend this summer but how many suitable replacements are there really out there. Recently with the imminent appointment of Van Gaal it has been rumoured he would want to sign Dortmund star Mats Hummels. This would be a tough task considering Dortmund are unhappy as it is with selling their top players and their in the Champions league. Hummels would be a fantastic signing to replace Vidic but a long shot.
The other two candidates that have rumoured are Roma centre back Benatia from Morocco who joined the Italian side last summer and has been highly impressive in Roma's fantastic season. But with him only joining a year ago it doesn't look a possibility. The other name mentioned a lot is Mangala from Porto. The Frenchman is extremely powerful and athletic centre back who will be in the French national team for the World cup if not for injury. Although it appears he could be heading to City in the summer with the Blues apparently ready to meet his £38 million release clause.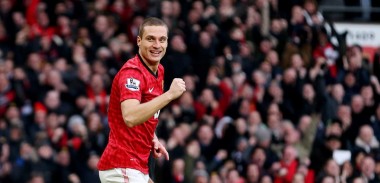 As you can see there is will be great difficulty in signing an adequate replacement for the Serb and it could really come back to hurt United if they don't find someone to fill the void. Personally I think Vidic had a good 2-3 years left in him at United and it's a real shame to see him go. He's definitely the more capable out of the pair with Rio who looks like he should move on this summer as well.
What is your take on this should United have tried to persuade to stay for a few more season or was it right to let him leave? Also do you think, any of current players are up to the task or a big signing needed to fill the hole left by Vidic?
Enjoy that? Give it a share!