Much has been made of the urgent need for David Moyes to bring in new recruits as he looks to return his Manchester United side to its former glory, but there is likely to be a fairly major exodus, as the Scot looks to free up funds and squad spaces for the incoming players. Here, I take a look at who should survive the cull and who should be shown the door…
Goalkeeper:
David De Gea has been United's best player this season, looking every inch the long-term successor to Edwin van der Sar, and Moyes will be desperate to keep him. However, with the goalkeeping situations far from clear at each of the top three clubs in the Spaniard's homeland, United may have to brace themselves for a big-money bid for the 23-year-old, this summer.
Anders Lindegaard's experience is useful when called upon, but there is no chance that he will overtake De Gea as the Reds' first-choice Number One, so he is certainly expendable, at the right price. If the Dane does depart, young Englishmen Ben Amos and Sam Johnstone would share deputising duties, but one or both may look for employment elsewhere if their game-time remains so limited.
Right Back:
After showing signs that he has matured over the past two seasons, Rafael has taken a backwards step this season, as exemplified by a ludicrous two-footed challenge at Stamford Bridge in January. Nevertheless, the 23-year-old adds much-needed bite and attacking thrust to the United line-up, and deserves to be retained for next term.
The sale of brother Fabio has left the Brazilian short of a specialist understudy, with Phil Jones, Chris Smalling and Antonio Valencia each deputising throughout the season. However, the rotation of positions has hampered the form of all three players, and this is an area Moyes needs to address. Since his arrival, the Scotsman has overseen the purchases of two young right-backs – Guillermo Varela and Saidy Janko – so he may decide to promote from within, due in no small part to the difficulties with recruiting a player who knows they will be second-choice.
Centre Back:
Captain Nemanja Vidic has already announced that he will be swapping Manchester for Milan this summer, and some woeful performances this season mean long-term defensive partner Rio Ferdinand should be also searching for alternative employment, come May.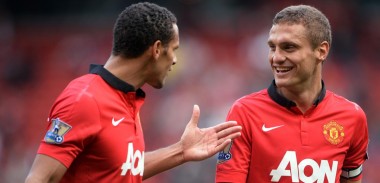 That joint departure means Jonny Evans will be United's most senior defender, and the Ulsterman's performances over the past three seasons show that he merits a place in the Old Trafford ranks. Phil Jones and Chris Smalling have encountered a great deal of criticism this season, but the aforementioned positional rotation, combined with multiple injuries have certainly impacted the pair's form. Nevertheless, that both men look set to form part of Roy Hodgson's plans for Brazil is an indication of their talents, which, in the absence of injury, should see them well-equipped to form part of another Old Trafford defensive dynasty.
The struggles of Martin Demichelis and Kolo Toure at north-west rivals indicate the perils of making a cheap but experienced acquisition to fill the fourth centre-back slot, so United would be wise to dip into their youth ranks in their search for a deputy. 21-year-olds (the same age as Jones) Tom Thorpe and Michael Keane both have England youth and senior Championship experience, which will stand them in good stead, as they look to make the leap into the first-team.
Left Back:
Undoing the good work of a stunning away goal in a Champions League quarter-final takes some doing, but Patrice Evra managed to do just that with an awful defensive contribution having put United 1-0 ahead in the Allianz Arena, in April. Too easily out-jumped at the far post, not close enough to block a cross nor stop a winger getting a run at goal, the Frenchman's failings, which have been evident all season, were clear for all to see, yet again. The decline Evra has encountered in the past three years surely sees him destined for the Old Trafford exit door this summer.
Having spent months trying to replace him with both Leighton Baines and Fabio Coentrao, it is somewhat surprising that David Moyes has selected Evra on 41 occasions this term. However, the fact that the former Monaco man has been a virtually ever-present owes much to the poor standard of the Scot's other options. The sale of Fabio means the inconsistent Alexander Buttner is Moyes' only other senior left-back. In truth, the Dutchman isn't really Manchester United standard, but a dogged display when faced with Arjen Robben, combined with the previously mentioned issues with signing back-ups, mean Buttner will likely survive this summer.
Wingers:
This is arguably the area of Moyes squad where he will look to facilitate the most departures; due partly to years of substandard contributions from United's wide-men and also the fact that the outgoing players may raise substantial funds, as the Scot looks to bring in top-quality reinforcements.
It would be startling if Juan Mata, United's record signing, left the club, and the same goes for Adnan Januzaj, after a promising debut season.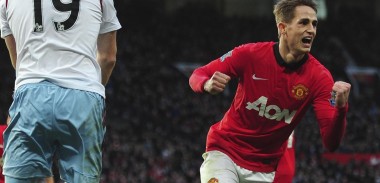 The future of the other wide-men is far from guaranteed, however. Antonio Valencia, Ashley Young and Nani have offered little in recent years, and all three may be moved on, if the right offer comes in. Young guns Jesse Lingard and WIlfried Zaha both impressed in pre-season, and their exuberance may add a degree of unpredictability to an area of Moyes' side which has been one-dimensional on too many occasions, this season. Sir Alex's Ferguson's purchase of Bebé was widely ridiculed, but this season's loan spell at Pacos de Ferreira has seen the former Portugal Under 21 man net 10 league goals. That's no mean feat considering his side have netted just 39 in total, and Valencia, Young and Nani have scored 12 combined, over the past two seasons. If money can be raised via the sales of other widemen, the Portuguese might be worth having around.
Then there's Shinji Kagawa. The Japanese star has been the feature of much discussion this season, and some good recent performances might yet see him start next season at Old Trafford. However, it is clear that David Moyes, just like Sir Alex Ferguson before him, has struggled to find a role for Kagawa and the January purchase of Mata has merely pushed the 25-year-old further down the pecking order, and further towards the left flank. Moreover, a return of 0 goals from 26 appearances this season hardly gives weight to the (in my view, startlingly) popular argument that Shinji needs freeing on a more regular basis.
Kagawa's quality is not in doubt, but some players just aren't good fits for certain clubs – Juan Sebastian Veron, Diego Forlan and Gerard Piqué are among those who have flourished away from Old Trafford. Also, considering he could considerably swell David Moyes' transfer kitty or be a hugely useful makeweight in any potential deal for one of Jurgen Klopp's Borussia Dortmund stars, the play-maker's days at Old Trafford should be numbered.
(P.S. I'm not saying Bebé is better than Kagawa – just that there are probably more benefits to keeping Bebé and selling Kagawa, in the long run)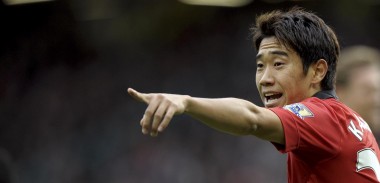 Central Midfield:
This is the area of the side David Moyes needs to most urgently rejuvenate, and part of that process includes clearing the decks prior to bringing in reinforcements. Ryan Giggs has reinvented himself superbly, but this season must surely be the 40-year-old's last. Marouane Fellaini clearly wasn't Moyes' first choice target last summer, and the Belgian has looked out of his depth at Old Trafford. United would have to take a loss of Andy Carroll proportions if they were to let the former Everton man go, but the Red Devils could do with the extra funds, and without the reminder of previous failings in the transfer market.
Michael Carrick and Darren Fletcher are both the wrong side of 30, but their experience will be vital given the amount of old hands set to leave the club. Tom Cleverley has shown admirable bravery by partaking in a number of high-profile interviews in the past year, but not enough on the pitch to earn a slot in next year's squad. Even if the England international does feature in Moyes' long-term plans, a loan spell away might be best; regular first-team football and time away from the glare of Old Trafford could revitalise the academy graduate, but in truth, Cleverley would be lucky to still be a Manchester United employee, come September 1st.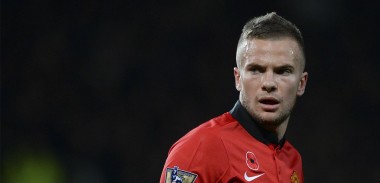 Having seen his Number 8 shirt handed to Juan Mata, Anderson looks to be all but out of the exit door, but his dynamism is exactly what United are lacking, and, if fit, merits a place in the squad. Nick Powell has impressed during his loan period at FA Cup semi-finalists Wigan Athletic, and should be retained to add flair and versatility to the Old Trafford ranks. The addition of two top-class central midfielders would leave Moyes with a blend of youth and experience, solidity and guile, the like of which have been lacking at United for far too long.
Strikers:
The purchase of Juan Mata has created a dilemma for Moyes; how does he fit the Spaniard into the side, with Wayne Rooney and Robin van Persie? Mata is best in the Number 10 position, and Rooney looks more at ease further forward, so where does that leave the Dutchman? This season, his demeanour has been that of a discontented man, and he has expressed his surprise at the departure of Sir Alex Ferguson, and the tactical struggles he has faced under Moyes' stewardship.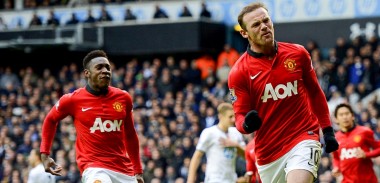 Consequently, Moyes might just be tempted to sell, if the chance to award van Persie's considerable wages to a midfield acquisition arose. Given more regular game-time up front and some more work on his finishing, Danny Welbeck will prove to be a very adept understudy, but the frustration of being third-choice may become too much for Javier Hernandez. A failure to improve his all-round game has stagnated the Mexican's development at Old Trafford, and a big offer would probably see the Little Pea depart.
The lone-striker system means Sir Alex Ferguson's circa-1999 desire for four top-class strikers can be reduced to the need for three. Therefore, if Hernandez did stay, Moyes doesn't need to spend. Even Chicharito's departure may not force the Scot into the striker market, given the form of James Wilson (who was on the bench at Newcastle) in the Under 21 side, and Angelo Henriquez on loan at Real Zaragoza. Federico Macheda has impressed at Doncaster Rovers and Birmingham City, but some shocking performances for United suggest that the Championship is really his level.
As evidenced by the shambles that has unfolded at Tottenham Hotspur this season, signing several players for big money isn't necessarily a sure-fire way to revitalise a football club. Therefore, David Moyes may be looking to bring in quality rather than quantity, with the major surgery on his squad being executed in the form of departures.
A ruthless approach that proves nobody is safe from the axe, and uses hungry young talent to put pressure on more experienced counterparts, while returning an air of unpredictability to the Old Trafford ranks may be David Moyes' best chance of using this summer to turn Manchester United around.
DEFINITELY STAYING:
David De Gea
Rafael, Jonny Evans, Chris Smalling, Phil Jones, Michael Keane, Tom Thorpe
Juan Mata, Adnan Januzaj, Wilfried Zaha, Jesse Lingard, Darren Fletcher, Michael Carrick, Anderson, Nick Powell
Wayne Rooney, Danny Welbeck, Angelo Henriquez, James Wilson
POSSIBLE DEPARTURES:
Anders Lindegaard, Ben Amos, Sam Johnstone
Alexander Buttner
Tom Cleverley, Nani, Shinji Kagawa, Bebé
Robin van Persie, Javier Hernandez
EXIT DOOR FOR SURE:
Nemanja Vidic, Rio Ferdinand, Patrice Evra
Ryan Giggs, Marouane Fellaini, Ashley Young, Antonio Valencia
Federico Macheda
Enjoy that? Give it a share!