Isn't it amazing how things can change in just twelve months? Back then we glowed with pride at a team that came back in true Manchester United fashion to avenge the final day disappointment at the hands of City the previous season with an 11 (eleven) point lead in the Premier League. Our manager was about to retire but, as he assured us, he was leaving us with a strong squad with a good mix of experience and young talent. Our midfield needed replacements but, in general, the squad was strong and well appointed as a basis for the future. The mood in the club was one of strength, unity and the spirit of United ready for the next challenge.
In contrast, twelve months later with a stronger squad albeit a different manager the situation could not be more different. It's difficult to even fathom just how far things have unraveled under David Moyes. Had you asked me a year ago to predict what would be required for United to plummet to this position I would have postulated that even had the Glazers appointed a Liverpool-supporting deaf-blind gibbon as the next United manager that at worst we might see a drop to 3rd place in the league, a period of slight instability and some unprofessional appearances in front of the world's media. Fast forward to the present day and that gibbon would seem to be a vast improvement in all areas over a manager who has taken under-performing to a whole new level.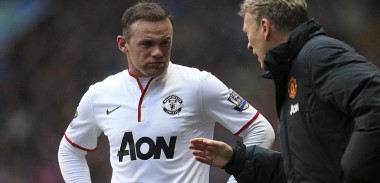 The problems at the club have been well-documented. It's possible to field a title-challenging 1st XI purely from players that Moyes has fallen out with during the season. Coming in as an outsider you would have thought that the very least he needed to do was keep the players on side. Instead he has undermined the senior players at every step of the way. All of them aside from a certain Scouse striker who appears – in his new contract – to have negotiated immunity from being played out of position or even being dropped when injured. Also I can only assume that it is a contractual obligation for him to be played in preference to more accomplished number 10s such as Mata and Kagawa despite his consistent loss of possession under pressure.
My feelings on Rooney are well known; he is talented for sure but not talented enough to destroy a team in order to accommodate his demands. He is not professional in his approach to his fitness and has already lost the explosive pace that he had when he was younger without substituting it for an alternative string to his bow. His ability to shed the additional stone of weight that he acquires every summer has also diminished and he is unlikely to be unable to play at the highest level much past his 30th birthday. Ryan Giggs he is not. A Manchester United captain he is not.
It is now largely irrelevant whether or not David Moyes is capable of making this United squad successful. The situation is febrile at Old Trafford and will remain that way until either enough time has passed and Moyes manages to slowly turn this ship around or he has gone and is replaced by… hell at this point I would vote for the aforementioned gibbon. This is no longer about his talent as a manager, his footballing philosophy or his ability to man-manage at the highest level. We are where we are. The situation is so bad that he has to be replaced if things are to improve for next season.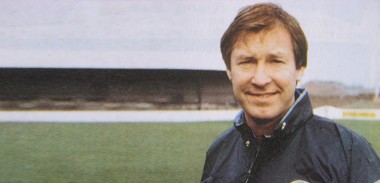 I am sure that many of you are ready to jump in and tell me that the United way is to appoint managers for the long-term and stick with them through thick and thin until they are successful. I would argue differently. That WAS the United way in a bygone era without the riches of the game, the wages of modern players and the intense scrutiny of the world. That was the United way in an environment in which that tactic could work. Unfortunately things have changed drastically since those days with the formation of the Premier League, the Champion's League and the emergence of football as a product for boardroom battles instead of a simple game played for the pride of the supporters.
If we stick with Moyes for the long-term then, yes, he might turn the ship around but I doubt the same sailors will be standing on the deck by the time that happens. Eventually, as it has at Liverpool, a new day may dawn following years in the wilderness but before that we should be prepared to twiddle our thumbs for a while as quality players leave and mediocre players are all that we can attract.
Ask yourselves why Barcelona, Real Madrid, Bayern Munich, Chelsea and Man City haven't accepted transitional periods and seasons of adjustment. When Guardiola arrived at Bayern Munich, did everyone expect them to drop to 3rd in the league as he adjusted to life at the Allianz? Of Europe's biggest clubs only at United was it deemed acceptable to countenance a transitional period. I accept that Sir Alex's quarter century tenure had a lot to do with this which is why it beggars belief that Moyes was able to come in and clear out the entire spine of the club and replace it with his own. If Sir Alex was such a tough act to follow, surely they should have offered Moyes the job on the basis that he changed nothing for at least a season to ensure continuity. If he refused that then we could all assume that he didn't want the job badly enough.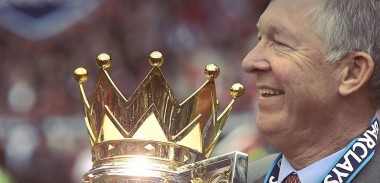 So here we are; standing at a key moment in the Club's history. Keep Moyes and watch him painfully attempt to rebuild it around his, as yet non-existent footballing philosophy. Or grasp the nettle and move him out in the summer. The mood in the club will instantly change for the better, players who were dead-set on leaving are likely to want to stay and play for the new manager, even if it is my sensory-deprived gibbon.
It's possible that if United appoint a new manager in the summer that they will make a full recovery and be challenging for the title next season with the squad that Sir Alex built still largely in tact. If they stick with Moyes then we had all better get used to spending February onwards looking forward to the next season.
What do you think about David Moyes? Comment in the section below.
Enjoy that? Give it a share!