The word best used to describe Tom Cleverley by most United fans this season is a word that is probably best not used when writing this piece. In general, the frustration is born out of the fact the 'young Englishman' offered so much potential, and that potential has not quite been fulfilled by the not quite so young Englishman anymore. Reports have emerged that Everton may be willing to take the £15 million Old Trafford villain away  from Old Trafford come the summer and most red's will probably be grateful to see the back of him.
Everyone loves a scapegoat though, and United defiantly have a sprinkling of contenders this season, with Tom Cleverley right up there in representation of the playing staff. Ask yourself this however, if United wanted to enter the market and buy a 24 year old England international, would they have to pay more than £15 million? Of course the club would, so why should they settle for that. Let's not pretend that Everton didn't hold the club to ransom last summer, depriving the reds of £27 million pounds for a certain insanely, unstable Belgian midfielder. Swapping one for another over the course of a year and also being out of pocket following the process would just not be good business.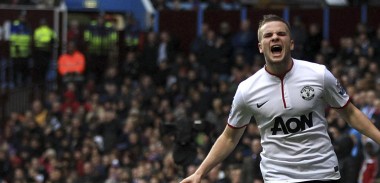 The question now has to be asked as in to why is Tom Cleverley the scapegoat? Most reds will find no problem in giving you an answer. He only passes sideways and backwards, he never puts in a tackle, he's utterly careless on the ball and overall he is not good enough to wear the Manchester United shirt. The list goes on and on and it's becoming far too easy to kick the England midfielder when he's down. The player has been subject to unnecessary abuse by sections of the support this season and as for his England career; well that lies in the balance after a number of simple-minded, utterly dense England fans created an online campaign in order to stop United's number 23 climbing aboard that plane to Brazil.
Loyalty is rare in football these days and perhaps that is a point to be remembered when in discussion over Tom Cleverley. Of course he has never had an opportunity to move away from United and nor to is he undoubtedly good enough to go anywhere but down the food chain from the reds. He resembles a good squad player however, one that will not moan when placed upon the bench and one that has always, and will always act with complete professionalism for a club in which he quite clearly takes pride in representing. Is it really such a bad thing to have a decent, 24 year old England international among the ranks as a squad player at United? A lot of fans may not have one ounce of problem with this in fairness, and as long as the club reinforce the midfield during this much anticipated summer then this shouldn't be an issue.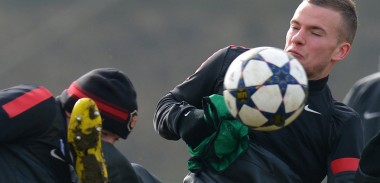 Tom Cleverley's even most ardent supporters will struggle to put together an argument that the midfielder hasn't put in some fairly dismal displays in a red shirt this season. The player is not alone there though, and Michael Carrick for example has hardly covered himself in any glory. Supporters lament that Cleverley only passes sideways and his creativity department is in absolute famine, but then United don't exactly have any creative, out and out midfielders. Some may need to just remember that it's not the players fault himself that he continually get's picked, he must be doing something right in training and United don't exactly have a host of many other options in their ammunition.
last Tuesday's utterly spineless display in the Manchester derby presented an opportunity for supporters to give Cleverley yet another barrage of abuse after the number 23 was hauled off at half time. The central midfielder was deployed on the wing for goodness sake, can you imagine Michael Carrick for example suddenly turning into a natural wide man when coerced into this position. If anything it evokes how poor the wingers are that United posses in their locker room and the fact that the player is willing to play out of position in order to help his team. To be frank, even he must know that playing out wide will not and did not aid any chances he has of going to Brazil.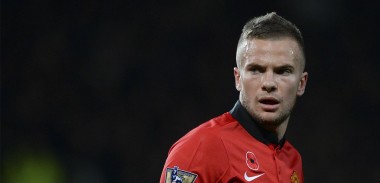 There is no suggestion that Tom Cleverley is good enough to start week in week out for United, but when knocking him down all the time it can be forgotten that he does possess certain assets. He is United's most energetic central midfielder without a shadow of a doubt, and whether effective on the ball or not for Moyes's side, he doesn't half cover a lot of ground. Also, despite playing continual sideway passes, on rare occasions this season it has proved valuable when United are striving to retain possession. The midfielder also looks to get United playing at a quick tempo, and although not with the same influence as Michael Carrick in terms of controlling the tempo, he is a damned sight better in situations when a higher temp is needed. The player's best outing in a United shirt probably came in United's 3-0 win at Villa Park earlier in the season, with the Englishman winning a good ratio of tackles in midfield as well as getting United attacking Villa on a  quick tempo, not to mention bagging a rather nice goal for himself.
There is no point suggesting that one good stand out performance alone or those attributes mentioned make him anywhere near good enough to a regular for Manchester United, but they do need to be weighed in when concluding any structured argument.  Those who hate Cleverley more than likely will always hate Tom Cleverley. The same haters are also the one's who would never even comprehend that the player's stunning strike away to Newcastle last season was a shot not a cross. Probably best we don't start that argument! Come the summer and United invest in a reinforced midfield, then would it really be such a bad thing to have a committed, satisfactory, international footballer who relishes playing for the club sat in reserve? Manchester United would have to stump up a whole heap of riches for a similar levelled English player, so why should the club accept anything less themselves.
What are your thoughts on Tom Cleverley? Comment in the section below.
Enjoy that? Give it a share!