The banner backfired
The intention of the plane hired to fly over Old Trafford trailing a banner emblazoned with "Wrong One – Moyes Out" appeared to be to incite the growing discontent surrounding Sir Alex Ferguson's successor. Though, just like the fairly unpopular banner draped on the Stretford End in the wake of David Moyes' appointment, intentions appear to have backfired, with Old Trafford united in booing the plane when it made its arrival within the first ten minutes of the game. It's been an embarrassing distraction over these last few days, and whilst the very public backing of Moyes from the home crowd was far more than the Scot has deserved after another PR nightmare after Friday's press conference, it was nice to see that most of the stadium was denounce it.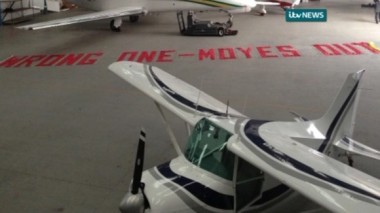 The issue now is how long that support holds out, and how much of it was for show during a game that was of little consequence, given United's disappointing league campaign. The reaction to the midweek derby defeat was not pretty, and in some ways, Moyes is still lucky to have this job. That's not some throwaway comment, either; that's just fact. But this game was never going to alter his fortunes, not with the Champions League quarter finals so close. No one expects United to progress, but you'd wager that those caught clapping Moyes today won't be quite as generous if they're staring down the barrel of another abject pummeling at home in midweek.
Bayern could eat United's defence alive
If there's one thing Christian Benteke proved in the second half of this match (three times, mark you), it's that if United do not have a proper centre-back partnership to cope with the reigning European champions, then Pep Guardiola's side will run riot. Admittedly, utilising Michael Carrick in that position did not help, but the space afforded to the Belgian, and the way in which he troubled Nemanja Vidic constantly makes for particularly grim planning. Any one of Bayern's front six can cause us problems, and with plenty well-rested and desiring away goals, it will be a massacre if Moyes doesn't have a functional, solid and disciplined back-line at his disposal on Tuesday night.
Kagawa must be grateful for Van Persie's injury
At the risk of getting ahead of ourselves, the fact that Shinji Kagawa was hooked off just after the hour mark against Villa suggests that greater tasks await the Japanese international. Unlike last week, where he was allowed to complete 90 minutes at Upton Park, Kagawa, who again seemed to enjoy himself alongside Juan Mata and Wayne Rooney, was taken off with the result (mostly) assured, presumably with the impending European quarter final in mind. Kagawa's had a rough ride this season, partly due to his new boss, and partly due to his inability to adapt when handed opportunities, but the form shown in the last week (not including his derby cameo) is highly encouraging.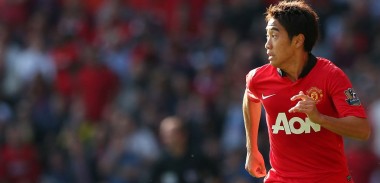 The substitution is absolutely no assurance of anything positive, of course. Kagawa might get shunted out wide, where his influence is often diminished and find it difficult to influence proceedings against a team of much higher capability than Paul Lambert's. But in this instance, the hope is that Moyes is analysing his options ahead of a huge game and deeming Kagawa to be a part of his plans with few better options available. As such, the Japanese couldn't ask for a more overwhelming occasion in which to prove himself, but then again, if he feels dwarfed by it, then he might at the wrong club.
Mata's goal end a difficult week with a smile
It's taken a while; ten games to be exact, but United's record signing has got his goal. It wasn't particularly pretty, and owed much to a lucky inadvertent flick of Ron Vlaar after Maroaune Fellani lost control of the ball in Villa's penalty area, but it was just reward for Mata's desire to push further forward and after a fairly abject display in the derby, it was a warming sight to see the net bulge. The reaction told a story, too.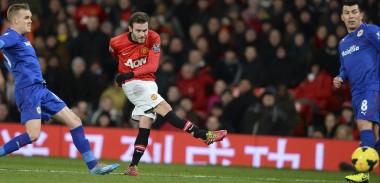 Mata's another player that has seemingly benefited from an increased licence to roam in the absence of Robin Van Persie, even if the hope is that this confidence can somehow be channelled when playing alongside the Dutchman, too. But either way, it was heartening to see a player who has slipped in to life so seamlessly in the North West and appears to enjoy being at this club get his moment in front of the Stretford End.
Rafael could use a break
With Patrice Evra already out of the game in midweek through suspension, United can ill-afford to lose another first choice wing-back against such ruthless opponents, and given the scope of the occasion, it's almost impossible to consider giving Rafael a break if he's fit. But in any other circumstances, it'd be wise to give the Brazilian a little time to rest.
It's not something fans consider often, so ingrained is the assumption that footballers are robots and should be available for every game without fail. Obviously, they're paid a lot of money to do so, but considering that Rafael receiving bookings in three of his last four league games has coincided with the birth of his second child, it wouldn't be unkind to give him a day off at some point. Having a baby is one of the most amazing things you'll ever do with your life, no matter how many times you'll do it. Rafael's most likely in the midst of nights where a few hours of sleep are all he can hope for, so if you're wondering why he looks more frazzled than usual, look no further.
Enjoy that? Give it a share!