According to The Guardian's Jamie Jackson United are set to offer Phil Jones a new contract. The 22-year-old Englishman currently has 2 and a half years remaining on his initial contract. He currently earns £50,000 a week but this new deal would increase these terms.
Over the past two seasons Jones has proved his versatility and was quite often played at right-back, as a defensive midfielder or his preferred position centre-back. David Moyes has acknowledged this and sees him as a vital part to the long term plans at United.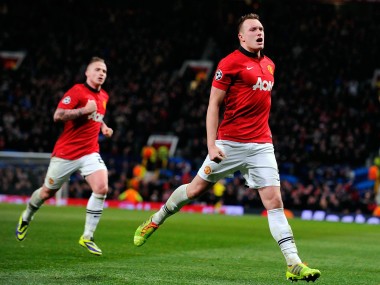 The partnership between Phil Jones and Chris Smalling could be one we'll have to get used to, with the departures of Rio Ferdinand and Nemanja Vidic we're left with limited options at centre-back. Furthermore the likes of Jones, Smalling & Evans seem very injury prone which will be a worry ahead of next season.
Oddly, since Jones joined in 2011 he's only played one game alongside Smalling at central defense. That game was 2 weeks ago against West Brom. So it may not be a partnership we've seen much of before, that almost certainly will change next season.
Jones has made 31 appearances so far this season, seemingly most at centre back where he's really proving himself. Speaking at his last game, Sir Alex Ferguson famnously said  "Jones is going to be a phenomenal player…. he will be one of the best players we have ever had."
Whatever may become of Phil Jones, whether he's a centre-back or a defensive midfielder he's seems destined for a fantastic career at United.
Enjoy that? Give it a share!