Poor start costs United again
If you're looking for common themes in these successive derby defeats, then look no further. United's performances against both City and Liverpool were defined by starting in first gear and struggling to get out of it, and once Edin Dzeko scored in the opening minute, wrestling the initiative and control back from City's grasp was practically impossible. Even if City's second goal game a little later than Steven Gerrard's in the second half ten days ago, there was no response after the break, and the visitors were instantly. on top. Warning signs were ignored, and shortly after Fernandinho had sent a header over an open goal, Dzeko volleyed in number two from a Samir Nasri corner. Rio Ferdinand could have marked his target with far more distinction, and Danny Welbeck drifted from the post that he should've been rooted to, but the goal had been coming regardless.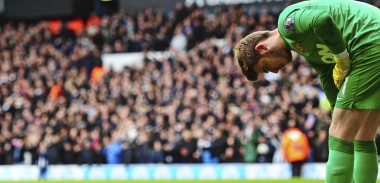 United only got the ball for sustained periods afterwards because Pellegrini's side were happy to play on the counter. In past years, this might have been akin to singing a personal death warrant, but nothing in this season has suggested that the home side possess the drive or bottle to overturn a two-goal deficit against a side of City's calibre. It's been a common theme across this term that David Moyes' United start matches like an elderly turtle with arthritis, and it's exceptionally easy to plan and prepare against such lethargy in the opening stages, let alone exposing it.
Moyes is surrounded by banana skins and slips on far too many
For any misinformed souls wondering what all the fuss is about, this is the infamous quote from David Moyes' post-match interview with Geoff Shreeves on Sky Sports last night;
"I think we've played a very good side and it's the sort of standard and level we need to try and aspire to get ourselves to at this moment in time."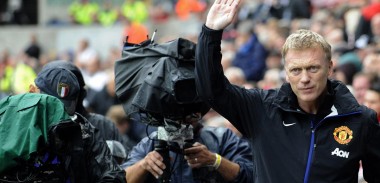 At this point, suggesting that United's current manager is uttering sentences that a leader of such a prestigious club shouldn't even think of, let alone speak, is futile; we've heard similar slip-ups all season long. The only taboo left for Moyes to break is surely getting confused as to which Manchester club he's in charge of (a la Pellegrini). In this instance, after a derby game in which United were thoroughly outclassed, the mere suggestion that City are operating on a level that must be aspired to turned a sour evening into a poisonous one. Shreeves might have laid the trap for him somewhat, but Moyes walked straight into it and simply looked surprised when the cage dropped around him. In a season of press gaffes, it's stunning that a Manchester United manager cannot see that this is a club that shouldn't be in such dire straits that they need to aspire to the level of another, certainly not their cross-town rivals. The mere suggestion says all you need to know about Moyes' understanding of his job, in some ways.
Fellaini looks out of his depth
Singling the Belgian out for criticism might come across as unfair considering that there were a number of players around him, United's record singing included who have failed to impress to a similar degree this season, but this is the second occasion in the last nine days were Marouane Fellaini looks completely and utterly uncomfortable to be playing a big game for Manchester United. He never settled into the pace of the game, believing himself to have a second or two longer on the ball than reality dictated, and the petulant, needless elbow aimed at Pablo Zabaleta should have brought far greater punishment than his first league booking of the season.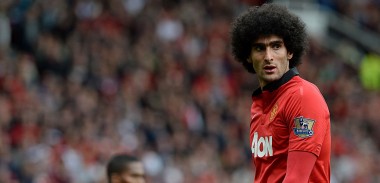 What we have seen since a return from injury are flashes of form from the former Everton player, little more. On Saturday at Upton Park, Fellaini looked energetic, strong and was frequently involved in pushing United forward. He missed his now-customary chance to score, and looked at home alongside Darren Fletcher. Of course, facing Yaya Toure and Fernandinho is something of a step-up from West Ham's finest, but there's been a worrying gulf in class in the big games since the Belgian's return from injury that doesn't look like it'll be bridged any time soon. No one was suggesting that Fellaini was going to repair United's midfield instantaneously, but the notion that he would improve it shouldn't feel so far-fetched. The longer this goes on, the more the jeers from supporters on such occasions will continue, with the£27m shelled out for his services looking more and more like a gross over-payment.
Last night changed nothing for the club or its manager
This ten day period, featuring derbies with Liverpool and City along with a second-leg European date with Olympiakos was marked as crucial to David Moyes' survival as Manchester United manager, and it hasn't gone quite as badly as most predicted. United had just enough in the tank to get past the Greek champions, but were distinctly outplayed by two teams in much ruder health than themselves. There was nothing on show before last night to suggest that Moyes and this team had turned a corner by winning last Wednesday against a plucky but limited side, and they've been shown up in brutal fashion by two sides challenging for the title, but by reaching the last eight of Champions League, Moyes has most likely done just enough to keep his job. The anger directed at Sir Alex Ferguson and his successor last night is understandable; no one likes to lose derby games, especially as limply as this, or suffer such a dip in form, but given that such a result was incredibly predictable before kick-off, perhaps it shouldn't have provoked such a barbed response.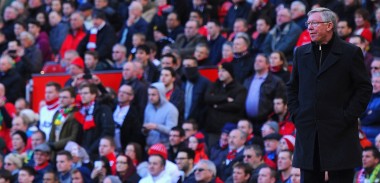 This is in part due to Old Trafford's wells of patience beginning to drain, with the hideous Chosen One banner flanked by stewards like a Presidential candidate after the match, ready for any desperate attempt at removal, but it could well take a winless run the likes of which the club hasn't seen since before Ferguson's reign to force Moyes' ejection before the summer arrives. Things will have to get worse than they already are for the board to act, it's as simple as that. This is not to suggest that last night's derby defeat has less significance than say, losing to West Brom; of course it does, it's City, but in the context of United's season, it changes nothing, and it'll take more than this for the board to risk losing face at this stage of the season given how startlingly supportive they've been of their man in charge so far.
Enjoy that? Give it a share!