---
As David Moyes fidgets in his jacket in the home dugout, over 70,000 pairs of eyes bear down on him, full of questions, questions to which they may never receive answers. Those eyes are watching their team crash to a penalty-laden 3-0 defeat at the hands of their fiercest rivals from Merseyside. What's more, they watch as their players struggle to even put up a fight. Several of them do not look remotely bothered. Meanwhile, their manager oversees the capitulation from the Old Trafford touchline, appearing completely bereft of ideas, devoid of hope and shorn of confidence. He does not command his technical area, but rather shrinks away, hunched over, arms folded. What message does this send out to the father and son in the stands, to the group of friends at the pub, to the person on the other side of the world who wakes up at 3am to watch their team?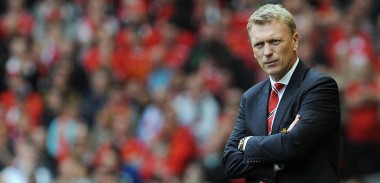 United supporters do not want the likes of, "We will try…" and "Hopefully…" that they are constantly fed. They want statements, words that instil confidence, that fire up the players. They want attacking football, fluidity, good wing-play. They want errors to be taken on board, and adamance that they will not happen again. They want zeal, belief, pride. Most of all, they want team spirit, a quality for which the club is so famous. Fans can and will forgive mistakes, put bad days behind them, and accept poor results when deserved.
They will not stand for a lack of effort, nor football that is not pleasing to the eye. It is not necessarily the losses themselves; most Reds can appreciate that even the most hard-working and talented of players come out on the losing side at times. It is the manner of the defeats, the negative approaches, the "too little too late" substitutions. It is the mentality, the philosophy that has engulfed the club. It's not Manchester United, none of it is.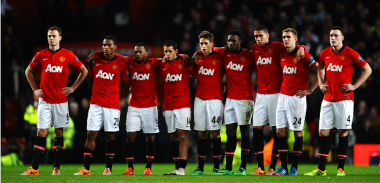 The players cannot escape without shouldering some of the responsibility. After all, they are the ones putting on the shirts, lacing up the boots and bringing back the three points (or not, as the case may be). They have looked jaded for much of the season, sluggish, frustrated, and have demonstrated a complete lack of cohesion on several occasions. With the turmoil on the pitch and rumours circulating as to the altercations taking place off it, it is clear that some members of the squad are guilty of not giving it their all this campaign.
However, there is a root cause; footballers do not just become "bad" overnight. It stems from the lack of trust they have in their manager, a man who inherited a team of champions yet cannot get the best out of them, a man who instead advises a Champions League winner to think about "what [Phil] Jagielka would do". Eight months into his reign, David Moyes' tactics have not changed, he continues to alienate certain players, and he still looks like a rabbit caught in the headlights. Overwhelmed is something you simply cannot afford to be at United. The job will eat you alive.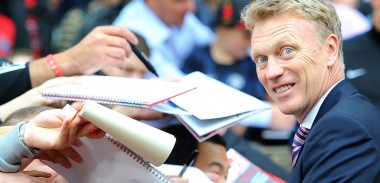 Some of the blame has been apportioned to Moyes' predecessor. Sir Alex Ferguson left him an ageing defence, a non-existent midfield and a very unhappy #10. This is the same Ferguson who, in front of a packed Old Trafford and millions across the world last May, implored the supporters to "stand by your new manager". The majority – blindly, a large portion might admit with the benefit of hindsight – followed his command. 10 months on, fewer and fewer people are actively supporting their new manager as the weeks tick by, although there are many still heeding the previous gaffer's words – sticking their heads in the sand, Moyes' depreciators might argue.
Heated exchanges and debates have ensued on social media, not over the football as it should be, but rather over who is right and who is wrong. An "I told you so" is all too often met with "Give him time". Fans are branded "spoilt" for wanting the best for their club, others told to "get off their high horses". It is a conflict of characters, a war of words, a heap of hashtags.
Nevertheless, on the face of it things appear different on matchdays. The supporters seem more, well, united. Perhaps not in support of their manager, but certainly of their club. The relentless chanting which reverberated around the stadium on Sunday was goosebump-inducing, hair-standing-up-on-the-back-of-the-neck kind of stuff. The Red Army, although hurting, was eager to remind the world that there is still a soul in there somewhere. Those fans deserve a little bit of fight and passion in return. They will, after all, still be here long after Moyes has gone.
---
Enjoy that? Give it a share!