In statistics, there is a well-described phenomenon called "regression to the mean". In simple terms it describes the fact that if you measure something and get an extreme result and then measure it again, the second result is likely to be less extreme. This is because the laws of physics in our universe tend everything towards a condition of stability or equilibrium. Once you understand the equilibrium point of a system then you can predict individual outcomes of events within that system with a better than chance level of success. This is how bookies make their money.
Regression to the mean is seen in football all the time. Individual players will go through patches of form where they play well above their normal or mean level of performance. The only thing that we can be sure of is that they will eventually regress to the mean and return to their normal form. Equally, when a high-quality player is going through a bad patch, everyone knows that it is a matter of time before they regress to the mean and their performances improve. On a side note, those United supporters ready to write Robin Van Persie off should bear this in mind. His mean level of performance is world class and age notwithstanding he will regress to the mean at some point in the near future. When he does, let's hope that he is still wearing the red of Manchester United.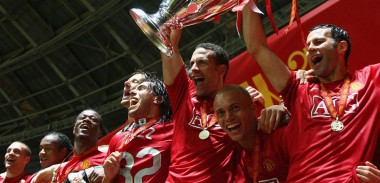 Manchester United's equilibrium point over the past 20yrs is way above their current performances might suggest. So the only thing that we can be sure of is that, at some point, regression to the mean will occur. Recent performances have been so extreme in terms of their deviation from the mean that we can and should expect improvements even if nothing else were to change.
The reason for the poor performances, whilst they have been blamed on a poor quality squad, are more likely to be a combination of a failure of the squad to buy in to the new management's strategy coupled with poor communication from a manager who is frankly crumbling under the weight of expectation. He would have been well advised to come in and not change too much too quickly but instead he seemed so concerned with being his own man and drawing a line under the Fergie era that he over-reacted. If Manchester United were a mechanical watch, Moyes immediately prised the back off to calibrate it only for springs to fly out in all directions. He may have scrabbled around on the floor for those springs but he doesn't know enough about the workings of the watch to know how to put them back in the right place. For now, he has simply looked both ways and forced the case back onto the watch and is whistling innocently whilst it runs in reverse. No need to admit to anyone what happened, he can simply blame it on the poor quality Serbian and Japanese parts.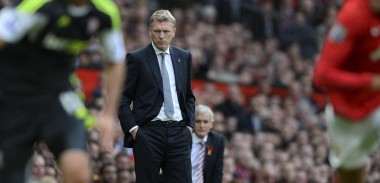 The previous game against West Brom has given us glimpses of hope. The play was more fluid, particularly up front and Moyes appeared to have gambled on deviating from a rigid 4-4-2. This next game against Liverpool causes a bit of a quandary. In an ideal world the next game would have been against weaker opposition when the same game plan could have been fielded again to give everyone a chance to get used to it. Unfortunately the next game is Liverpool. Will Moyes continue the gamble and trust his players to perform or will he regress to the mean and revert to the archetypal Everton manager of old by setting his team up not to get beaten by Liverpool?
Sunday is judgement day. If United set up in a rigid 4-4-2 hoping not to concede and to maybe nick one on the break then, for me, Moyes is unlikely to be a successful manager of Manchester United even if we win the game.
In this game we will see the true measure of Moyes' ability to be a leader. Will he stand up and gamble or will he hide?
Enjoy that? Give it a share!