Luis Nani, a name that resembles Marmite for much of United's support. So little has he featured this campaign that for those of you that don't remember, he is that 27 year old Portuguese winger with the heap of talent. The one that has the ability to frustrate  even the most tolerant of supporters. In fact, the winger has only started 7 games for the reds this season, weighing in with a predictable zero goals and zero assists. His last start came back in early December when United slumped to that embarrassing home defeat to Newcastle, and he last featured in the match day squad as an unused substitute when United played Stoke in the Capital One Cup on December 18th.
A significant hamstring injury has been the culprit behind the players long drawn out absence, but it has been the lack of news or comments by the manager regarding the player that has been so interesting. In honesty his future at Old Trafford has been in question for several seasons now but he was somehow rewarded with a shock five year contract by the club back in September. In fairness to the player, let's not forget the season he had back in 2010/11 when he was voted player of the year by his team mates, weighing in with 10 goals and 14 assists, more than any player in the league. On his day he is unplayable; one of the few United players capable of brilliance, those wonder strikes against Spurs and Chelsea in the past evoke this statement. The curious thing about that five year deal however is, he is not a David Moyes type player.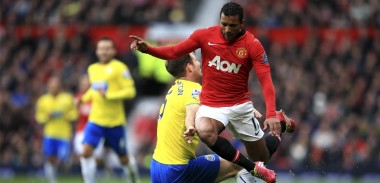 This leads us on nicely to the weekend with the rumours that United's number 17 is on the verge of a first team comeback. Does a player who David Moyes viewed fit to offer a five year deal to actually feature in the Scotsman's plans? A David Moyes type wingers is one of which can tuck inside and create space for the full back to bomb forward. So far so good for Nani then. However, a David Moyes winger is also a well disciplined individual with the ability to defend, play the ball simple, and put in the occasional cross. If the manager finds it a labouring task to trust a player like Kagawa in his rigid formation, then can you really see him trusting the unquestionable turbulence Nani would bring to his game plan. We all know Ashley Young and Antonio Valencia are far more up Moyes's street.
In fairness to the pair, Moyes hasn't exactly had much opportunity to play his man contracted to the club until 2018, nor has Nani had a fair crack of the whip under his new manager. There was however one other winger at the club with a similar raw talent to Nani, and conceivably the same playing style to the Portuguese international. His name is Wilfred Zaha, Moyes wasn't a fan, the pair apparently didn't see eye to eye, and as we all know he is now plying his trade on loan at Cardiff. To counter this argument though, Moyes has been prepared to entertain himself with the talents of Adnan Januzaj, a player who also lacks the well moulded, defensive attributes Moyes is after. Maybe there is hope for Nani.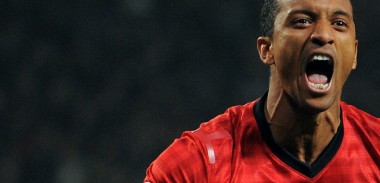 If deemed suitable for his game plan, the question now lies on how exactly Nani breaks into that United team. Wayne Rooney and Van Persie simply play when they are fit, £37 million signing Juan Mata now plays when he is fit, and you have the fan favourite and new kid on the block in Adnan Januzaj on the left hand side. Let's not forget, Nani was booed of by United fans earlier in the season, can't exactly have done his confidence any good can it? The left flank however is his one opening, Moyes clearly isn't keen on over using the 18 year old Belgian so that presents the opportunity for Nani to impress. Some healthy competition and a similar manner of player to Januzaj could also help him reach the next stage of his game, thus helping Nani at the same time. To be fairly blunt, Ashley Young and Antonio Valencia aren't exactly the ideal tutors for the young Belgian, and nor to do they frankly push Nani into reaching the heights he has shown glimpses of being capable of. The pair could in fact just be quite good for one another.
A return by the Portuguese winger if not this weekend but the next will provide some healthy competition to the United ranks. We all dream about him becoming that player we have seen on far to rare of occasion, at least no longer do we expect the next Ronaldo to appear. The new new contract back in September does portray that Moyes will grant him a chance, but five year deal or not, the winger has to impress. If not, more than likely, that five year deal instruments a possible extra £5million for the reds come the summer.
Enjoy that? Give it a share!