It is fair to say that this season so far at Manchester United has not gone as anyone would have expected. We were humiliated in the summer transfer window, points have been dropped against teams we would normally beat without getting out of second gear, and whispers from the dressing room of player discontent have refused to go away. However, Sir Alex Ferguson claimed on Sunday that David Moyes will come good for Manchester United, saying 'it's early days and there have been a few changes' in an attempt to back up this view.
It is very difficult to know what the great man has seen so far this season to suggest to him that Moyes is the right man to steer the United ship through these troubled waters. On his appointment, the most compelling argument that could be made for him (aside from the nonsense of his being 'cut from the same cloth' as Ferguson) was that we didn't know how he would adapt to managing the global behemoth that is Manchester United, and it could be that managing a club on a level far above what he had known before would allow him to raise his managerial style to a similar level. Well, we now have some idea about how he would react to managing the biggest club in the world, and unfortunately for him and us, instead of raising his game to United's level, he has brought United down to his.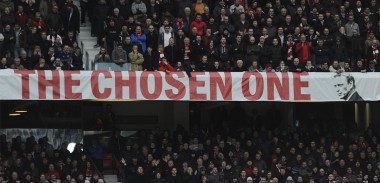 I feel it prudent to say at this point that at the start of the season, although Moyes had not been my first choice to replace Ferguson, I was prepared to cut him some slack and give him as much support as possible. I knew this season would be a struggle, but was content to see it out and only judge him after two seasons. Had there been any signs of improvement this season then I would still be thinking like this. Had our results been down to experimenting with exciting new systems and blooding the youngsters, I would have accepted our league position, knowing that this would have led to better results in the future. However, if anything, we have got worse and worse this season, as one drab, soul-destroying game follows the next. This style of football has gone on long enough for anyone to see that it is not working and the fact that Moyes has stubbornly persisted with it is what leads me to doubt Ferguson's claim.
As Ferguson has said, there have been a few changes, so before we go any further let's take the time to analyse these changes and how they have affected the squad. Firstly, Moyes axed Ferguson's old backroom staff, full of proven winners, and replaced them with coaches either with no experience of winning trophies, or no experience of coaching at all. Then, in an unprecedented move for the Glazer era, the manager was extremely open regarding our potential transfer targets in the summer, leading to egg on the faces of all of the Old Trafford executives when one by one these transfer targets either moved elsewhere, or signed the contract with their existing club they had been trying to engineer all along through their public flirtations with United.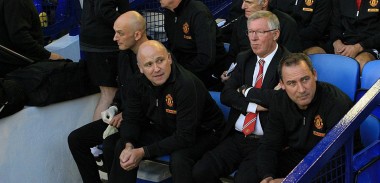 The start of the season arrived and with that came further changes. A team previously full of ruthless professionals with a win-at-all-costs mentality has been turned into a collection of whinging primadonnas who buckle under the first signs of any pressure and then bemoan bad luck and refereeing decisions to cover up for their lack of quality; and a swashbuckling, counter-attacking style has been sacrificed for defensive-minded, turgid and uninspiring dross. Unfortunately for Moyes, no change has occurred in the areas which blighted Ferguson's last few years at the club, so we are still desperately short of quality in midfield, and hampered in the transfer market compared to the growing number of petrodollar-fuelled clubs thanks to our leeching owners (although all the noises regarding 'warchests' coming out of Old Trafford suggest that is set to change in the summer).
So with a continuation of all that was bad about the tail-end years of the Ferguson era, and changes involving much that was good about it, what has Ferguson seen that the rest of us have missed to suggest to him that Moyes will come good? Well, let us not forget that it was made very public that Ferguson was the one to pick Moyes. At Bayern Munich, Pep Guardiola appears well on the way to creating his second contender for the 'greatest team ever' in just a four and a half year managerial career, and Jose Mourinho's Chelsea are beginning to look ominous once again, so it's fair to say that most fans' top two choices for the role of Ferguson's successor are doing significantly better than Moyes is at United. Were Ferguson to admit that he had made the wrong choice, how would it look to the fans? More importantly, how would it make David Moyes feel, knowing that virtually his one supporter throughout this ordeal of a season has lost faith in him? Add to that the fact that Ferguson is still a director at Old Trafford, and it makes it impossible for him to take any stance other than total support for Moyes. His pride and his position as a director means that, short of burning down Old Trafford and urinating on Ferguson's statue, Moyes's support from Ferguson is virtually assured, publicly at least.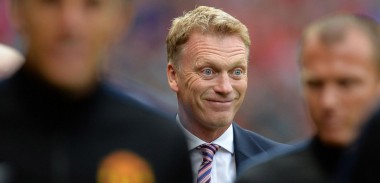 There is another, more cynical side to all of this, however. Ferguson spent 27 years at the club and when he retired, his status as one of the greatest managers the game has ever seen and as a club legend was never in doubt. Could his decision to appoint Moyes when other, more accomplished managers were available be one final attempt to show his genius? It was widely agreed last season that it was a poor team which won the title – could the appointment of Moyes be an attempt from Ferguson to show just how good an achievement it was from him to win the league with that squad last season? Similarly, hypothetically, how would it have looked if Guardiola had come in, bringing Thiago, Fabregas, and God-knows-who-else, along with a ruthless and inventive style with him as he tiki-taka'd United to two Champions League titles in five years, matching Ferguson's tally in 27? Obviously, this scenario is totally hypothetical and we will never know if that would have been the case but you can bet the thought crossed Ferguson's mind before he made the decision of who to appoint as his successor.
So although on the surface Ferguson's claims might have seemed strange to most fans, dig a little deeper and his motives become clear. His stubbornness, which we all came to know so well during his 27 years at the club, coupled with a desire to be seen as the managerial genius that he is, means that it's not beyond the realms of possibility to consider his support for Moyes as little more than an attempt to cement his own legacy in United's history.
Do you think it is time for David Moyes to be sacked at United? Comment in the section below.
Enjoy that? Give it a share!