It wasn't the most incendiary way to record a first victory in February in four attempts, but then this is not a Manchester United side playing particularly incendiary football. Second half goals from Robin Van Persie and man-of-the-moment Wayne Rooney were enough to see off a plucky Crystal Palace side at Selhurst Park. It wasn't commanding, but as with so many wins at the tail end of Sir Alex Ferguson's tenure, it was effective. Here's what we made of it;
Patience paid off
The notion of David Moyes sticking to his tactics having seen his side fail to score within an hour against a team scrapping to stay clear from the league's bottom three should have provoked a little more disharmony than it did. Yesterday was not a sudden departure from the norm for the Scot; United still laboured from time to time, and gave Palace a little too much encouragement when they weren't in possession, but they stuck to their task after a few promising sights at goal in the first half and were duly rewarded as Marouane Chamakh tripped Patrice Evra to hand the visitors a penalty.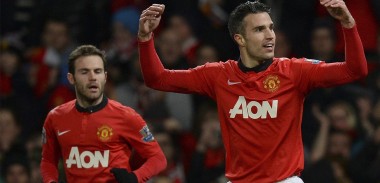 It's not alien for United to come up against a well-organised defensive unit with the tools to damage them on the break, but the number of times that they've been able to pierce such set-ups has certainly lessened under Moyes this season. Here, at least, there was a sense that the front four of Mata, Rooney, Van Persie and Januzaj could make things happen even as the match entered its final half hour. Chamakh's intervention certainly helped, but after a season mostly spent knocking politely on doors as opposed to bashing them in order to get a result, this was a win for patience and control as much as anything.
Even if it was against a team in 16th position.
But hey, we couldn't beat Fulham, and they're 17th. So that's progress, right?
That was close to United's strongest available line-up
Take Chris Smalling out for Rafael at right back and you have a team that almost every United fan could be satisfied with, at least for the time being. It had a dynamic front four, with Januzaj drifting out wide and Mata drifting in centrally, a centre-back partnership with a ridiculous amount of experience (mobility is an issue, of course) and a central midfield with craft and guts in equal measure. It's of absolutely no surprise that this team didn't destroy Palace from the off, given how much difficulty Moyes has had in drawing the best out of his charges, but United, whilst conceding a few hairy chances, didn't look vulnerable. Fellaini looked much more assured and used the ball far more effectively than he has ever done in a red shirt, Evra was given free rein to roam down Palace's left and damage the hosts whenever he saw fit and De Gea made sure that everything that came his way caused little damage.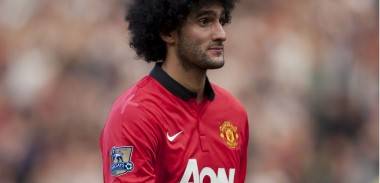 Given that both Vidic and Ferdinand are likely to leave the club this summer, and with Michael Carrick's influence present but certainly improvable, next season's strongest line-up will have a significantly different look to it. But having seen so many tweaks and changes since late August and constantly changing line-ups, it was novel to look at the teamsheet and almost feel confident when looking at Moyes' starting XI.
Rooney justifies the ONLY KIDDING
Regular readers will have noticed a negative article regarding Wayne Rooney's gigantic contract extension posted on this site the same evening that the deal was announced. It's no stretch to say that its key points ruffled some feathers, whilst also earning a few nods of agreement. I wrote it, and I stand by every word of it. I still watched yesterday's match with two friends who also feel similarly disenchanted with the Rooney situation, and all three of us cheered when he scored. How about that, eh?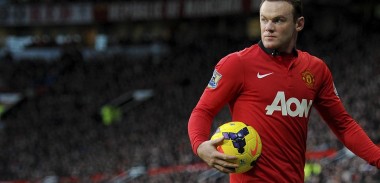 Point being that regardless of which side you fall on with this issue, it doesn't make you stop wanting the club to succeed. Naysayers like yours truly will have few complaints if Rooney can see in his thirties with the same vigour and power shown by Van Persie, but that doesn't change the fact that some people simply do not want him at the club, despite what he brings. At this point, of course, it's academic; the contract has been signed and Rooney will now stay at United for the foreseeable future. Each side can retain their support or disappointment if they so wish, and no one will be stopped from doing so. Fact is that his goal yesterday was superb, fact is the club could probably do better. Wayne Rooney is a great player, and makes Manchester United a greater side. That, we can all agree on.
Fighting on won't guarantee a top four finish, but it's a start
Speaking in the knowledge of Liverpool's incredible 4-3 victory over Swansea this Sunday afternoon, there's a sense that an almighty drop in form is necessary from our dear neighbours on the other side of the M62 in order for Champions League qualification to even happen. United have only won once this month in four league games; that's not exactly the sort of form that will guarantee you a say in the matter of the top four, let alone guarantee you a spot. Liverpool, however, have won four of their last five, and without any FA Cup duties to worry about, can simply concentrate on maintaining their run. Suarez hasn't scored since January, and they still look strong.
So, what can United do? Beat them at Old Trafford in March, and hope for more than a few slip-ups between here and May. Is it going to happen? Probably not, but as has been preached so often when chasing down a higher-placed opponent, United need to at least give themselves the best possible chance of doing so. Even if they finish fifth, confidence is needed, and the best way of gaining such a commodity is, shockingly enough, winning games. A result like this won't solve anything, but it is part of the solution.
Enjoy that? Give it a share!