A 0-0 draw is essentially the purgatory of football results, especially in this instance. Not great, not bad. It's hardly where you want to be, but it's not as bad as what you could've got. Robin Van Persie spurned a few decent opportunities, David De Gea saved twice late on from Santi Cazorla and that was, for the most part, it. It didn't do either club or manager any favours, but it didn't really do them a great disservice either, save for making Champions League qualification appear even more unrealistic this season. Here's what we made of it;
4-4-2 got a result. Just not a particularly positive one
After Crossmageddon at the weekend and Moyes incredibly bullish response to the valid criticisms that it drew, perhaps it shouldn't have been surprising to see United line up in an almost identical fashion three days later. Mercifully, the visitors had a lot less of the ball than against Fulham, and even though they underwhelmed the Arsenal defence with more miss-hit deliveries,  the formation did something that could be regarded as positive; it earned United a point against a top-four side.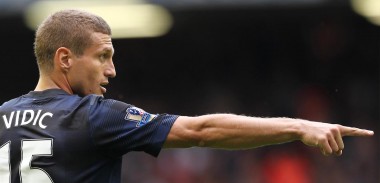 Tom Cleverley and Michael Carrick did a decent job of disrupting Arsenal's attack, and aside from one wild flap that nearly allowed Olivier Giroud a free header at goal, Nemanja Vidic was quite commanding, but, predictably, United carried very little threat. If the plan was to expose Arsenal's weaknesses with counter attacking, then it failed rather miserably with Robin Van Persie spurning a glorious early chance before heading powerfully at Wojciech Szczęsny late on. Moyes will feel the upgrade in opponent warranted a cautious approach, but once again, there was no back-up plan when the screw could have been turned, merely like-for-like substitutions late on.
On the other hand, United took a point from a side that has experienced a far more enjoyable Premier League campaign than their own. Arsenal have only failed to score in four league games this season, and two of those have been against United. That's scant consolation, of course; there are no trophies for stopping Arsenal from scoring (even if they would be accepted more gleefully than the Community Shield), but after so many late horror shows this season, it was at least heartening to see a United side fail to buckle. Of course, if the backline can perform like this, then there's no real excuse for Moyes not finding some way for his attacking players to prosper in a similar fashion.
Misuse of Mata shouldn't be a shock
Considering how frequently Shinji Kagawa has been shunted out wide in favour of playing Wayne Rooney solely through the middle this season, perhaps we shouldn't be surprised that Juan Mata is experiencing a similar ignominy. His substitution for Adnan Januzaj was hardly a shock given that he was finding it hard to effect proceedings, but of course, there's a simple reason for that.
The prosecution for Kagawa is partially based on this same issue, that he isn't good enough to play for the club due to this inflexibility, and in some ways, Mata simply has to dig deep and make the most out of a bad situation when he does get stuck on the wing. But, of course, this isn't what United spent £37.1m on. Mata's best moment came from setting Van Persie in on goal in the first half, and it's no surprise that it came as a consequence of abandoning the left flank and drifting to the centre.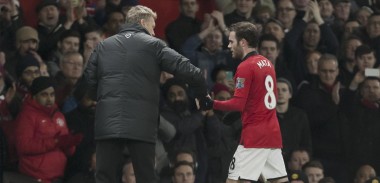 What's even more puzzling about this is that Wayne Rooney was allowed to sleepwalk through a match in which he did little more than complain to Mark Clattenburg and deliver one good cross, presumably in an effort to improve his match sharpness. If there was no viable replacement to sit in the no.10 role, then persisting with Rooney for the full ninety minutes would have been sensible, but Mata would surely have relished playing more centrally and could well have added something that the club's chief earner wasn't. Rooney has been one of United's best players this season but he will remain perpetually slow in readjusting to decent standards after injury. With Mata ready and willing to offer something more, and with three assists to his name in four games, excuses run a little thin in this instance.
United won't qualify for the Champions League
It stings to admit that the club won't be participating in Europe's premier competition next season, but the reality is that United's best chance of appearing in the group stages come September is to win the trophy this May. Given that the majority of the teams making up the last sixteen are all either in much fitter fiddle or simply above and beyond United's current level, that's an unrealistic dream at best, and a worrying delusion at worst. Fact is that this isn't a side with the sort of momentum essential to reaching those lofty league positions at the moment, and even if some turnaround in form comes, there's surely too much of a gap between ourselves and Liverpool to be clawed back.
Of course, even if Brendan Rodgers' mob suffer a concerted dip in form between now and May, then there's the small matter of needing Everton and Spurs to experience similar blips before fourth spot comes into view. Each of those sides are playing well at present, with Liverpool's last-gasp win at Fulham last night only helping to strengthen the notion that they're a different team these days. Spurs have been reinvigorated by the appointment of Tim Sherwood and Everton have lost the least amount of games of anyone in the league under Roberto Martinez. Simply winning our own games isn't going to be enough anymore; we need three sides to stop playing well, and the likelihood of that happening at present looks incredibly slim.
David Moyes really isn't fooling anyone when he suggests that this is a battle that United can win, because it's clear that his players don't believe in themselves enough to get positive results on a match-by-match basis. Of course, the remit of his job demands that he tries until mathematical impossibility rears its head, but everyone else might be better served adjusting to grim reality as soon as possible.
Warm weather break won't save this season, but it's needed
Oh, to be a fly on the wall when United fly out to Dubai this week, if only for the prospect of being present for any clear-the-air talks between the manager and his players. Just imagine the sort of accusations and arguments that could erupt with both sides clearly dissatisfied with the other and United's season threatening to end without any sort of European football at all. It's a situation no one in their right minds had expected last August, but this deeply into the season and with nine days to go before a visit to Selhurst Park, this is as good a time as any to stop and take stock away from the pressures and scrutiny of the North West.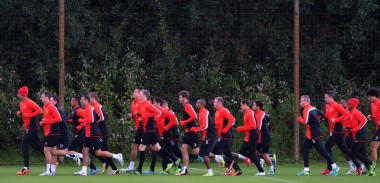 God only knows if United's spirits can be salvaged in time to end this season on something regarding a high, but Moyes must feel that it is important to at least try. An extended trip to a warm climate is probably his best option at this point, even though the sense that he should hardly have to go to such lengths to kickstart his debut season is inescapable.
Enjoy that? Give it a share!