The Times They are A-Changin
"Your old road is rapidly agin', please get out of the new one if you cant lend your hand"
In tandem with the thoughts of Gary Neville I am sure every United fan is "sad" to hear of the news that club captain and all out United legend Nemanja Vidic has decided to call time on his illustrious career. Signed in December 2005 along with another defensive stalwart in Patrice Evra, Vidic has gone on to amass a total of 205 appearances thus far, whilst in the process attaining a total of fifteen major trophies. Not bad for a "dour and uncompromising sod" from the war torn country of Serbia.
It wasn't all plain sailing for the 6ft 2 inch centre half initially however, with him once proclaiming that "the first few months in Manchester were the most difficult in his career". Perhaps an ode that bears such significance now when we are so quick to judge new signings, and dare I say a new manager.
Upon becoming accustomed to the demands of a top club like United and adjusting to the rigours of the ruff and tumble style of the Premier League, Vida grew into his role in almost unprecedented fashion forging a ferocious partnership with Rio.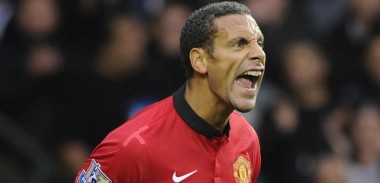 In an almost fate like coming together Rio and Vida would go on to build an affiliation that would become the most dominant defensive partnership in Premier League history. One which will consequently no doubt be regarded as one the finest in modern football folklore. The complimentary nature of both player's style and attributes contributed to the fusion of what can only be described as a match made in heaven, the perfect partnership.
While Rio was fast, skillful, graceful and sometimes over-indulgent Vida was the rock, the foundation the balls and the bullishness. He would put his head were Rio wouldn't, he would put his head were most wouldn't, he was as brave as a lion and he was willing to put his life on the line for the cause. He was quite simply an old fashioned defender in the modern game. The pinnacle of his United career will go down as that night in Moscow, even he admits that, but to me he will be remembered as the only ever-present defender in the back five that broke the world record for consecutive clean sheets.
I suppose the key point emanating from the previous paragraph is not the he has reached legendary status as a United player (which he has), but the perpetual use of the word was. The only guarantee in life is that we will all get old, and from a footballing perspective there is nothing worse than watching the impending decline of a once great player. Vidic, despite his warrior like characteristics is the wrong side of thirty. Aided by injuries in recent years, most notably two major operations on his knee Vida's decline has been steady an uneasy. Never blessed with pace, he has further digressed and the infamous lash out at Hazard at Chelsea, which saw him harshly sent off last month was wholly uncharacteristic of the man who despite being as tough as nails is not a "dirty" player. If ever a moment could sum up his current situation it was that.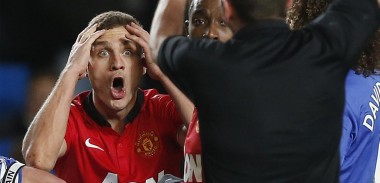 In fact, further evidence of Vidic's declining competencies can be seen from Sunday's bitterly disappointing result against Fulham when his uncharacteristic lack of decisiveness led to Bent's equaliser. The prevailing powers of the big Serb are unfortunately on the wane and it is with the deepest regret that I feel it is time to move on. Whilst I would liked to have seen him stay for another year to play the role of mentor, and to lend his invaluable experience to the youth of Jones and Smalling it seems as though he wants out to pastures new.
"Come gather round people wherever you roam and admit that the waters around you have grown"
The same can be said for his defensive stalwart of a partner, who in his own right will go down as one of the finest defenders to have donned the red shirt. Rio in recent years has defied the laws of modern medicine and in fact physics as despite having a chronic back problem, that was at one stage so bad he couldn't even sit down on a plane, dispelled any myths of early retirement to perhaps have one of his finest seasons as a United player last year. With Vida out for the best part, Rio was the experience, the cool head and the class that quite often partnered younger and sometimes naïve centre backs in Evans, Smalling and Jones.
Against all the odds at the age of 33, Rio despite having lost a considerable amount of pace over the years adapted his game to dispel the doubters, and his career subsequently prospered. However, this season he looks a shadow of his former self. Given the opportunity to start at the beginning of the Moyes reign his performances were far from classy as he consistently looked, sluggish, slow and dare I say, a downright liability.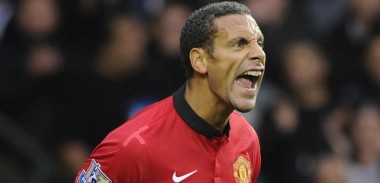 The moment that sticks out more than most was the ease at which Amalfitano glided past him to give West Brom a shock victory at Old Trafford. Rio, who was a very questionable signing in 2002, as Ferguson made him the most expensive defender in the history of football, has lived up to and surpassed his price tag. One of the classiest defenders one will ever see, but with his current petty behavior on Twitter, his severe lack of pace, and the fact that Evans, Jones and Smalling are now more equipped to deal with the rigours of the Premier League, it's time to bid farewell.
With much being said about Moyes, a debate I am not going to get in to now, let me lead me you to a quote from Sir Alex during his leaving speech, no not the infamous "stand by your manager " one, but the rather misplaced statement that he has "left the organization in the best possible shape".
If people can question SAF's method for choice of manager surely they can question the execution of such an ill-advised rhetoric. Such an insinuation is wholly unfounded when you now take into account that along with Evra and possibly Giggs, two of the clubs finest defenders are a mere shadow of their former self's and are subsequently on their way out.
With the most effective defensive partnership in the clubs illustrious history set to move on, there certainly is no better song than the Bob Dylan classic to portray the current predicament at Old Trafford.
I can't fathom nor put in to words what is currently happening at our beloved club as such perhaps it's best to once again let the great man himself conclude in only a way a fitting way, only he could.
"Come writers and critics who prophesize with your pen and keep your eyes wide the chance won't come again, and don't speak too soon for the wheel's still in spin, and there's no tellin' who that it's namin' for the loser now will be later to win for the times they are a-changin'."
Times most certainly are a changing, but remember, "The loser now will be later to win".
Keep the faith; keep the red flag flying high!
Enjoy that? Give it a share!