Old Trafford is quickly becoming the Theatre of Nightmares, as it once again laid bare the bitter truth that we are far from portraying the necessary level of performance to suggest we can go on a run and take that much coveted fourth place. Nonetheless, last night's game was a welcome distraction from the all to inconsistent Premier League displays we have become accustomed to at home, and awash with the excitement surrounding the imminent and enthralling signing of one, Juan Mata, it would not have been construed as ridiculous to insinuate that many forget about, not only the magnitude of, but the actual fact that there was a significant game on.
Nonetheless as the build up to the game commenced, excitement and expectation began to bubble, aided by the anticipation of an official announcement on Mata, Old Trafford was buzzing as it was collectively hoped that we could witness a performance that would take is to Wembley to take on our noisy neighbours who have all of a sudden found their voices again. What ensued was a win on the night, thanks to a dramatic ending befitting of Fergie Time, but this only led to extra time and subsequently a penalty shoot-out for which the phrase the "less said the better" comes to mind. In what can only be described as the worst batch of penos I have ever witnessed, Sunderland were victorious winning the shoot out by just a measly 2 goals to win 1.
The following are few of my thoughts from the game.
[hr]
Can Kagawa adapt?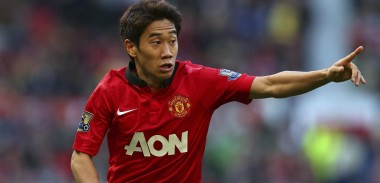 Shinji Kagawa can be summed up by a tweet I directed at him only a couple of weeks ago, it went as follows "Shinji you're breaking my heart". The significance of this disclose may be lost on those who will continue reading this and claim that I am being unfair on the diminutive Japanese playmaker, but the fact that he's breaking my heart suggests that I have an unwavering love for him, a love that burns within, so much so that it pains me to see the inadequacy of his ability to adapt to the rigorous demands of the Premier League. Delightful to watch, Kagawa is one of a rare bread. A rare breed of footballer that although, quite often doing very little, has the virtuous aura of class and sophistication that enables him to glide effortlessly across the turf. With technique, touch and vision befitting of the best, there is always a rising level of anticipation when Kagawa gets on the ball – unfortunately, he just doesn't get on it enough.
Whilst admittedly playing slightly out of position on the left, it must be duly noted that he has become accustomed to moving in to a more central position during game as of recently. Last night this consistent trend was evident once again, and once again it led to little or no change in success. Having had very little impact on the game from the left – once or twice he tried in vain to play Hernandez in, he moved centrally, conversely leading to the banishment of an equally under-performing Welbeck to the left. Still however, even in his favoured position, Shinji did little to suggest he could offer that caveat of creativity that we craved.
Having ended the first half in his favoured no. 10 role, he also started the second half there. However, once again he had no significant bearing on the game and had few too many touches of the ball. This is becoming a consistent theme as he continuously fails to take the game by the scruff of the neck. My point is, that while he has all the attributes to be a top player, hell he is a proven top player having been the jewel in the crown of Klopp's all conquering Dortmund side, something is lacking, most likely a confidence or cultural issue, whatever it may be his level of performances is drastically diminishing. You must now question if the diminutive midfield maestro will all hoped he could be was nothing more than a wish, a hope a dream. He is quickly becoming part of an illustrious list of top players who for whatever reason failed to make the grade at United. The famous phrase of adapt or die comes to mind in the case of Kagawa, unfortunately the consistent breaking of my heart only serves to suggest that he's incapable of doing the former and with the imminent arrival of Mata for a club record fee, Shinji could find himself further marginalised.
[hr]
A case for Smalling in the centre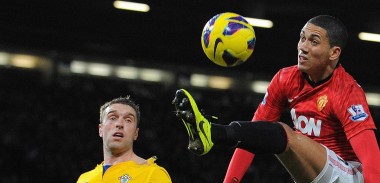 Smalling can be best described as a marmite footballer. You either love him or hate him. Me, I am of the former opinion. Having come under increasing scrutiny from a large section of United fans, I think it's fair to suggest that this is ultimately unfounded and may in time lead to an inevitable U-turn of Michael Carrick like proportions. It wasn't too long ago that Carrick was regarded as something of an enigma, "all he does is pas the ball backwards and sideways" were regular denounces and where often made in the concrete tone of utter angst. Anyone with a footballing brain knows how crucial Carrick has been, and still is, to the functioning of this United team. Having been the most consistently played midfielder during the clubs most successful ever period, he was finally awarded with the personal accolades he deserved last year, including making it onto the Premier League Team of the Year.
Smalling has all the attributes of a top centre half; tall, great in the air, strong and fast – he is an athlete. Now all he needs is a consistent run of games in his preferred position. Much of the criticism aimed at Smalling this year fails to take in to account the fact that he, more often than not, has been paying out of position, deputising for Rafael at right full whilst the Brazilian was out injured. While lucky not to get booked and give away a free kick in a dangerous area, all in all Smalling he had a solid game. He won everything in the air and was a commanding presence throughout. At 24 years of age he is still relatively young for a centre half, and I am most certainly of the opinion that he has a bright future at United if he stays injury free and gets an extended run of games in his favoured position.
Enjoy that? Give it a share!