After another desperately disappointing evening's work at Old Trafford, United's already slim trophy hopes for this season have almost evaporated after a shambolic penalty shootout loss to Sunderland saw Gus Poyet's side book their place in the Capital One Cup final next month. The prospect of an all-Manchester final wasn't enough to shake United of their January stupor, and the club will spend today digesting the magnitude and consequences of yet another costly defeat. The rest of us, of course, will discuss it more publicly.
United got exactly what they deserved
Over the course of three and a half hours of football, Sunderland were the better side. United certainly had useful periods, and the occasional opportunity to score, but over the entirety of this tie, the fact is that the Wearsiders deserved their victory and their place at Wembley this month. Sunderland simply wanted it more at almost every turn; they kept going even with time running out with a loss on away goals on the cards, with Phil Bardsley's goal laced with a sense inevitability despite David De Gea's mistake. From the beginning of the first leg at the Stadium of Light to the climactic penalty shootout, Sunderland showed greater strength than United and played without fear. Whatever your feelings towards United's display over the two legs, one thing can be universally agreed on; Sunderland deserved it.
The penalty shootout was an absolute disaster
As acid tests of David Moyes' Manchester United side go, especially as they lumber on without their most potent attacking options, last night's shootout was a perfect opportunity to invigorate the team from top to bottom. That it ended with one solitary spot-kick scored from five is embarrassing enough, but again, the squad has let itself down as two defenders had to step forward whilst more senior and attacking options stood by. Phil Jones and Rafael are great footballers but where was Valencia? Where was Patrice Evra? Neither were tired as both were substitutes. There was seemingly little complaint on the field when these more experienced heads passed on the opportunity of taking a penalty, and as such, it's tough to lay the blame at the feet of two defenders who were brave enough to step forward. United's failings in such an environment are hardly frequent, and these fans are far more forgiving than those forced to watch the national side and their frequent horror shows in the same situation, but watching last night's tie end so limply after Hernandez's late, great equaliser was chastening.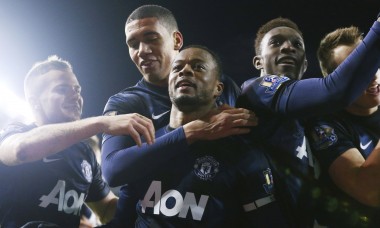 The Old Trafford fear factor has struck United
There's a delicious (and potentially sickening) irony in the fact that the home side are now the team looking to close out tight matches and not their traditionally fearful opponents at Old Trafford this season. Nothing like a taste of your own medicine. Last night showed two things; that Gus Poyet has thoroughly revitalised Sunderland and restored some of the belief stripped away by Paolo Di Canio's destructive reign, and that United don't have enough faith in themselves to see out such tight situations at present.
The crowd can't be blamed, with the volume inside Old Trafford and atmosphere occasionally and understandably tense due to events on the pitch, but by no means toxic. Winning at home is not nearly as difficult as United are making out, and by consistently playing into their opponents hands and inviting pressure by sitting back, they create a large part of their own problems. More and more, we're seeing teams seize the initiative as United dawdle, and results won't improve if performances continue in this cautious, fearful vein.
Too much is expected of Adnan Januzaj
I doubt United's management envisaged a situation where they were relying on an academy boy to add a desperately needed creative spark to the team's attack during an extended slump, but due to injuries and the like, here's where the team finds itself. Januzaj is an incredible talent, and has offered more going forward in this difficult month than several of his more experienced team mates put together, but last night showed that as exciting a talent as he is, he still needs support.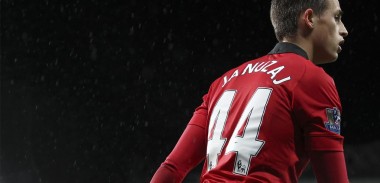 The old adage says 18-year-olds are capable of playing every game that they can get their grubby little mitts on. Course, that doesn't necessarily mean that they should. Last night wasn't a match that Januzaj could afford to miss, but over the two hours, there were enough signs to suggest that such a weight of expectation placed on his shoulders needs to be spread around a little. Several times he helped fashion a break for United or found himself in a decent attacking position only to send a weak shot at Vito Mannone or wide of his goal, with the worst being his ignoring of Phil Jones in space beside him after the substitute had busted at least two guts trying to join the attack. On the other hand, he set Javier Hernandez on course for what should have been the winning goal in the first-half of extra time, and sent an incredibly dangerous low cross into the box for the Mexican's equaliser. Even when he doesn't have the best game, he's still far and away our greatest attacking threat of late.
This isn't criticism for criticism's sake; Januzaj made some errors but still provided more than most last night. The point is that he cannot be allowed to carry such a playmaking burden alone for much longer. Some balance has to be found between nurturing and pushing the boy, because at present, far too much is asked of him.
David Moyes needs his big players back, and fast
It says a lot about the season United are having that reaching the Capital One Cup final became the bare minimum expected of David Moyes in his first season in charge, and given the added significance of the showpiece game being a derby, victory last night felt essential. That Moyes couldn't inspire enough confidence in his side for them to kill the second leg off after spending over an hour in the lead says much about the deficit of self-belief surrounding the club these days. Yes, his players let him down in a number of ways last night, but after a month full of failures, this feels significant. Most United fans will back Moyes in the knowledge of the greater issues at play, but eventually, a point is reached when you must question if this man is capable of carrying this club out of the mire that they're in.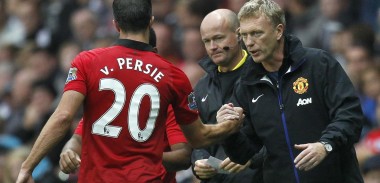 In the immediate short term, the lack of a game this coming weekend is an absolute blessing, allowing a full six days away from the limelight in order to potentially help United's record signing to settle and make the necessary preparations needed in order to avoid a repeat performance against Cardiff next week. If there's a chance to bring one of our injured striking duo back into the fold, even better. Mata, Rooney and Van Persie surely hold the key to saving Moyes' season with the players left behind appearing ill-equipped and unable to win games without them. Their quality will hopefully compensate for a number of faults and buy their manager some breathing space. After that, who knows? Maybe this season will end on a positive note. Either way, Moyes desperately needs the lift that the return of his biggest players and his new signing can bring, because he is truly struggling to manage this group of players at present.
Enjoy that? Give it a share!