The enduring vision of last night's third consecutive 2-1 defeat, this time away to Sunderland in the first leg of what has become a crucial Capital One Cup semi-final, was that of Sirs Alex Ferguson and Bobby Charlton staring blankly at another abject display. The latter shook his head, and the piercing gaze of the former would be enough to suggest that he would have ripped in to his charges once they had returned to the sanctuary of the dressing room if he still had a manager's privilege. A Ryan Giggs own-goal and a slightly contentious Fabio Borini penalty saw Sunderland grab the initiative in the tie in front of a sparsely populated crowd at the Stadium of Light. Here's what we made of it;
Same old problems, same old outcomes
At the risk of sounding like a broken record, it feels like we've been here before. Just two days ago, in fact. After the loss to Swansea, the post-match were nothing new; defensive errors, limited attack and an uninspired managerial presence on the sidelines. The problem is that as United's form approaches a farcical level, the team continues to labour unsuccessfully and the manager sits there looking thoroughly bereft of ideas or fight, you can't see how things are going to improve.
It's easy to criticise Tom Cleverley after his bum-first foul on Adam Johnson or single out Ryan Giggs for the unfortunate own-goal, but the truth is that few of the starting XI covered themselves in glory last night, and until the team as a collective begins to take responsibility instead of wishing for a moment of brilliance from Adnan Januzaj or a slice of luck, then very little will improve.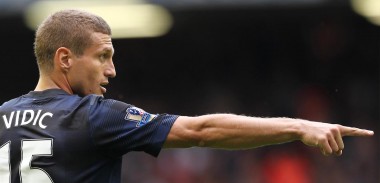 That starts right at the top. Sir Alex Ferguson inspired enough confidence in his charges that it pushed them to be the catalyst in games as tight as this, where the result hinges on a single goal. Moyes has to try to do the same, even if he can never hope to reach similar levels of adulation. The players, for their part, are still not pulling in the same direction, and lack a leader. Nemanja Vidic and Patrice Evra may retain the Captain's armband but it doesn't feel as if there is a vocal point capable of energising his charges, at least not at the moment.
What a positive start to the year.
United's chances of winning silverware this season are slipping away
Take nothing away from Sunderland; they took their chances, were exceptionally disciplined and organised in defence and showed the sort of disregard for the league table that saw Cheslea come a cropper in the last round. But they're still bottom of the Premier League, and United did not look like beating them. It's another in a long line of unbeaten runs that have fallen this season with United looking forlorn and short of ideas with the clock ticking down.
The issue here is that this isn't a league game; it's a chance to book a spot in the final of the league cup, which is surely United's only viable option for silverware this season. It's worth pointing out that this is only the halfway stage in the tie, but with form at Old Trafford so poor of late, there's not a hint of certainty attached to the prospect of a comeback when the sides meet in two weeks time. If one or both of Wayne Rooney or Robin Van Persie return, then things change dramatically, but at the moment, the current team are doing a convincing impression of incapability. Of course, there's the small matter of navigating a route past City to consider if we do get past, but to stumble before that point wasn't meant to be an option.
Moyes' refereeing jibes are a protective cloak…
…and one that his players are perhaps a little undeserving of. For a start, claiming that United are receiving the rough end of the stick in terms of refereeing decisions was ludicrous given that Rafael should have been shown his marching orders having left his studs on Fabio Borini's toes having only just being booked. Tom Cleverley's contact on Johnson for the decisive penalty was clumsy, no two ways about it even if Johnson flopped down a little too eagerly. In this instance, moaning about refereeing decisions is the work of a man trying to shield his players from criticising them himself in public. We all know it doesn't wash, and it's certainly not telling the whole story.
These three successive 2-1 defeats have been tight affairs, of course, but each have been characterised by a lack of chances created and defensive errors. Sure, a penalty for the Lloris foul last week might have saved a point, but the fact is that United are playing so poorly lately that extra significance is being given to any major refereeing decision. If United are relying on singular crunch moments like that going their way in order to win, then you have your indication on how far the team's confidence has dropped.
Ferguson might serve his club better with absence for now
Before you delve into these paragraphs, just know that this suggesting Sir Alex Ferguson's presence at Manchester United matches is one of the biggest problems that Moyes and his team face. Thing is that we've spent many months lamenting the Glazers and the club's transfer policy (or lack thereof) to the point that there's almost nothing new to add to the subject, and given how awry things are currently going for United's manager, it's worth venturing beyond those reliable bastions of complaint.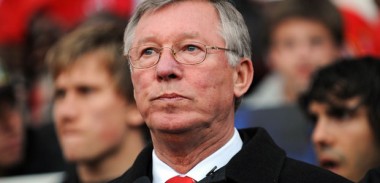 With that in mind, with United truly struggling and Moyes dealing with warranted criticism due to a poor sequence of results, it's difficult to see how Ferguson's presence in the stands is helping. Yes, Moyes has identified his predecessor as a helpful sounding board, but at a time where "The Chosen One" is at his lowest ebb and his players are not fully buying into his methods or management, it can't help to see the club's most famous manager and the man who picked him for the job in the stands watching the empire he built over 27 years wobble significantly.
If that sounds like an excuse, picture this; you've been handpicked for the biggest job of your career by one of the best in the world in your line of work. It's not going so well, you're coming under greater pressure from outside sources, your own supporters and your employees don't appear to be reacting in the way you'd like. Who's the last person you want to see looking down on your failures?
Saturday is massive
There's an inescapable feeling at the moment that David Moyes is creeping towards dangerous territory the longer this run continues, and a fourth straight defeat,  potentially leaving United eight points from the safety of the top four, veers a little too close to unthinkable for comfort. Plenty of others have said it, and it's not without merit; the game against Swansea on Saturday afternoon is huge. Even if the board support David Moyes, they can't allow this sort of form to go unchecked, and they certainly do not want to risk allowing Old Trafford to descend into open rebellion. Failing to inspire the players is one thing, but losing the fans is another entirely. Moyes must avoid that, and has to start turning these tight defeats into something more positive or his job will only become more difficult.
Enjoy that? Give it a share!