---
David Moyes: 'The Average One' – Why being adequate is worse than being awful.
---
"It only ends once. Anything that happens before that is just progress."
When my daughter first started seeing her current boyfriend, an average conversation between us would go something like: "You could do so much better." "But I think I love him." "I'm sure you think you do, and I'm sure he's great, but you deserve more." "Let's just see how it goes. He might grow on you." I wasn't sure; how could I be?
David Moyes has only been the manager of Manchester United six months. Six pretty turgid months, sure, but it hasn't been long. It's certainly not the end of Manchester United, or of David Moyes' period at the helm. He's been promised time, and money, to reshape an average squad and make it his own. He needs time to make things better, to make the club perform at a higher level than it currently is. And he needs money to bring in players of greater calibre to make this happen. Then, things will start to improve, right?
Let's say yes. Let's say David Moyes brings in a selection of players who substantially improve the overall quality of the first team squad. Let's say this allows David Moyes' Manchester United to play an exhilaratingly attractive brand of football the likes of which hasn't been seen since the middle of the Fergie era. Let's say this results in trophies and titles and cups. Fans are happy, the players are happy, Moyes is happy, and yes, the Glazers are happy. Let's say that this progresses, until it ends.
Let's say no. Let's say David Moyes brings in a selection of players who do not improve the overall quality of the squad. Let's say he's not allowed to. Let's say the tactics don't really change and the football played remains pedestrian, predictable and excruciating to watch. Let's say Manchester United go several years without even the slightest hint of a trophy. Let's say this progresses, until it ends, and David Moyes is sacked.
Let's say that Manchester United and David Moyes end up somewhere in between. That several good players are purchased, and results steadily improve. With better players comes tactical diversity and even a string of semi-impressive performances. There are still a number of defeats, sure, but overall, things are not at crisis levels. Let's say there's even the odd cup win, with United sustaining a presence toward the top end of the Premier League. Let's say this progresses for several years, before it ends, and Moyes moves on.
---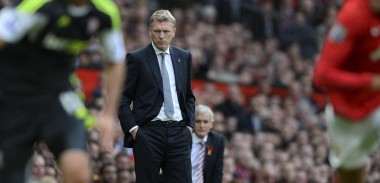 ---
Every Manchester United fan's heart yearns for the first option. At least, it should. Many years of trophy-laden success under the stewardship of Sir Alex Ferguson's hand-picked successor? Of course that's the most attractive option. Also, at this moment in time, it's the most unlikely. But the heart wants what the heart wants.
The second option tightens the stomach. That's called fear. The worst possible outcome. It's scary because, having been given funds, substantial or otherwise, David Moyes is unable to cajole a United side to effectively compete in league or cup. After the flood of success comes the drought. But even at Manchester United, a club with a rich history of patiently giving managers time, and with a six-year contract neatly folded in his back pocket, if current form continued, David Moyes would not remain in charge into the foreseeable future. The only positive of this scenario is that it would progress, and end, very quickly.
The third option is the biggest worry. It doesn't fulfil the romantic needs of the heart, or do enough to unsettle the stomach. It keeps things calm, balanced. It would do so for many years. For the modern-day Manchester United, this isn't enough.
---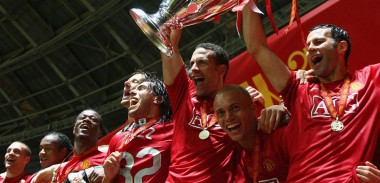 ---
If United don't secure Champions League football this season, perhaps Moyes will ensure it next year. Would it be viewed as a triumph? It shouldn't. The club has already been eliminated from this season's FA Cup, but perhaps they might win it next year, or the year after that. Does the lifting of a cup every few seasons constitute success? For many clubs, yes. For Manchester United, no. Off the pitch, the so-often called 'biggest club in the world' are heavyweights; revenue is at an all-time high. United should always strive toward being the very best on the pitch, too. For too long they haven't been. Being adequate isn't enough; it's not what Manchester United do.
David Moyes is not a bad manager. In fact, you could probably argue that he's a (very) good one. He won't do awful things at the club. With time and money, would anyone? The problem is he's produced very little, thus far, to suggest he's going to become a managerial great at Manchester United. Managerial greats are what any football fan should hope to have at their club. United fans had the pleasure of one leading their club for over 26 years, and it's not greedy or spoilt to want another right away.
Back to my daughter. "He might grow on you." He kind of has; that's the problem. He's a decent lad who treats her well and makes her reasonably happy. But she could have done so much better. The sad thing is, she'll never know by how much. None of us will. But it's too late now. After all, the heart wants what the heart wants.
What do I know, you're probably asking. And you'd be right to ask. After all, I started this piece with a quote from LOST. And I don't even have a daughter.
What are your thoughts on David Moyes? Comment in the section below.
Enjoy that? Give it a share!