This was an exercise in brutal efficiency if ever there was one. United took advantage of one mistake from Ryan Bennett to sow up a fourth-straight league victory in their last league match of 2013. After Danny Welbeck's goal, they barely broke a sweat. It made for frequently uninspiring viewing, but a win by margins as fine as this is most certainly still a win. Here's what we made of it:
---
Welbeck's presence was just what United needed
Credit to Javier Hernandez; he tried. His impact is frequently diminished when thrust into the starting line-up, and acting as the tip of a 4-5-1 did not play to his strengths, but Danny Welbeck contributed more in eleven minutes than his colleague had in over fifty. Bennett's clearance eventually landed at his feet, and the way in which he rounded John Ruddy before sliding home was the perfect example of his increased confidence, and a great sign of what United had been missing.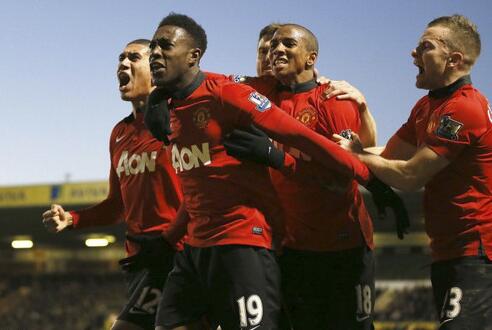 A year ago, you wouldn't have counted on Welbeck's inclusion to change the course of any game, but with Robin Van Persie still absent and Wayne Rooney missing for the second time in four games, he's not only become measurably more important to his club, but his belief in front of goal is rising. The application was often there, as was the desire; now, taking advantage of a prolonged run up front, he looks far more assured with the ball at his feet, and lethal to boot. Given how laboured United often were today, and how little they created with their possession, his contribution was utterly vital.
---
The defence (well, most of it) stood firm
It's not necessarily Patrice Evra's fault that his mobility issues were fully exposed down Norwich's right flank, but at least he could count on his defensive colleagues to help him out. Their aid wasn't confined to Uniteds left-back, either; when the 5-man midfield let another attack slip through, Nemanja Vidic and Jonny Evans were there, more often than not, to clear up the scene with David De Gea looking sharp whenever he was called upon.
Given Evans' calamitous contributions on Boxing Day and the fact that Vidic was making his first appearance since United's defeat at home to Newcastle, this didn't initially strike as being the sturdiest combination on paper. But considering how laboured things were up front, it's just as well those at the less fashionable end of the pitch were on their game.
---
A victory is a victory
A second victory by one goal in quick succession is nothing to be sniffed at, especially considering the long periods in which United were outplayed in the first half. Having played away from home twice in three days, taking three points was all that was necessary, which would explain the fairly relaxed fashion in which United saw out the last thirty minutes.
David Moyes is making the sort of substitutions that are meant to encourage his players to make matches such as these a little less close, and there's every chance that settling for a single-goal advantage will again bite his them in the backside, but these victories are starting to tally up.
Be honest. It's nice, isn't it?
---
United are coping without some big players
Don't misunderstand; Rooney's presence for the New Year's day scrap with Spurs will be hugely welcome, but United are on a six-game winning run in all competitions, all of which have been missed by Robin Van Persie and two of which haven't featured Rooney. The popular line has always been that United are little without these two, but for the time being at least, the assembled mob left behind are proving their worth. Things could have been very different had Hull and Norwich been more ruthless in front of goal, but the reality is that you don't win games by accident. Something is going right.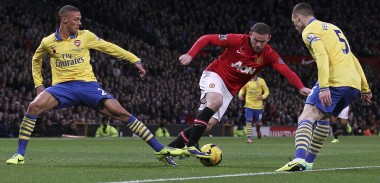 The football they've played has rarely been scintillating, but it's been effective at a time when United need to be difficult to beat. David Moyes deserves credit for handling the busy festive period well without some of his heavy hitters and weathering the rather unavoidable storm clouds that gathered after that dispiriting double-loss at home at the start of the month.
---
Moyes' end-of-year report card reads: A for Acceptable
And with that, United are officially halfway through David Moyes' first season as manager. It's had its ups and downs; the victory over a resurgent Arsenal, a currently unbeaten European run including two beatings of Bayer Leverkusen and Danny Welbeck's form have offered the bright spots, with his handling of Wayne Rooney having been well within the club's best interest given the England international's form since August. On the flip side, the unbeatable aura around Old Trafford has gone with some poor home form, the performance at the Etihad was suicidal and there have been a few too many negative, lifeless performances for comfort. The familiar line is that having failed to properly strengthen the squad before the title defence began, the limitations of these players have been laid bare. But despite that, at the time of writing United sit an uncomfortable but not-insurmountable seven points from the top. Even if a 21st title is not in the offing this term, then the realisation that a top-four finish is essential appears to have hit home.
Of course, we're now no more than a few days away from the January transfer window opening, and rumours abound as to who Moyes will recruit. After a full six months in charge, the manager will know what areas require strengthening, which targets will be better left until the summer and which could provide his maiden season with some silverware. No one would say that these tentative first months without Sir Alex Ferguson have been an unqualified success, but there have been enough flashes of the manager that David Moyes can be in the Old Trafford hotseat to keep the wolves at bay and retain the majority of the fans' support. With seven fixtures in three separate competitions to come in January, along with a potential recruitment drive, Moyes faces another crucial month. Still, the signs are that he understands how important most days, let alone months are in this job.
Enjoy that? Give it a share!