David Moyes was quick to quash any rumours regarding the transfer request that star striker Robin van Persie had supposedly put in at Manchester United after their 1-0 defeat to Newcastle United.
The reds boss was asked directly after the game if there was any truth in football pundit Mark Lawrenson's claims on an Irish Radio show, that Robin van Persie had indeed handing in a transfer request and wishes to leave the Premier League Champions in the January window.
An abrupt and clearly unhappy David Moyes said:
"That is absolute nonsense"

"I don't know what harder or tougher word I could say but that's as good as I've got."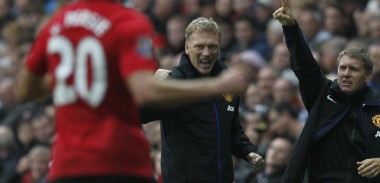 After a disappointing second 1-0 defeat at Old Trafford in just 4-days, David Moyes has asked the Manchester United faithful to be patient.
Moyes added:
"There will be [light at the end of the tunnel] because it is a transitional period and that was always going to be the case

"I hoped it wouldn't have been as poor as it has been in the last few games. "

When I came here I knew it was never going to be easy and it's proved to be that way."
Enjoy that? Give it a share!