Saturday will see the Red Devils make their way to Craven Cottage in what is a very hard to predict game. Fulham have started the season with somewhat mixed performances and will hope to hope to cause the occasionally faltering Manchester United problems. David Moyes on the hand is hoping to build on what is now three successive wins, "We were a little but up and down at the start of the season – winning one, losing one – so we are hoping to get more consistency and for form follows that. " With momentum gathering from wins against Sociedad, Stoke and then Norwich during the week it would appear that United may be finding their winning form again.
Moyes will likely make huge changes from the midweek Capital One cup match againstNorwich, David De Gea should return to the side along with Patrice Evra. Rafael should retain his position from the Norwich game, Smalling and Valencia have both been favoured recently but with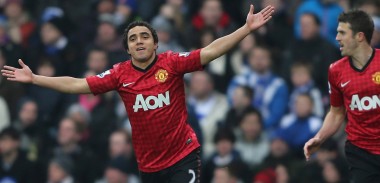 Rafael growing ever stronger and more impressive after his return from injury he should get the nod on Saturday. The centre of the defence has seen the starting spots passed around like a game of hot potato in the past few weeks with Evans, Jones, Smalling, Vidic and Ferdinand all having started. Ferdinand and Vidic return to action during the week and performed well, albeit under little pressure from Norwich. I would hope that Moyes will persist with the partnership of Evans and Jones in the centre of defence however as he attempts to develop a new centre back partnership that can be relied upon in the coming years.
On Tuesday night the United central midfield consisted of Cleverley and Jones but with this being a league match I would expect the return of the Michael Carrick to the team. Moyes has said, "Michael Carrick has got a bit of a problem with his calf and Achilles. But we don't think he's too bad." If Carrick can play through this then he probably will as Moyes hopes to keep the momentum going, if on the other hand he can't play then it leaves the manager with a big problem. Fellaini should make a return to the starting lineup after being absent since the 1-1 draw with Southampton. Cleverley, Giggs and Kagawa are all in contention but it would seem unlikely that any will force a fit Fellaini or Carrick out of the starting eleven.
I hope the right side of the midfield sees the return of Nani, his performance last weekend against Stoke received an ovation of boos as the winger left the field but it is worth remembering that it was his cross that provided Rooney with the header that resulted in the Robin Van Persie goal. It is also worth remembering that Nani has always been a player that frustrates fans to no end but has the ability to perform something amazing and score a goal out of nothing. His performances need to improve if he is to hold onto a starting position but with the options available to Moyes at the minute on the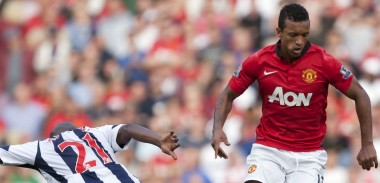 right of midfield it seems harsh to brandish Nani "not good enough". The left side of the United midfield could see Kagawa, Young or Januzaj get a start. After another strong performance from Januzaj against Norwich this could be another great opportunity for the young midfielder to highlight his potential to the footballing public. My guess is that he may be rested for this game and we could see Kagawa return to the team, the creative midfielder has produced improving performances in recent weeks and seems to have firmly put himself in the managers mind. He is still far from the player that signed for United from Dortmund two years ago but is much improved from his early season performances. Young worked hard on Tuesday night to stake a claim on the starting position but with consistently dismal crosses from promising positions I can't see Moyes taking a punt on Ashley.
Chicharito has been in great form scoring three goals in two games but is likely to still be on the bench on Saturday. This is something that will always be the case when the other two striking options are Van Persie and Rooney. Both scored last weekend against Stoke and with Rooney in such an amazing form it really would be strange to see anyone other than the two United powerhouses start.
Predicted Manchester United XI:
De Gea
Rafael Jones Evans Evra
Nani Carrick Fellaini Kagawa
Rooney
Van Persie
A fourth win on the trot will go a long way to silencing the #MoyesOut brigade and should help United climb further up the league and closer to the summit of the Premier League.
What would be your starting XI against Fulham? Comment in the section below.
Enjoy that? Give it a share!