Manchester United 2-2 Fulham
United's Under 21s came from two goals down to snatch a draw against an impressive Fulham side in an entertaining game in Salford that featured a Darren Fletcher comeback and a first appearance at this level for substitute Saidy Janko.
There was no question that for much of the game the visitors looked the better side.  Unbeaten at this level this season, Fulham played an elegant passing game that opened up United's rearguard with worrying regularity during a first half in which the home midfield struggled to find a creative outlet and where Will Keane found himself frequently stranded in the lone striker role.  There was no question that Fulham deserved their lead when the highly rated Moussa Dembele put them in front with a neat finish after 36 minutes and perhaps the only surprise is that they went in at half-time only one goal to the good.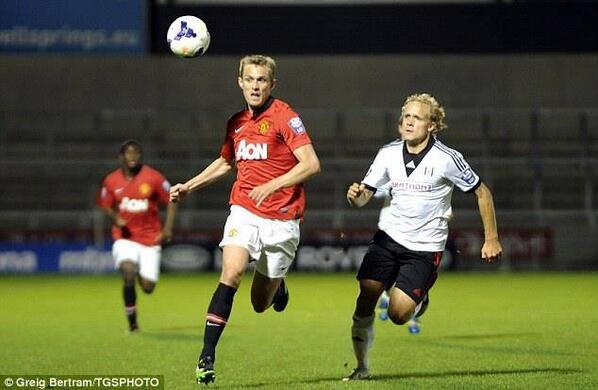 United carried a more potent threat in the second half with Darren Fletcher, making a hugely welcome return from his long period of illness before giving way to Rothwell, and Tom Lawrence pushing further up to give Keane the support he needed up front.  Despite that it was Fulham who increased their lead through a Tankovic goal after 56 minutes.  With the Reds 2-0 down against quality opposition, they needed a quick response and got it when Tyler Blackett found Will Keane with the kind of ball that had been all too rare until that point.  The forward had his shot parried by Joronen but the ball rebounded into the net off Fulham defender Arthurworrey.
While for much of the remaining thirty minutes Fulham looked able to increase their lead, they failed to do so and United gained their reward for staying in the game and pushing forward with increasing purpose.  With both central defenders joining the attack, it was Michael Keane who secured the draw with a powerful shot from the edge of the box.  While a home draw won't do much to advance United further up the Under 21 league, there was great character shown in this comeback against a team who may well turn out to be the best the young Reds face this season.
Enjoy that? Give it a share!