Darren Fletcher made a very welcomed return to football on Monday night, where he played 66-minutes for Manchester United's under-21s in a 2-2 draw against Fulham.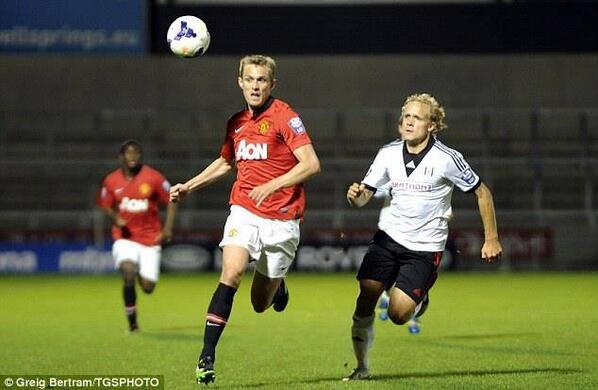 Credit: Greig Bertram/TGSPhoto

Fletcher featured in midfield for Manchester United's under-21s against Fulham at the AJ Bell Stadium, after more than two years suffering from ulcerative colitis. The last time he had previous featured for the first-team was, boxing day 2012 in United's 4-3 victory over Newcastle United.
Fletcher, despite huffing a blowing his way through the game, looked to be getting his match fitness back through-out his hour spell on a wet and windy night in Manchester. Linking up well in midfield and to the front partnership of William Keane and Tom Lawrence.
After the game, speaking with MUTV, Fletcher said:
"I've been training for a few weeks now and the next progression is to get some match-time. I enjoyed it.

"The plan was to get to half time and see how I felt. Then get to 60 minutes and take it from there and, although I felt I could have gone on a bit longer, the plan was not to play more than that so I'm better sticking to the plan and not upsetting the sports science lads.

"They've been great, especially the doc Steve McNally. He's worked closely with me, getting myself right and back and the support from the club has been fantastic – from Sir Alex Ferguson to the new manager and David Gill. Everyone at the club. I couldn't ask for anything better.

"It's been tough. Luckily, I've got a great family around me – my wife, children, mum, dad and sisters. It's a great family and, if it was not for them, I wouldn't be standing here today. They keep me going, keep me motivated and lift me when I'm down. All these factors contributed to me standing here today on the road to recovery."

"It's always frustrating to watch from the sidelines whether you're winning or losing," he admitted. "I just want to be out there to help and do my best. The aim is to be back in the manager's plans and help on the pitch.

"If I can get back involved and help us on the pitch – we've a great squad, great manager and great staff. Manchester United are always strong. Although we've not started as well as we'd have liked, it was a very tough start, and I still expect us to kick on in the next few weeks.

"[David Moyes] has kept liaising with the doctor, speaking to me regularly, even though he's got an important job working with the first team. He's given me the time I need and has been great support. I couldn't ask for any more.

"[A return is a] question for David Moyes. I'm going to hopefully have a few more Under-21 games and finish 90 minutes before trying to work my way into the squad. If I get a chance, I've got to be ready to take it so I'll work very hard with the Under-21 squad. It's a great staff with Warren Joyce and Nicky Butt so I'll make sure I'm ready when the manager hopefully calls upon me."
Quotes sourced from manutd.com
Great news to have Darren Fletcher back as a midfield option at Manchester United.
Do you think Fletcher will get back into the first-team? Comment in the section below.
Enjoy that? Give it a share!