Everton 0 Manchester United 0
United's free-scoring Under 21s drew their first blank of the season at Goodison Park in an absorbing game in which the Reds failed to convert several good first half chances, then managed to stifle an Everton threat that grew during the game.
United started with a strong eleven that included both Anderson and Fabio and largely dominated the early possession.  Although Amos was called upon to save smartly from Hope at his near post in eighteen minutes and again from the same player shortly before half-time, Springthorpe in the Everton goal was far busier although, despite a couple of early short range saves from headers from both Keane brothers, it was a while before he was stretched fully .
Lawrence stabbed a sweet cross from Fabio just wide of the post after twenty minutes and Will Keane edged a shot past the other post ten minutes later following a surge forward from Cole.  Shortly afterwards Tom Lawrence picked up a careless clearance from Springthorpe but, again, his shot was off target.  The keeper redeemed himself shortly afterwards with a fine save from a Will Keane shot that was heading for the bottom corner and was alert to push aside a long-range shot from Cole in first half stoppage time.
Although James tested the Everton keeper again when the second half was only eight minutes old, Everton gradually seized the upper had in terms of possession.  Fabio found his overlapping runs blocked more frequently and the Everton defence largely smothered the supply route to Keane up front to leave United's rearguard more consistently called into action.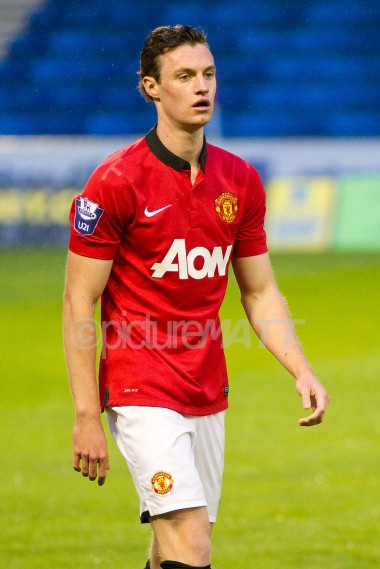 In the 73rd minute Amos once again thwarted Hope, turning his shot onto the post when it seemed the Manchester-born forward was about to give Everton the lead.  Shortly afterwards, Will Keane had a rare chance to shoot but his low shot was turned around the post.  When Long dispossessed Michael Keane to strike the post after eighty minutes it appeared the United defence might be busy for a last ten minutes, but it proved to be the last meaningful action..
Unquestionably, this was a good workout for the United youngsters, many of whom perhaps suffered from a paucity of games early this season.  Varela once again impressed at right back and there were solid performances from Ekangemene and James in midfield, plus a promising cameo from young Weir at the end.  They'll be looking to build on this when facing Fulham at home next Monday.
Enjoy that? Give it a share!