Manchester United's Javier Hernández has hinted that his future in club football may not be with the Premier League Champions as he continues to fight for a first team place with Robin van Persie, Wayne Rooney and Danny Welbeck ahead of him.
Speaking to Deportes Telemundo on Mexican television as he joined up with Mexican squad ahead of their World Cup Qualifiers, the little pea said:
"I strive for that [to start more games]. I am working towards that – earning a spot as a starter.

"I know that my performance on the pitch will allow me to achieve that goal someday either here [Manchester United] or elsewhere for any other club."

"I am going on four years here and really, like I have always said, I am happy to be able to play for one of the best clubs in the world, doing my best every single day to earn more minutes on the pitch.

"I just need to be given more opportunities to showcase what I can do, because all of us want to be able to contribute our part so this team can win championships."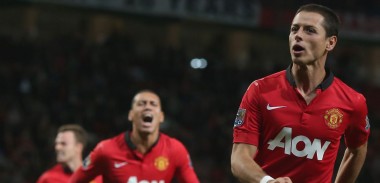 Javier Hernández is currently behind Robin van Persie, Wayne Rooney and Danny Welbeck in the pecking order under David Moyes for a first team place, but Hernández admits that the competition for places is more than healthy for the club.
The Mexican striker added:
"What better way to compete anywhere in the world than to compete with them?

"The competition inside the team has always been really healthy and I think that helps the team a lot, because there are so many quality players that every one of them wants to earn a starting spot.

"The practices and matches coming up will force us to step up and help the team grow both at an individual and collective level."
Enjoy that? Give it a share!