The toughest start to a Premier League season in recent memory continues for Manchester United this Sunday when then the Red Devils travel across the city to the Etihad. After a strong week with wins against Crystal Palace and Bayer Leverkusen you would be forgiven for thinking that David Moyes would settle for a point to wrap up the week against Manchester City, but with such a good record of four wins in his last six games against City, this may be a derby he expects to gain full points from.
In the managers press conference David Moyes said, "The recovery time from Tuesday to Sunday isn't difficult" which would sound like the Scot will be making few changes for the up-coming derby.
In spite of what can be described as a 'slight blunder' on Tuesday night against Leverkusen, David De Gea will be expected to start in goal. I would expect the same four from Tuesday to line up in front of the Spaniard. Patrice Evra, Rio Ferdinand, Nemaja Vidic consistently holding their place in the back four, along with Chris Smalling who had a solid performance in the Champions League and should offer a stronger defensive option than the others available. This statement comes with a caveat, if Rafael is fit and ready to make his return then he will.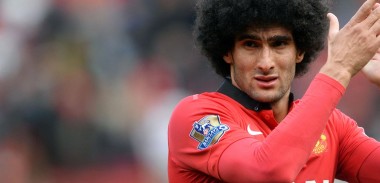 The midfield on Sunday will be one of the more interesting areas of the pitch, the brutish Belgian will be a welcome addition as he brings a strength to the side that has been missing for quite a while. Alongside Fellaini I would expect Michael Carrick to retain his place, with Antonio Valencia taking up the right of the midfield. The manager seems to be very impressed with Valencia, "He has done very well, " stated Moyes. He went on to say, "Overall, I've been really pleased with him. I actually said to him today: 'You should be getting yourself seven or eight goals a season regularly'. Hopefully he knows what I mean!". Valencia has looked much improved over a very disappointing last season, I for one will be hoping he continues his form and can force Moyes to find it very hard to leave him out of the first eleven.
On the left of midfield it's possible that Young may return to the team, even though he won the penalty against Crystal Palace last week I wasn't impressed with his overall game. More importantly Moyes didn't seem to take his yellow card for diving favorably which may weigh in his mind when deciding who to play. The other options available for Moyes are Nani, Kagawa, and Giggs. Kagawa got his first start of the season on Tuesday night and looked slightly fatigued before getting taken off. The inclusion of Kagawa in the Champions League game was a surprise to me, and a welcomed one at that. I think his participation on Sunday may be limited to cameo role towards to the end but I would be more than happy to be proven wrong again. Nani is another strong option after being unavailable for selection during the midweek due to suspension. My feeling is that Moyes may revert to Young on the left however.
There will be no prizes for guessing who the front two will be on Sunday, Wayne Rooney and Robin Van Persie seem to be developing a strong partnership. United's newest member of the '200 Club' scored two goals on Tuesday night following a beautiful free-kick against Crystal Palace last weekend and will be looking to improve his already impressive record at the Etihad this Sunday. Robin Van Persie seems to be continuing in the only way he knows how, getting chances, scoring goals and generally looking like he wants to win everything.
This Sunday's game is likely to be the hardest challenge Moyes has faced in his tenure. City have looked scintillating and frightful at times this season but it's hard to imagine anything other than a determined performance in the derby. Hopefully the quality of United's play continues to improve and we are all celebrating a resounding victory after the first derby of the season.
How do you think Manchester United will line up against Manchester City? Comment in the section below.
Enjoy that? Give it a share!