Manchester United's Robin van Persie has been named as Barclays Player of the Month for April.
The United striker was also voted the Man Utd fans Player of the Month also, the Netherlands international was happy to pick up both awards today at Carrington Training Complex.
Earlier this week, Robin van Persie had come second in the Football Writers' Football of the Year awards to Tottenham Hotspurs Gareth Bale.
van Perise had scored six-goals in April including an impressive hat-trick against Aston Villa which helped United to secure their 20th league title.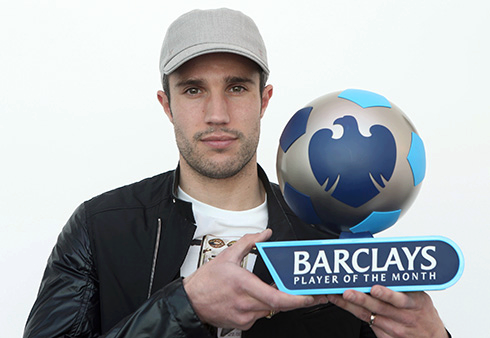 Robin van Persie has scored 25 league goals since moving from Arsenal for £24m last August.
Earlier this season, Manchester City boss Roberto Mancini said that his failure to sign Robin van Persie was the difference between the two teams in the title race.
Sir Alex Ferguson said:
"I remember Arsenal manager Arsene Wenger saying to me 'he's better than you think' when we concluded the deal. He was right."
Enjoy that? Give it a share!