The end of the footballing season is upon us and it brings an end to the Manchester United shirt sponsorship from insurance group, AoN.
Manchester United's new sponsorship deal is with American car giants Chevrolet, who have done a deal to be the clubs sponsors from the 2014/14 season until the end of the 2020/21 season in a deal which is worth £358-million for the club.
Man Utd Kit 2014/15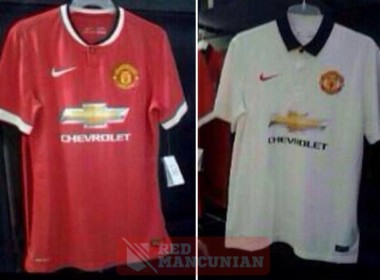 As you can see from the rumoured to be leaked pictures above, the new Manchester United home shirt is a simple design with a white and black trim on the color and sleeves with a gold Chevrolet logo & text.
Better pictures of Manchester United's home and away shirt:
The new away shirt is also a simple design from shirt suppliers Nike, a plain white shirt with black color and three buttons at the front.
The Manchester United 2013/14 away kit, the blue one, will then become their third kit for the 2014/15 season with Chevrolet on the front, also in gold.
What do you think of these Manchester United leaked shirt designs? Comment in the section below.
Enjoy that? Give it a share!