Last Wednesday night, whilst Manchester United were putting in an exceedingly valiant first half performance in the cauldron that is the Allianz Arena my Dad out of nowhere made an unbelievably bold statement (he usually doesn't speak much during games). He was convinced that the confidence which has been so anonymous within this United side in the past 6 months was slowly but surely creeping back into some of these United players. Being the pessimist/realist that I am, I immediately dismissed these claims. But in the past few days it has provoked my thoughts about whether the seemingly absurd claim my father had made might actually have some thread of justification. There's no doubt that the likes of Rooney, Smalling, Kagawa and Mata (to name a few) have appeared to look restored in recent weeks. There was one player however who certainly doesn't belong to this list of players. Although he didn't feature last Wednesday, Rafael has cut a disconcerting figure in the right back position all season. His unorthodox running style and at times unsettling confidence on the ball has left him to be seen by some as a hindrance on the rest of the side. His overlapping runs have been minimal this season and his crossing has been nothing short of wayward. When you realise that this man is our only natural right back makes the fact that we are sat in 7th position seem somewhat more reasoned and coherent.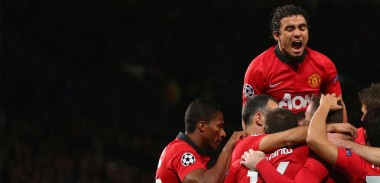 When Gary Neville left the club I was generally perturbed about who would fill that right back spot for the next few years. Thankfully, this Brazilian kid came out of nowhere to fill the boots of one of the country's greatest ever right backs quite capably towards the business end of the 2011-2012 season. His tenacity and fearlessness combined with superb technical ability somewhat eliminated any ambiguity regarding that right back slot. Last season especially, Rafael really did step up his game. Playing 40 games collectively with a 86.3% passing accuracy and average of 6 tackles per game. He was instrumental in a large proportion of United attacks and more than often covered more ground than anybody on the pitch. He even popped up with some unforgettable goals, his curling effort at Anfield (below) and that absolute screamer against QPR will live long in the memory.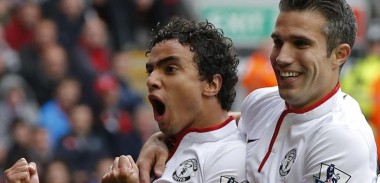 So what has happened to poor Rafa this season? With 19 appearance altogether this is a season to forget for the Brazilian. My theory isn't a nice one but it is the only one that seems logical, it's the absence of the father figure in the form of Sir Alex and the unsettling arrival of David Moyes who evidently prefers more traditional full backs who don't bomb forward as much. Its almost like when you are forced to like this new man that your mum has met and you have to accept that this deviant looking fellow is your new father. It's unnerving to say the least, all Rafael knew before Moyes was Sir Alex and therefore he only excelled under Sir Alex. Moyes's predecessor liked to emplement an expansive and overloading style of play which suited Rafael because it meant he had a lot of time and space to charge up and down that right flank. With this more level and straightforward approach Rafael has been forced to alter his game and work more with his back line and less with the right midfielder ahead of him. I'm sure that the persistent change of right mid has been unsettling for Rafa too, being a right mid myself, I always relished having an attacking right back behind me who I could work with.
Regardless of whether Rafael stays at this club or heads elsewhere it's vitally important that another right back comes in. Its difficult to outline actual names but its imperative to find someone who can tackle vigorously but also swing in crosses frequently without leaving the defence a man short. Somebody who impressed me for Bayern especially in the first leg was that of another brazilian right back Rafinha. Whether he's a realistic target remains debatable but would certainly waltz into this United team. Watching a really rather average AC Milan the other week revealed that they have an extremely talented right back named Mattia De Sciglio, this is somebody with deadly accurate crosses at the tender age of 21.
The next 5 games are crucial for Moyes, if my dads prophecy was right and United do triumph then people will take note that Manchester United undoubtedly had a diabolical season but did finish strongly. This type of thing happened with Liverpool last season, they finished 7th but had a really impressive end to the campaign. This instilled a lot of confidence into the players and, well, I don't want to mention how they're doing at the moment but you see my point. Should this come to fruition with Rafael involved then it will only lead to a positive effect on the currently beleaguered brazilian.
Enjoy that? Give it a share!