---
Sat up in the stands at Old Trafford last weekend, hands cradling my head following Ashley Westwood's free-kick which beat de Gea at the Stretford End, I scanned the pitch for signs of leadership. They were scarce. Despite the defiant calls of, "United, United!" echoing around the stadium, several of the Manchester United players looked frustrated, exasperated, defeated, all three of which have become hallmarks of this season. Through the claret and blue haze of euphoria, my eyes fell on one player. He approached the centre circle, looked around at his team mates and gestured at them to pick themselves up. It was neither a feeble wave of the arms nor a half-hearted rallying cry. It was an order to the other players to pull themselves together. This order came from Wayne Rooney.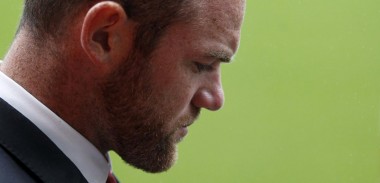 It is easy to be a leader when things are going well. You're building momentum, you and your team mates are receiving praise, silverware is in your sights. The real test of character comes when the wins dry up, the press are on the prowl and seemingly every trophy is out of reach. As the captain, the squad turns to you. You are the symbol of the club, the one entrusted with the task of gearing your team mates up again. From every angle questions are fired at you, every comment you make is scrutinised, every photo taken of you analysed to contradict your words. You cannot do right for doing wrong.
With the impending departure of Nemanja Vidic in the summer, and the likely case that Patrice Evra will also be on his way, the scenario might be that the Reds will be in need of both a new captain and a vice-captain. In terms of the former, and for all his faults, tantrums and dramas of the past, it is difficult to look past United's #10. Rooney has worn the armband on only a few occasions so it would be difficult to judge his long-term leadership credentials, but he makes a case for himself.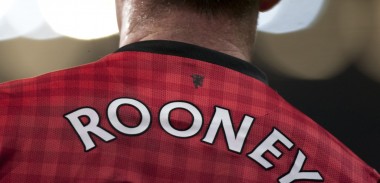 Perhaps the responsibility that comes with the captaincy will encourage him to finally "grow up", an act of which supporters have seen glimpses during this difficult maiden campaign under David Moyes. Following last summer's very public courting of him by Chelsea, the United forward got his head down, trained hard, and has been rewarded with a good season as an individual, if not for the collective. He seems to be enjoying his football again, relishing his varying roles both up front and linking midfield with attack. Having joined United in 2004, he has now served 10 years, presumably knows the ins and outs of the club and that the expectations of him would not differ from those of any other skipper. Due to injuries, the armband has been passed from player to player in recent years, and now needs some consistency. Rooney, when fit, will start near enough every game, and will have the opportunity to grow into the part.
He has been as fearless as ever on the pitch this season, dragging the team over the finishing line on occasions. He wants to win, and by signing a new deal he has indicated he wants to do this at Old Trafford. His impressive work rate and passionate celebrations, most notably against Fulham and Bayern Munich at home, highlighted that he is committed to the cause – for now, at least. That degree of emotion cannot be conjured up on a whim.
There are many people who completely oppose the notion that Rooney should be appointed skipper, not necessarily for his football – the qualities he brings to the team are unquestionable – but rather, quite rightly, some would say, for the way he has treated the club, and the supporters, on more than one occasion.
This is a man, a "mercenary", who once questioned the ambition of the club, the quality of his team mates, and the direction United were heading in. This is the same man who, less than a week later, signed a new five-year deal worth £250,000 a week. This is the same man who all too often let his petulance, rather than his ability, define his game, who refused to quash rumours during last summer that he would be leaving the club. What example would it set? It is interesting to wonder how much more "deserving" of the captaincy Rooney would be, and the heights he could have reached, had he looked after himself better and had his heart in it from day one.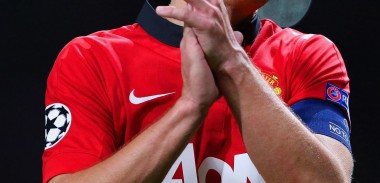 Are there any other players worthy of the promotion to captain? For Darren Fletcher, one of the calmest heads on the pitch and someone who boasts a wealth of experience, with the ever-present hope of big-name midfield signings in the summer, an extended run in the starting XI appears unlikely. Phil Jones' no-nonsense, blood and thunder defending and steely determination are valuable assets to the team. Although a natural leader and certainly "one for the future", the young Englishman is simply not ready for such a responsibility at this time. Whilst Michael Carrick has the necessary experience and temperament to take over for the short-term, his character is such that he would prefer to take orders rather than give them. A one-club man, the much improved Jonny Evans has his admirers, although his injury problems are sure to create a stumbling block, and any additions made at centre-half in the summer will put his starting XI place under threat. David de Gea, a rather left field shout, nailed down a place as United's #1 early on, has excelled behind an ever-changing defensive line, and was described by Spanish newspaper Marca as a "potential future captain". Whether he possesses the qualities to succeed Vidic remains to be seen.
So, what do we do? Do we put our own personal feelings aside, climb down from our "high horses" and accept the increasingly likely chance that next season will see Wayne Rooney leading the team out at Old Trafford? Following the win over Aston Villa, I, quite begrudgingly, admitted to my father that the United forward is the closest thing the club has to a captain. It is still open to debate as to whether this seemingly imminent appointment is because he is ideal for the role, or rather because there is simply nobody to challenge him.
---