A mantra has been building this season. With each successive humiliation the mantra is repeated on social media, in pubs and on the terraces, "Wait until the transfer window opens and Moyes can buy six new players".
There are myriad variations on the theme of this mantra but the sentiment is always along the lines that the current predicament is simply a result of the weakness of the squad that Ferguson limped over the line to the league title only for every component within the machine to cough and expire as David Moyes approached it.
We have already analysed the strength of the squad and it's not that weak. Rumours of its demise have been exaggerated more than the size of Michael Knighton's wallet. A par score for this squad, taking into account the mythical "transitional season" is 3rd place in the league, a decent run at the domestic cups and last 16 of the Champion's League. Anything less than that is suggestive of an endemic failure of management to extrapolate value from the squad.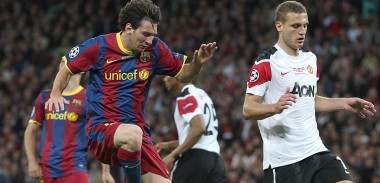 Take Barcelona; a team that changed manager recently. They are in a "transitional season" and have been playing somewhat below their form in recent years but would the club's executives be happy with a mid table position and repeated hammerings from teams that are not significantly stronger? Barcelona are similar in a respect to United in that one facet of their team has been openly noted as weak in recent years; their defence. Lest we forget that they lined 5ft1in central midfielder Javier Mascherano up against us at the back in the Champion's League final a few years ago. Our failure to exploit that weakness was our downfall on the night.
All teams have weaknesses and the United midfield has been weak for years; this is not something new for Moyes to deal with. United have won league titles and been crowned Champions of Europe with a weak midfield. Surely it is the job of the manager to find ways to play that mitigate weaknesses by exploiting strengths?
Barcelona beat us at Wembley by exploiting their many attacking strengths and preventing United from exploiting their defensive frailties. Not to mention the fact that Moyes has spent more than £60M on midfielders. Fellaini, when we played Everton last season, was identified by many United supporters as an example of what we lacked in midfield. A few days later, Dembele was given the same accolade when we played Fulham. Make no mistake; despite their performances this season both Fellaini and Mata are good additions to the squad if you deploy them in a gameplan that suits their individual skill set.
And here we are again… after a lengthy and torturous journey around the stating of the obvious we arrive back at the same place. It is possible to get any group of players to play well if they all understand the tactics and know what they need to do in order to contribute to the execution of the game plan. In order to have tactics and a game plan you need a strategy and for that to really work, it helps if you have an over-arching footballing philosophy. Was Moyes absent the day that they taught this in football manager academy? As I mentioned in a previous article, both Rodgers and Pochettino were there and took copious notes. Perhaps David can borrow…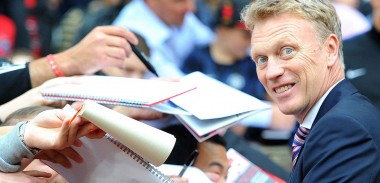 So those of you expecting things to improve once the transfer window opens again are likely to be disappointed. We have seen two transfer windows with Moyes and Woodward at the helm. The first was an embarrassing farce culminating in a panic buy on deadline day and the second was equally poor but ended with the acquisition of a quality player albeit one whom we didn't actually need. After all, if Moyes refused to deviate from 442 to accommodate Kagawa in the team then how was he going to get Mata into the team? The answer, sadly, is that he simply did the same thing as he did with Kagawa and stuck Mata on the wing.
It is true that Chelsea and City strengthened in the summer but not to any great extent. The biggest difference was that both of them changed their manager. Mourinho and Pelligrini are upgrades over their predecessors and whilst we all accepted that Moyes would initially be a downgrade from the abilities of Sir Alex Ferguson we are left pondering just how far down this team can slide under his management.
I've said this before and will say it again: Moyes could buy Ronaldo, Bale, Iniesta, Götze and Müller in the summer but without the ability to explain to these world class players how they are going to play together to successfully defeat the opposition he will still fail to win anything of note.
This is not about players, old or new. This is about a manager who is simply out of his depth and drowning fast. Either someone rescues all of us by replacing him with a manager who already knows how to swim in these waters or Manchester United will spend the next five years transitioning to a club that will require an investment of £500M to get back into contention for the top. The longer the Glazers delay, the more they will have to invest to get back to parity.