Cast your mind back to 22nd April 2013. Robin van Persie had just scored a 33-minute hat trick at Old Trafford to defeat Aston Villa, and in the process secured United's 20th league title. The third of those goals, a volley of such exquisite technique that it took the breath away of all those inside Old Trafford that night, will be shown for many years to come and has arguably already become the enduring image of last season. Van Persie wheeled away almost as soon as the ball left his boot, adrenaline pumping and joy etched on his face as he celebrated finally winning a trophy after years of frustration for the little boy inside him.
But somewhere during this nightmare of a season ecstasy has turned to agony for Robin. Compare his demeanour on that night last April to the frustrated figure recklessly lunging into tackles during Saturday's win over West Brom and the difference is startling. But where has it all gone wrong for him this season?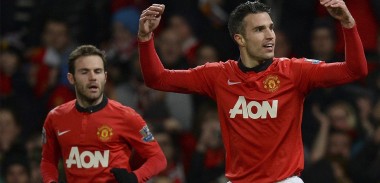 When news broke of David Moyes's appointment as Sir Alex Ferguson's successor it did not take long for rumours to emerge that van Persie was distinctly unimpressed with the new boss. Talk of an inevitable transition period as Moyes settled into the job must have infuriated van Persie – he had left Arsenal to win trophies under the greatest manager the game has ever seen, not to help bed in a new manager and lead the charge for the push to 6th place. He had even sought assurances from Ferguson before signing that the Scot would be sticking around for at least another three years. With Ferguson's decision to retire only made over the Christmas period of last season, through no fault of his own, nor of Ferguson, van Persie was left in a markedly different position to when he had signed for the club, chasing a Europa League place rather than a Premier League winner's medal.
Since the appointment, stories have refused to go away regarding a rift between last season's Premier League top scorer and his new manager, with van Persie apparently unhappy with Moyes's rigorous fitness regime and the lack of focus on attacking play in training. As a result, 'clear the air' talks have reportedly been held on more than one occasion so far this term. Publicly nothing has been said, of course, but in this case, due to the continuous media coverage and the Dutchman's on-pitch demeanour, it is relatively safe to assume the old adage, 'there's no smoke without a fire' holds true.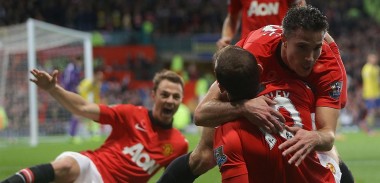 In the midst of this precarious level of peace between manager and player occurred a rather curious seven week period during which van Persie was injured. From the Newcastle game on 7th December, van Persie did not feature at all until the Cardiff game on 28th January, coincidentally just after the signing of Juan Mata. During this period, Moyes claimed van Persie was suffering from hip, thigh and groin injuries at various times, and it was reported that the medical team could not find any problem with the striker, yet he still refused to play. Could it be that, unhappy with Moyes for not taking him off after an hour against Newcastle as had been agreed before the match between the two, and disappointed with United's creativity, van Persie simply deemed it not worth his while to play until the signing of the creative Juan Mata? He scored after six minutes on his return, and there were very few signs of rustiness.
Undoubtedly the treatment of Wayne Rooney from David Moyes has aggravated van Persie still further. During pre-season, Moyes's labelling of Rooney as 'a good backup' to van Persie may have signalled to many a continuation of last season, with van Persie being the 'main man' and Rooney left to cut a frustrated figure in comparison. However, since then Rooney has been made United's highest-paid player of all time and has captained the side on more than one occasion, with private assurances made that this will be a permanent position from next season. Add to that the fact that he has been privy to transfer information and handed a position as a club ambassador at the end of his career and his position as Moyes's lapdog is fairly well assured. A role reversal between our two main strikers has been absolute and this will surely have stung van Persie, who had been his team's star player not just last season but in his final two years at Arsenal as well, so he had presumably grown accustomed to the role and will not want to see it relinquished in such a fashion.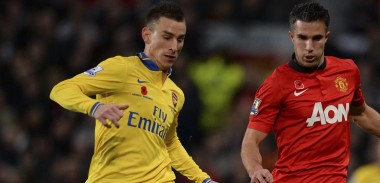 His return to the side has seen him in good form, with a total of 4 goals in 6 domestic games certainly not to be sniffed at. However, his comments after the Olympiacos game again hinted at a level of discontent at his current status at United, bemoaning other players 'being in his space' as a reason for his ineffectual performance on the night, despite there being no player of either team being anywhere near 'his space' as he lashed over our one decent chance on a dismal night. Although his full interview was not as inflammatory as the newspapers made them out to be, it certainly came very close to being a public admittance that he does not agree with Moyes's tactics, and it is hard to imagine comments of that type being made had Ferguson still been in charge.
So that brings us to Saturday's 3-0 win away to West Brom. In the starting line-up again, Gary Neville had claimed prior to the game that van Persie needed 'to run around like a madman'. Perhaps Gary's brother passed on this tactical masterstroke from England's top pundit to van Persie, for run around like a madman he did, throwing himself into a succession of reckless tackles and perhaps being fortunate to escape a red card. However, it was telling that United looked a far better team when Danny Welbeck replaced van Persie, and the local lad took his chance with a composure that was severely lacking during van Persie's recent chances against both Olympiacos and Arsenal.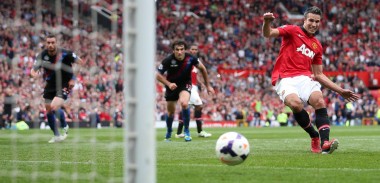 With reports in Sunday's papers linking van Persie with a move away, it is difficult to see a situation where van Persie can stay at the club, particularly if Moyes is able to retain his position as manager into next season. Currently, one of the only positives to have come out of this season for Moyes – Juan Mata – is playing on the right wing in order to accommodate both Rooney and van Persie. While he has been proficient in this position, he has not orchestrated games with anything like the same level of authority that he did at Chelsea, and it will certainly have crossed Moyes's mind that he ought to be getting more out of his star signing if he is to keep his credibility as a manger. With Rooney clearly being a permanent fixture in the side for the foreseeable future, Moyes could consider playing him as a main striker with Mata in behind him centrally.
It is clear that this would make van Persie's position completely untenable. Due to a combination of frustrations – at Ferguson leaving, at Moyes's training methods and at the preferential treatment of Wayne Rooney – United's one time delighted little boy, but current moody teenager, could be on his way out of Old Trafford.