Gossip columns are full of speculation about the future of Jose Mourinho at the helm of Manchester United, while there are also question marks about several key players, after what has been a highly disappointing start to the 2018-19 campaign.
Nevertheless, and despite rumours suggesting that Mourinho's tenure may be hanging by a very fine thread, the club appears to have given the Portuguese their full support, according to The Guardian, insisting that he will be given time to turn the current situation around.
United have made one of their worst starts to a season for over twenty years, with odds at bookmakers such as moplay.co.uk suggesting that finishing in the top four could be a struggle this term. However, a run of improved results would swiftly change opinions and expectations.
Given that Mourinho appears to have the backing of the club hierarchy, fans are hoping that will extend to supporting their manager with additional signings in the January transfer window. As is often the case with Man Utd, there is no shortage of players being linked.

Image Source: @TheMilanBible via Twitter
One interesting prospect is 22-year-old attacking midfielder, Lorenzo Pellegrini, who has been regularly scouted by United officials, according to Sport Witness reports. The young Italian has impressed with AS Roma this season and continued to make great strides with their first team.
Unsurprisingly, numerous leading clubs around Europe are also interested in Pellegrini, which means the Red Devils would have to move swiftly if they're to lock down a move in January. He could be snapped up for as little as €30 million, which matches his current release clause.
AS Roma are inevitably keen to keep their young starlet in the Italian capital, therefore they too are keen to advance talks to secure his long-term future at the club, aiming to ward off the continued interest of clubs like United with improved terms and a much higher clause value.
Along with the midfield, one key area Mourinho was keen to improve was his defensive line, particularly in the centre-back positions. However, summer interest in players such as Toby Alderweireld of Tottenham and, or Harry Maguire at Leicester City, didn't come to fruition.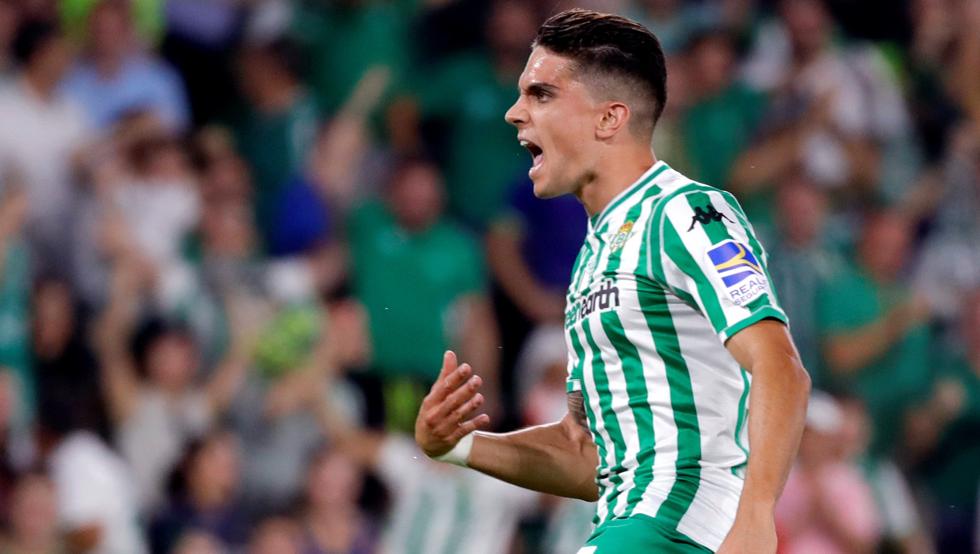 Image Source: @mundodeportivo via Twitter
This leads to speculation that United could be in the hunt for another centre-back in the January transfer window, although again, it seems unlikely the club will be held to ransom with demands for exorbitant prices from selling clubs. Instead, there could be some bargain hunting.
One ideal target who has already been linked with Old Trafford in the past, is Spanish defender Marc Bartra. He reportedly turned down an offer from United in the summer of 2017, according to The Express, opting to stay at Bundesliga outfit Borussia Dortmund.
Just months later in the January 2018 window, the former Barcelona man made a surprise loan switch to Real Betis and this summer, completed a permanent move. Since then his form and performances have been exceptional, earning a recall to the Spain squad under Luis Enrique as a direct replacement for Gerard Pique, who chose to announce his international retirement after the World Cup in Russia.
What might appeal to United is that 27-year-old Bartra could be snapped up for around €30 million, which would be an absolute snip for such an accomplished defender. However, Real Betis are aware of continued interest from leading clubs, and appear keen to lock the player into a new contract, which would significantly increase his market value to well beyond €50 million.
Enjoy that? Give it a share!