A very active day for Manchester United in the media on Tuesday, as expected after the arrival of Louis van Gaal at Old Trafford.
Van Gaal confessed that one of the first people he spoke to after taking the job, was José Mourinho. Mourinho told van Gaal that he's jealous of the list of clubs the Dutchman had managed.
Speaking to Dutch television, van Gaal said; "Jose Mourinho was one of the first people that texted me when I got the job. He said that he was jealous of my resume of clubs."
Louis van Gaal went on to speak about Sir Alex Ferguson, and the concept of returning Manchester United back to the top.
The Dutchman said; "I will probably have a drink with Sir Alex Ferguson, but we've done that a couple of times before, We get along quite fine. I don't think his pressure will be a big problem. I put a lot of pressure on myself. We need to get United back to the summit, as soon as possible. Maybe people will think that this will happen in the first seeason, but we'll have to see. In the end, there's only one team that becomes champions."
Goal (not the most of reliable sources, we know) understands that Louis van Gaal has told Patrice Evra to extend his contract at Manchester United, after frequent speculation about where the left-back's future lies. According to a close friend of the player, Evra has yet to make a final decision on where he will play next season. However his emotional ties to Manchester United are such he is leaning towards rejecting the opportunity to return to Serie A with Juventus, and carry on in Premier League football.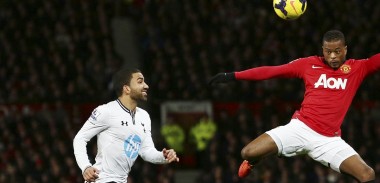 With van Gaal managing the Dutch side the World Cup this summer, Manchester United fans should anticipate regular updates regarding the alleged £200million rebuild that awaits at Old Trafford. The first of them, looks certain to be Luke Shaw. According to The Mirror, the deal is almost done, for £27 million; and should be confirmed within the next few days. A source close to the family told The Mirror: "Luke is still only 18 and his family want everything to be right for him. Where he lives and how he adjusts to a new city is a big thing for them – but now they are convinced about the move."
When asked about Kevin Strootman being on his transfer list, van Gaal was coy in his answer and didn't actually give a comment. Manchester United have shown interest in the Dutch for a long time, and with van Gaal in the hot seat; speculation is growing.
Another story developing in the media at the moment is the potential signing of Arjen Robben, van Gaal's prime target as Manchester United manager. According to the Manchester Evening News, Arjen Robben is top of LVG's list of transfers for Ed Woodward to take care of during this summer's World Cup; after experience of working with Robben at the Allianz Arena and for the Dutch national team.
What would a transfer window be without the Fabregas speculation of a switch to United. The playmaker hasn't played an awful lot this year, this has led to speculation of a move away from the Nou Camp. According to Goal, "Barca's amenability to selling him this summer has put the likes of Manchester United and his beloved Gunners on alert." Also, Goal reported that Andoni Zubizarreta and the rest of the club's decision-makers met on Monday to thrash out their plans for the season ahead and Fabregas's future will have been near the top of the agenda. According to close sources to the club, a move is definitely possible; but all could change under new coach Luis Enrique.
According to The Mirror, Louis van Gaal is instantly ready to kick off his transfer spree at Manchester United; as he plans to hijack the deal Liverpool are rumoured to be making for £12 million Dnipro winger Yevhen Konoplyanka. Reports say that United have watched the winger various times, the last being in a league win on Sunday. In March, two months after a failed bid for Konoplyanka by Liverpool, Dnipro president Ihor Kolomoyskyi revealed that Tottenham chairman Daniel Levy had entered the race for the Ukraine international. There's been little speculation to do with United and the winger, but that is expected to change within the next few days, as Dnipro director Andriy Stetsenko has now claimed: "Konoplyanka is still available for any club to buy. His contact has a buy-out option worth £12million."
According to the Daily Mail, Louis van Gaal will be armed with £200 million to rebuild and restore United this summer, with Arjen Robben, Toni Kroos and Cesc Fabregas all amongst the Duthman's list. According to Simon Jones of the Daily Mail, Van Gaal's wish list is as follows; Kevin Strootman [£25m], Cesc Fabregas [£45m], Toni Kroos [£18m], Mats Hummels [£20m], Holger Badstuber [£15m], Luke Shaw [£27m] and Sebastian Jung [£7m]. Altohether, all of those players will cost £157 million, and that is without Arjen Robben.
United starlet and Belgium international Adnan Januzaj has claimed that Louis van Gaal is a "great manager" and is certain there is a very bright future ahead at Old Trafford. When speaking to the media, Adnan said; "I feel very happy because he's a great manager. He's won a lot and I'm looking forward to working with him. I think we're going to have a great future ahead so I'm looking forward to it." The emergence of Januzaj has electrified millions, and under van Gaal, I think we know we're going to get the absolute best out of the young star.
United legend David Beckham told Sky Sports last night that he believes van Gaal is the perfect man for the job, as he develops youth and is a brilliant manager – which is the right approach to take at Old Trafford. It's proven that van Gaal has worked wonders with academy systems at other clubs, and Becks is nothing shy of certain that the Dutch can deliver in Manchester. Although Becks was surprised Giggs has retired, he understands; and claimed that Ryan Giggs "knows the club more than most people that are at Manchester United now."
Ex-United goalkeeper Edwin van der Sar has claimed that United can be back up to the top, within a season. VDS, who played under van Gaal at Ajax and for Holland, said; "It's hard to get from seventh to first, but Liverpool almost did it – and I think United have more qualities than ­them." Van der Sar is certain that van Gaal will spend the money he is given wisely, as "he will know if they have the United DNA of the club inside of them" and insists van Gaal won't show any signs of desperate trading, because if a player wants to play for Manchester United, he wants to play for them – it's as simple as that.
That is the round up of Manchester United media and transfer news that was around the world on Tuesday 20th May 2014.
Enjoy that? Give it a share!