In time this season will be referred to as the season of setbacks, false dawns and denunciation. Characterised by the all to frequent exasperated expression on the face of a man who has aged a decade in only six months.
No doubt in time, we as fans will reminisce on Moyes' maiden season, but let it be assured such memories will ultimately be of sorrow and regret upon which the enduring image will be that of a forlorn figure, a proud man, but a man who was broken by the burden of managing the biggest club in the world.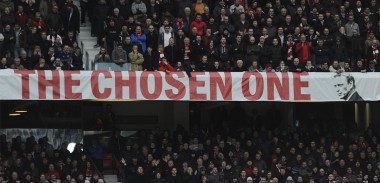 Nobody wants to see Moyes fail, even those of whom were highly critical of his initial appointment would rather see him turns things around and prove them wrong. His most consistent critics have had to take a step back from the constant condemnation and perpetual swipes, not because they have been convinced of him as a manger but because the situation has become uncomfortably unnerving. Its almost got to the stage were people have begun to feel sorry for the man who is supposed to be, not just managerially adept but strong minded enough to believe he can carry the club forward. Does Moyes truly believe this? Even more importantly, do the current crop of underachieving players?
It is blatantly obvious that the job is taking its toll on Moyes, not just because of the evident exhaustion emanating from his face and body language but because his pre and post match comments are becoming more and more nonsensical. Surely a man in the right frame of mind would not dare suggest United "aspire to be at City's level", the same city that only 10 months ago finished 11 points behind United. Nor would an able minded manager suggest that their fiercest of rivals are favourites for a match in which they are the away team. From day one Moyes' handling of the media, has, lets just say, left a lot to be desired. His press conferences have been drab and dour characterised by negative tactical talk such as "containment" and uninspiring rhetoric's such as "we will try".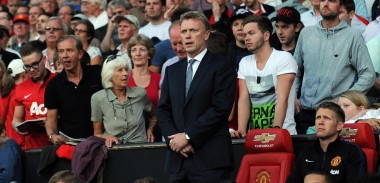 Moyes infatuation with not losing, in his first few months in charge emerged from the sheer magnitude of the pressure he was under as Sir Alex's successor. Since then however, on the back of a number of poor performances he has had to play more expansive and open football, not remotely exciting mind you – but this too has been as ineffective, culminating in inconsistent results and poor performances.
As mentioned in almost every Moyes related blog out there, and there is a lot, many of Moyes' critics base their argument on the sincere lack of any obvious style of play or overt plan. While this is a stick that detractors can quite rightfully beat him with, my beef is born from the fact that there is a total lack of fight and pride for the United shirt. Admittedly, the players to a certain extent must take some flack for this but as alluded to earlier, Moyes doesn't exactly exhibit expressions of inspiration, nor could his discourse be associated with motivation.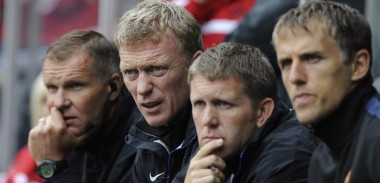 As Moyes waved the white flag of surrender yesterday with his "aspiring to be City" comments, let me point you in the direction of a less talked about occurrence but one that perhaps tells us more about the precarious position we find ourselves in. As Moyes was quizzed about his use of Mata in the post match press conference he edged to door, half answering the question, another reporter butted in referring to remarks Scholes made about the misuse of Mata. Moyes declined to answer, got up and walked out. Instead of standing tall in defiance and answering the question Moyes characterised his team's inherent lack of fight in one instance.
Its not quite curtains for Moyes but all indication suggest that the burden of the job is taken its toll on the man tasked with succeeding Sir Alex. A thankless job may be, but the least that is expected is fight and pride for the red shirt. Unfortunately, at the moment, such attributes cannot be said of the alarmingly fragile man who happens to be manager of the great club that is Manchester United.
Enjoy that? Give it a share!