Manchester United 0-3 Liverpool. That's the sort of result no fan inside the home enclosure at Old Trafford wanted to see, but the reality is that United currently reside in a grim reality where the worst almost has to be expected. Liverpool outplayed their rivals in every area, and fully deserved a win that puts them firmly in the title picture. United, on the other hand, sit twelve points behind a Manchester City side in fourth that have played two games less than them. Three penalties, three goals, a sending off for Milan-bound Nemanja Vidic and to top it all, Steven Gerrard lamenting that his side didn't add further gloss to a convincing scoreline. Here's what we made of it;
United's season can, and probably will, get worse
Perhaps the most harrowing aspect of this season is that there appears to be no limit to the depths to which United can sink under David Moyes. Such a tame 0-3 collapse at home would have appeared as a mere blip  in a season helmed by Sir Alex Ferguson, nothing more. Under David Moyes, it's the latest in a long line of poor performances and results that could, and perhaps should have looked far worse. Even a City side struggling to regain their best form of this term must be chomping at the bit for next Tuesday's derby with United so disillusioned and in such disarray.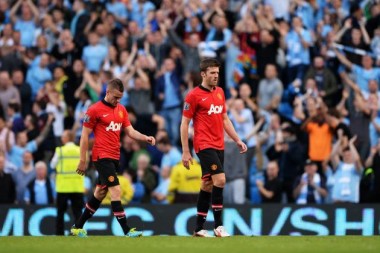 After the 2-0 defeat in Greece, this ten day period was earmarked as crucial to United's season, and potentially Moyes' future. Once again, a lack of urgency and a rigid approach have left the Scot with no answers and regurgitating the same tired post-match soundbites. There's no expectation that Wednesday night against Olympiakos will bring any salvation, and the impending derby feels far more like an impending thrashing. Worse still, there was little sense from many of the performances on show that this really mattered to them at all.
Big players went missing
It might seem a little trendy to pick on Robin Van Persie given the Dutchman's performances of late, and it's true that last season's talisman has looked a shadow of his former self since defeat in Greece, but today, he was one of many who was simply unable to engage with proceedings. Wayne Rooney, again, struggled to dictate much of anything in his advanced role, and Juan Mata and Adnan Januzaj were completely marginalised out wide, as you knew they would be. Rooney's presence is keeping two talented footballers from their natural position, and at present, he isn't providing enough of a reason to keep hold of this position. Moyes' approach, and insistence on adhering to it, did none of his players any favours, but he should be able expect a damn sight more fight from his side than this.
Liverpool could have, should have scored more
It's easy to forget in the rather bleak aftermath of such a poor performance, but the reality is that this result could have been far, far worse for United than it actually was. Mark Clattenburg was gracious enough to save Rafael from an early bath twice, once for the handball leading to the first penalty and another for a late challenge in the second half after he'd already been booked for clattering into Steven Gerrard. Twice, in the opening stages, Daniel Sturridge got the drop on Nemanja Vidic but was off-target. Gerrard could have had a hat-trick of penalties to seal an incredible afternoon's work for the Liverpool captain, but hit the post with this third. United, on the other hand, had one shot and a wayward free header from Van Persie to offer in response. To say there was only one team in it is almost an insult to Liverpool.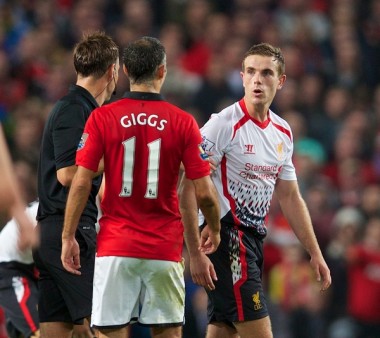 Brendan Rodgers deserves great credit, let's not beat about the bush. After a stable first season in charge, his players are buying into his methods and look supremely confident and comfortable in themselves. They never panicked, they dealt with any pressure United threw at them and looked a constant threat. Liverpool, bar the 1-4 in 2009 rarely reserve such high-end performances for Old Trafford in the modern era, preferring to outplay United at Anfield annually instead. This was their first domestic double over their rivals in five years, and as willing as United were to be ripped apart, the desire, drive and effort on show made sure they were on top throughout.
Moyes doesn't know how to turn things around
You keep hoping to see some sort of sign, if not a sign, then perhaps a flash from David Moyes when he trots out the same feeble, stock post-match answers. You want to catch a glimpse of a man who cares truly about his work, and is deeply angered by the lackadaisical performances of his side. But it never comes. When United fell to a second Gerrard penalty, the blind expectation was that the approach would change, with the ineffective Van Persie or Rooney hooked off for someone hungrier or more mobile. Maybe there would be less use of the ball out wide at the very least, given how rarely United succeeded in troubling the visitors down, the flanks but substitutions came so late that they were simply swept along by the Liverpool tide. Ultimately, you would think that a manager would not have a hard time raising his troops for a match against bitter rivals with Champions League qualification, still so important for the club, to fight for.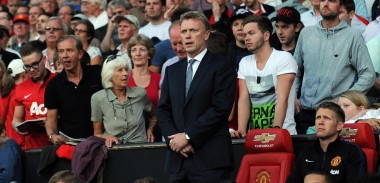 The occasion demanded an incredible level of support, and United's players were on the receiving end of some incredible backing. Perhaps this would be the one where the real United, so sorely absent all season would show up? But once again in a big match, there was nothing to suggest that Moyes has enough of a handle on his team to be able to inspire them to a positive result when it matters most. They are simply not playing for him, and with a World Cup on the horizon for many, why should they offer their best in a succession of games that are now essentially dead rubbers? Moyes spoke with utmost certainty of the drive and commitment that he sees daily on the training ground, but on the pitch, where it matters so much more, it's clear that things are far worse than he can openly admit.
Our fans are brilliant
I'm not sure any match-going United fan is refraining from excessive booing simply because theirs is realistically the only club in the Premier League that would stick by such a beleaguered manager. The other nineteen teams in this division would not have allowed the situation at their club to degrade quite so drastically, regardless of their previous exploits. The fans are doing it because there's more at play here than the narrative of a man out of his depth. Old Trafford, and the away section at any United game has still refrained from a large-scale display of mass rebellion, and spent the closing stages of another humbling defeat singing their hearts out. Even if the tide turns and support finally wavers, which it must do if this current form isn't changed, David Moyes and his players must be grateful that it hasn't happened when fans of any other club would have made their discontent vocal months ago.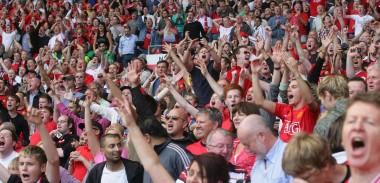 Enjoy that? Give it a share!