I have been his most assertive of allies, his most persuasive of proponents and one of his most defiant defenders. I have bared the brunt of abuse and I have discussed, deliberated and argumented my case from dusk till dawn. However, it is growing increasingly likely that such profound support from my part will ultimately be in vain. For Tuesday night, there seemed to be a definitive turning of the tide, a somewhat monumental realisation that destiny may have dealt Moyes and United a dud.
While notwithstanding the fact that we have been undeniably poor for the best part of the season, I have always backed my argument on the basis of the sheer unprecedented nature of the situation and the enormity of the task at replacing the most successful manger in the modern game.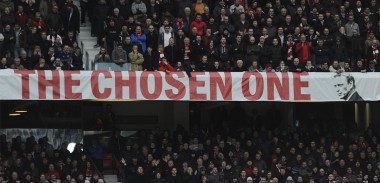 My logic was not born from an underlying love for Moyes, but more so my sincere devoted trust in the man who personally chose him as the heir to his throne. And despite what anyone says, he did work wonders at Everton, albeit under extremely different circumstances. I have denounced detractors as apostates and I have fought his corner for long enough, but last night in a wave of anger and disappointment it became apparent that Moyes might have lost the most important component of his ability to be successful  – the dressing room.
This is not some kind of off the cuff knee jerk reaction to a bitterly disappointing defeat and equally shambolic performance. No, instead this tirade emanates from a far more worrying aspect of the dark day that was witnessed on Tuesday. My biggest beef with yesterday's inept display actually bore to fruition before a ball was kicked. Moyes' post match interview ten minutes prior to kick-off was as uninspiring as it was disturbing, and it undoubtedly set the tone for the preceding performance. As soon as I heard it I was worried!
On the back of a decent win at Palace the general consensus was that it was now time to kick on and continue our decent run of form in the Champions League. There was anticipation and expectation in equal measure, as it was wholeheartedly believed that we could/would get a good result against, let's be honest, a team that can be regarded as the weakest left in the competition.
However, the inherently pessimistic nature of Moyes' pre game interview done little to dispel the doubters and consequently, the lethargic performance mirrored that of the interview. "Compact", "we hope" and "try" was just some of the terminology used by Moyes in the short 90-second interview. This is European minnows Olympiakos, not Barca or Bayern! Such conjecture is indicative of the Moyes reign thus far, except "compact" of course, we have been anything but from a defensive point of view. The interview provided further evidence of Moyes' overly cautious and conservative approach. It must be said that Moyes' circumspect approach thus far, may not necessarily be demonstrative of his footballing philosophy, but more so a sign of the sheer enormity of the unrelenting pressure he is under. Ironically, it could very well be that his obvious fear of failure may inevitably lead to his demise.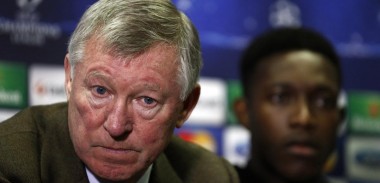 The performance lacked everything that United have stood for during the Ferguson era. Despite the fact that the free flowing, counter-attacking football we became so accustomed to had diminished in the latter years of Sir Alex's reign, we always had an inner belief, fight and a spirit that could never be criticised nor questioned. The "Believe" mantra, while just a branding slogan, did somewhat personify Fergusons United. Call it arrogance, defiance, will or whatever, but under Sir Alex there was an underlying inner believe that we could, and more often than not would win. This was symbolised by an unrelenting desire to never give in, and fight till the dying minutes, as Sir Alex stated "All those late, late goals weren't just coincidence". This is the least we have come to expect from any United team. Now, no longer are we defiant but deflated, arrogance replaced by anxiety, and motivation replaced by misplaced passes.
The fact that Michael Carrick, hardly the most vocal of players, was summoned to do the post-match interview was further evidence of Moyes propensity to hide when the going gets tough. Roy Keane summed it up best when he stated that the "interview was as flat as the performance". It's also at a time like this that you have got to question why the club captain isn't having a more dominant role re interviews. I can only assume that the impending departure of current captain Vidic ensures things are naturally of a confused nature. At a time when leadership is most needed, we are in fact devoid of such a characteristic. Ironically, it was former club captain Keane who looked the most perturbed by the performance and he was visibly upset at such a shocking display.
I have been the greatest advocate for Moyes to be given time and I still remain so, however, while performances flounder and potential success shifts further and further away it is hard to justify my support for him. While the pressure expectedly took its toll initially, what I had hoped for was the emergence of some kind of consistent style of play whereby, chronic caution was not the main tactic. Instead we have digressed further and any step forward is followed by five backward.
The thing is however; the pressure won't subside, in fact, if anything it will increase. With at least 5/6 quality players needed, the belief is that Moyes needs to spend big. However, such a substantial outlay of finance will further increase expectation, and with added expectation comes further pressure. What remains to be seen now is whether Moyes can handle such ferocious pressure, all indicators as of yet suggest he cannot.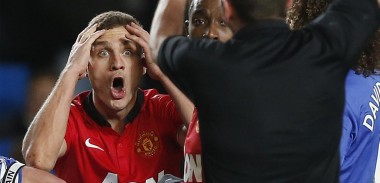 You can lose games and you can lose the support of some fans, but what you can't lose is the backing of your players. Rio previously had a go, Vidic is apparently dismayed at how his contract has been handled, Carrick stopped just short of mentioning Moyes post game, while Van Persie went one further, and had an indirect dig at how tactics are hampering his ability to find space. These are major concerns and such issues only serve as further indication that there are underlying problems within the squad. These problems are manifesting in performances, as the serious lack of togetherness, confidence, motivation and fight are consistently evident in games.
Whether it's bad luck, bad timing, an ageing squad, an inept manager out of his depth, or the sheer enormity of pressure – it is quickly beginning to feel like everything is conspiring against the match that is Moyes and Manchester United. Sir Alex mad the impossible dream possible, but in the process he may have made the task of replacing him impossible.
Enjoy that? Give it a share!