David Moyes unintentionally broke another record in his first season in charge of Manchester United today; becoming the first manager to oversee a defeat to Stoke City in 30 years. The visitors fell behind to a fortuitous Charlie Adam free-kick and the former-Liverpool man capped a battling display by Mark Hugehes side with a stunning winner into the top corner of David De Gea's goal, whist United suffered from familiar ailments, even with Juan Mata accompanying Wayne Rooney and Robin Van Persie in the starting line-up. Here's what we made of it;
United are not making their own luck
There's no doubt that losing two centre-backs to injury in the space of one half of football constitutes a bit of misfortune. Having to shuffle Wayne Rooney into central midfield and utilise Michael Carrick as a makeshift centre-back is far from ideal, either. The unfortunate deflection for Charlie Adam's first goal hardly helped matters, either. But don't get sucked into the trap of thinking that these issues conspired to cost United the match.
The visitors had over half an hour to impose their will on the game before Phil Jones was stretchered off and the best part of forty minutes after Adam's second goal, and only managed a spell of possession laced with some consistent threat in stoppage time at the end of the game. Simply put, United weren't good enough for most of this game. They failed to create many telling chances, sent cross after useless cross into Stoke's welcoming arms and failed to find a killer pass or touch on the rare occasions that they managed to squeeze their way through the home side's ranks.
The tactical reshuffle prompted by Jones' injury hardly helped Moyes' cause, with Danny Welbeck struggling in an unbalanced attack and Rooney unable to influence proceedings from so far back. Mata, shunted out wide, fared little better, and given Darren Fletcher was sat on the bench, it's stunning that he wasn't brought in to allow United's attacking players to excel in more familiar roles. Simply put, United weren't unlucky; they simply weren't good enough.
There goes the Mata-factor
If United's record signing was under any illusions as to the difficulties his new club were experiencing, today's loss should have laid them bare. The Spaniard, ever willing to chase the ball found himself in the Rooney role far too often; dropping deep and chasing the ball down, trying to make something happen. Mata was able to play some useful passes but so crowded was Stoke's penalty area it was difficult to provide anything clinical. What's most telling is that even with United's biggest threat's starting together for the first time (bar Adnan Januzaj), they created so little.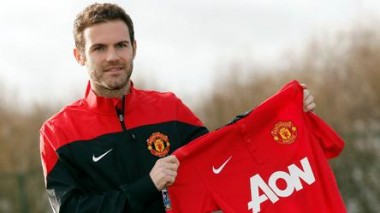 On the bright side, Mata is at least one of us, now.
Moyes' post-match-mortems are not helping his cause
There's no alternate that exists where United fully deserved all three points today, yet David Moyes insists on marking his charges out to be plucky losers. This is yet another defeat by a single goal, a fourth this calendar year, so the results fit at least, but the performances do not. United are simply not doing enough in these tight contests; not enough chances are created, not enough pressure placed on supposedly inferior opponents and not nearly enough fight is shown when behind. Whether you're behind the manager or not, there's no denying that Moyes is not doing himself any favours by distorting reality, especially when the prospect of a fourth-place finish is beginning to look remote.
Van Persie has returned in sharp fashion
After a lay-off almost two months in length, the return of Robin Van Persie to the United line-up is a rare bright spots in an ever-greying sky. Thus far, the Dutchman has had two decent opportunities to score, and hit the target on both occasions. His sharpness when provided with the ball has been heartening. Just a shame that his colleagues aren't able to find him in dangerous positions more often.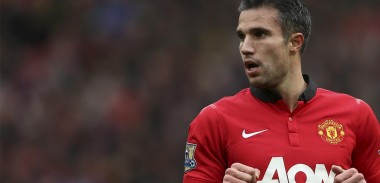 The season may not improve
Apologies for not being a bastion of positivity, but at this stage, after another loss in which the same limitations and issues are highlighted repeatedly, with the January transfer window long gone, you have to wonder if United's season will end on anything approaching a high-note. Given that if this current form continues then the club's best hope of Champions League qualification will be to win the competition itself, well…
If there were more positive signs, more chances being created and less groan-inducing adherence to a single strategy played over and over in the hope of breaking down dogged opponents then perhaps this wouldn't have been such a negative afternoon. But this defeat to Stoke has simply further exacerbated the situation and brought United's problems into even sharper relief. If Moyes doesn't find a way to turn things around soon, then there's a chance he won't be around much longer at all.
Enjoy that? Give it a share!