It wasn't the all-conquering, marauding display some might have wanted, but after a wretched month, United got back to winning ways with a routine 2-0 victory over Cardiff City. Juan Mata's league debut in a red shirt went relatively well thanks to a scrappy goal for the returning Robin Van Persie and a third wonderful strike of the season from Ashley Young. Here's what we made of it:
Mata's not the messiah. Not yet, anyway.
Having just stumped up £37.1m in order to obtain his services from Chelsea and in the midst of a disappointing season, perhaps it's no wonder that a buccaneering, exciting display was expected of Juan Mata on his United bow. With the Spaniard not having played since the start of the month and his new club still shorn of the sort of confidence that would've seen Cardiff dispatched with a little more vigour than they managed last night, it's not surprising that this wasn't the second coming. Thing is, it didn't need to be.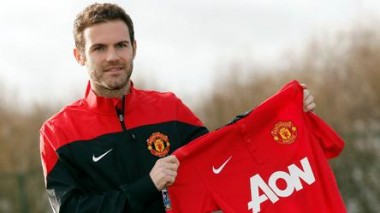 Mata's transfer has altered the mood around the club, and the psychological aspect of gaining a player of his calibre given United's current state can't be understated. But the team won't become visibly better overnight; as we've learnt time and time again this season, patience will be key. It might require at least a few more matches before Chelsea's reigning player of the year adjusts, and it'll probably take another few signings before we begin to resemble the sort of commanding side the manager and the fans want.
To his credit, Mata slotted in quite well last night. He had a hand in both goals, delivered some delicious crosses and looked eager for the ball. Some loose touches and misguided passes were evident, but ultimately, his debut was solid. The more spectacular moments should hopefully arrive in due course; for now, helping the team regain some composure and sharpening a wayward eye for goal takes precedent.
Van Persie and Rooney instantly prove their worth upon their return
In actuality, there wasn't that much separating last night's performance from the recent defeats to Swansea or Sunderland. United had a few chances but failed to put their opponents under any stifling consistent pressure. They spent plenty of time without the ball but gave little away at the back. The difference, as we've been hearing constantly is that with Robin Van Persie and Wayne Rooney in the side, you always have a chance to win. Van Persie scored within 5 minutes of his return having missed the last eleven games, and Rooney's belated introduction was characterised by some exquisite long-range efforts that went fractionally wide of David Marshall's goal. Such clinical finishing and adventurous play has been sorely lacking from United's displays in their absence, and the immediate future feels a lot brighter as a result.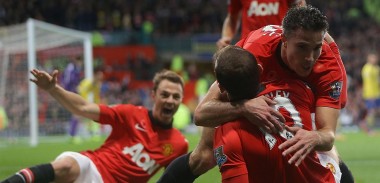 Van Persie, to his credit, looked sharper than the club's new record signing, drilling home his goal at the second attempt, flashing a useful pass across goal and using the ball intelligently and confidently every time it came his way before he was replaced by Rooney. The hype surrounding Mata pre-game was justified, but the return of United's biggest attacking threats should provide the evening's greatest comfort.
Valencia and Young make a rushed case for their defence
If Mata's purchase provided United's wide men with one thing, it was fear. Moyes has seen enough poor performances from his wingers this season, and is now in possession of the sort of players able to fit into a system that can easily dispense with them, if necessary. The Scot's damning assessment this week was that "no one is safe", and given how rarely Nani, Valencia and Young have sparkled under him, it's safe to assume that they were intended to take special note of such a statement.
With Nani seemingly perpetually on the sidelines, it fell to Young and Valencia to offer Moyes something to smile about, and in fairness to the maligned pair, they did well. Young created the opening goal with a delicious cross that Valencia smashed against the bar before firing United into a comfortable lead with that stunning second half strike. Seemingly shunning the concept of a simple goal with three crackers to his name this season, it was the bit of quality United needed to give them some breathing room. On the opposite flank, it might be a stretch to suggest that Valencia appeared a man transformed, but there was a damn sight more commitment and energy on show than usual. His passing appeared sharper, his use of the ball was much less wasteful and he hit the woodwork twice, all told. It shouldn't have taken the threat of being sold to spark United's wide men into life, and after so many false dawns, the pressure will be on them to maintain these effective performances. For the time being, this was a useful rebuttal at a time where the immediate and long-term future of the role of the winger at United is a little uncertain.
United still look restricted but a win's a win
It's been easy to get lost in daydreams of a front quartet of Januzaj, Rooney, Mata and Van Persie terrorising defences on a weekly basis in the last few days. The reality is that whilst that United's attacking options are certainly stronger than they were one week ago, there's still that lack of desire at times, still a little vulnerability and a tendency to run out of ideas once our opponents have enough men back to defend.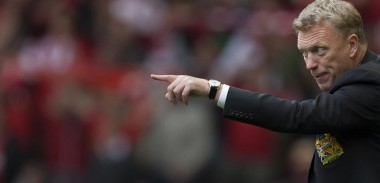 In time, Moyes will surely see the committed and incisive displays that he's craving, but for now, it's more important to turn these tight defeats into wins, because the common thread (barring a tonking at Stamford Bridge) is that United haven't lost by more than a single goal in every loss this month. The performances haven't been impressive but the final score has always been close. The first step in this brave new world with our dazzling array of attacking talent is to make sure that we're on the right side of those tight matches. This defeat of the Premier League's bottom club shouldn't be seen as impressive, but with two more winnable fixtures up next against Stoke and Fulham before that showdown at the Emirates, it was vital to win. Here's hoping that this United side can rediscover that avoiding defeat is a valuable attribute.
Enjoy that? Give it a share!